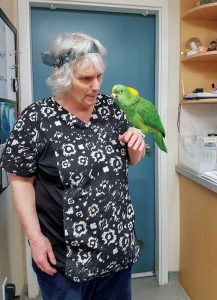 When Vancouver Island's World Parrot Refuge (WPR) shut its doors in 2016, Anne McDonald, DVM, was presented with an unprecedented task: the rescue, rehabilitation, and re-homing of nearly 600 exotic birds. That commitment and dedication earned her the Canadian Veterinary Medical Association's (CVMA's) Humane Award in 2017.
A graduate of the Western College of Veterinary Medicine (WCVM) and Texas A&M, Dr. McDonald began her career 39 years ago at Vancouver Animal Emergency Clinic (VAEC). After developing a considerable city-wide clientele, VAEC opened a bird hospital in the early 1980s to run in conjunction with the clinic. By 1990, the hospital had been moved to a private facility and ultimately became the Night Owl Bird Hospital.
McDonald faced her greatest challenge after WPR closed its door. When the owner suddenly passed away, the facility manager was faced with the decision of what to do with nearly 600 exotic birds, many of which were injured, disabled, or needed special care. When approached for assistance, McDonald, a team of Night Owl staff, and volunteers from Greyhaven Exotic Bird Sanctuary began moving the birds out of WPR, relocating them to mainland Vancouver.
1. Tell me about your experience following the closure of the World Parrot Refuge.
It was horrendous—there was no way to prepare for it. When the refuge first opened, it was a really nice facility; however, as time went on, it became overcrowded. By the time it closed, the operating expenses for WPR were about $500,000 per year. Once financial concerns came into play, the birds' diets went downhill and hygiene failed. Over time, the facility became infested with rats and other vermin.
When WPR closed, our first priority was to transfer the birds who needed prompt medical care to Night Owl. The cockatiels and lovebirds were very sick with atherosclerosis, the result of a poor diet. The cockatiels had also developed systemic yeast infections, making them more susceptible to parasites. When the rescue started, we had between 30 and 65 sick parrots in hospital at any given time. Fortunately, we didn't encounter psittacosis, proventricular dilatation disease (PDD), or any other severe disease process, but we did have papilloma in the macaws and amazons. In addition to illness, many of the birds had been injured due to overcrowding—some were missing toes or had injuries to their beaks from fighting with other birds.
Greyhaven secured facilities on the mainland and we started to move the birds out of the refuge. WPR was in such terrible condition, my eyes burned from the fumes of the rat droppings. Two years into the rescue project, well over a million dollars has been invested. Most of the funds were obtained through fundraising, with plenty coming out-of-pocket, too.
2. How many birds have you re-homed?
We started the rescue with 586 and now we're down to less than 90.
When Greyhaven adopts out a bird, we want to be sure it's being placed in a secure home. As such, we have a very strict adoption program. After filling out an application, families receive a house visit from a member of our rescue team. Many of our adopters are first-time owners, but they are committed to putting the time into learning to care for their bird.
3. How have things at Night Owl and Greyhaven changed since the rescue?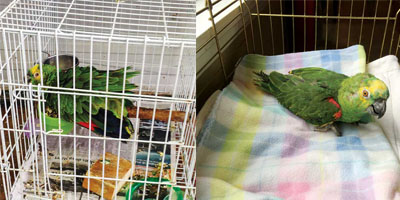 Since most of the rescued birds have been moved to either the Greyhaven facility or to their forever homes, things at Night Owl have gone back to what they once were—but now we're much busier. Our volume of work has gone up about 50 per cent in the past few years, due to publicity from the rescue.
Greyhaven has received a lot of donations via social media, thanks in part to the 'cele-birdie' status of some of our rescues and patients. Lucky Lou and Coco Chanel, a pair of rescued cockatoos, have more than 70,000 online followers.
4. How has the world of avian medicine changed since you began your career?
It's becoming socially unacceptable in Canada to promote keeping large birds as pets, and, as a veterinarian, it's difficult not to agree with that idea. Birds in captivity don't get exposed to sunlight and exercise as they do in their natural habitat. The foods they eat are much higher in fat and they experience diseases similar to humans. Often, large birds in captivity are calcium-deficient and suffer from bone and joint disease due to an insufficient diet and lack of exercise. They also experience skin and behavioural issues.
Currently, we're still the only clinic in Canada that has an exclusively avian clientele. While it's always been difficult to find a veterinarian with a special interest in birds, in the past few years we've had a lot of students work in the clinic and go on to veterinary school with the intent of becoming avian veterinarians. I see that as very hopeful.
5. What advice would you give veterinary students interested in studying avian medicine?
The long-term success of an avian veterinarian is dependent largely on observation and developing manual handling skills. I recommend students volunteer at a wildlife rescue or a clinic that sees birds. Birds must be handled very carefully, as their anatomy is very different from that of a cat or dog. Developing physical skills in terms of observation and handling is vital.