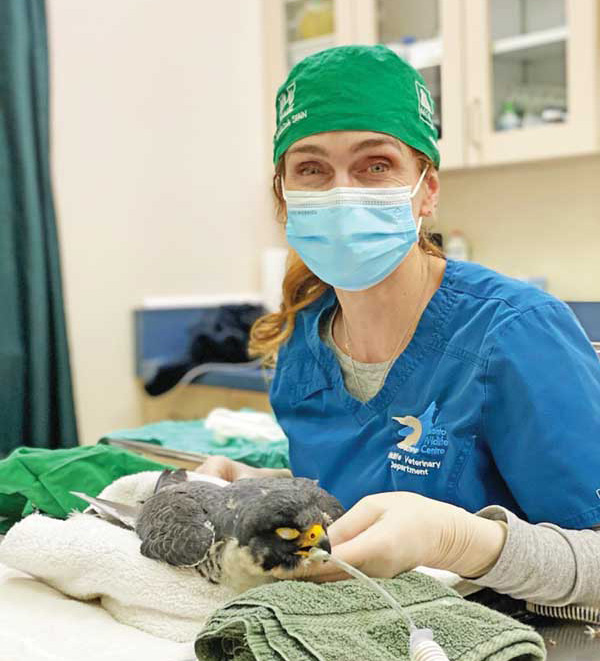 While animal medicine of any kind is bound to present 'unknowns' that must be handled using logic, reasoning, and on-the-job problem solving, wildlife medicine is, for lack of a better term, a different animal.
"I joke that all my patients are challenging, just by virtue of being wild," says Heather Reid, DVM, head veterinarian at the Toronto Wildlife Centre (TWC). "They are brought in with very little history to work with. They've adapted to hide signs of injury or illness and have to heal completely so they can continue to survive in the wild—to add to that, my patients can't return for follow-up exams or be sent home with any medications."
Dr. Reid began volunteering with the TWC while working toward her DVM at the Ontario Veterinary College (OVC). After graduating in 1997, she started her career at a small animal practice, but knew she ultimately wanted to work in wildlife medicine and conservation.
Reid continued at TWC and, in 1999, was hired to build the centre's veterinary department. She's remained the head veterinarian ever since, helping treat and release animals into the wild and educating members of the community on how they can co-exist with their wild neighbours.
"We've gone from a small, one-room treatment clinic to a full-functioning hospital with three veterinarians on staff and four RVTs," Reid says. "TWC is the busiest wildlife rehabilitation centre in Canada. We treat more than 5000 sick, injured, or orphaned native wild animals each year."
In 2011, Reid expanded her work in wildlife conservation with the co-founding of Animal Experience International (AEI), a certified B Corporation that supports wildlife conservation projects around the world. The organization, which offers more than 20 programs in 15 countries, pairs clients with animal-related volunteer opportunities at sanctuaries, hospitals, wildlife centres, and research projects.
"Whether it is working with sharks in South Africa, rescuing wildlife in Thailand, or helping with sea turtle conservation in Costa Rica, our volunteers make a real difference to these conservation groups and the animals they are helping," she says.
Veterinary Practice News Canada caught up with Reid, who recently joined the veterinary staff at the Toronto Zoo, to find out more about the work she does and learn about the vital role companion animal veterinarians play in wildlife conservation.
1) What inspired you to pursue a career in wildlife medicine and conservation?
Wildlife medicine combines my love for problem solving and thinking-outside-the-box with my fierce interest in conservation. I believe people have the power to protect the environment, as well as the animals that depend on this planet. I wanted to dedicate my career to helping wildlife and educating people as to why they should care and how they can help.
Professionally, I'm able to teach and mentor veterinary and veterinary technician students who have an interest in wildlife medicine. I can inspire and empower people who want to support global conservation programs
and provide safe and meaningful international volunteer opportunities.
2) How many different species have you treated through your work with the Toronto Wildlife Centre?   What animals and/or situations do you see most often?
Toronto Wildlife Centre is an incredible resource for the community, offering wildlife information and advice, and receiving sick, injured, or orphaned wild animals found by members of the public.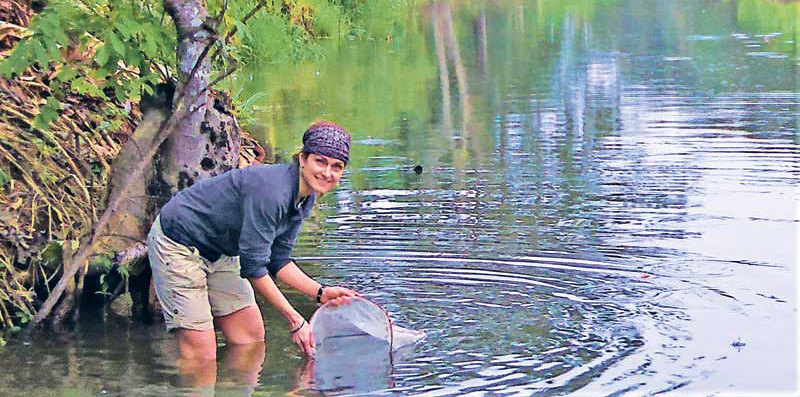 We have admitted more than 270 species, including birds, mammals, reptiles, and amphibians. About two-thirds of our caseload is made up of avian species—everything from great blue herons, peregrine falcons, and trumpeter swans, to tiny hummingbirds and kinglets.
In the spring, we are busy with orphans, such as baby rabbits, skunks, and squirrels, while our wildlife hotline works on overdrive to ensure babies that are not true orphans are left in the wild. In May and June, turtles begin to leave the water to lay their eggs, so we see an increase in turtles injured by vehicles. During the spring and fall migrations, we treat hundreds of injured songbirds that have collided with office towers while attempting to navigate our city. In the winter, we see injuries, like frostbite in Virginia opossums (their naked ears and tails are not well suited to this climate), as well as other animals struggling to cope in the cold. Each season seems to bring different species with different issues.
3) Can you share a few stories about some of the most memorable or challenging patients you've encountered through your work ?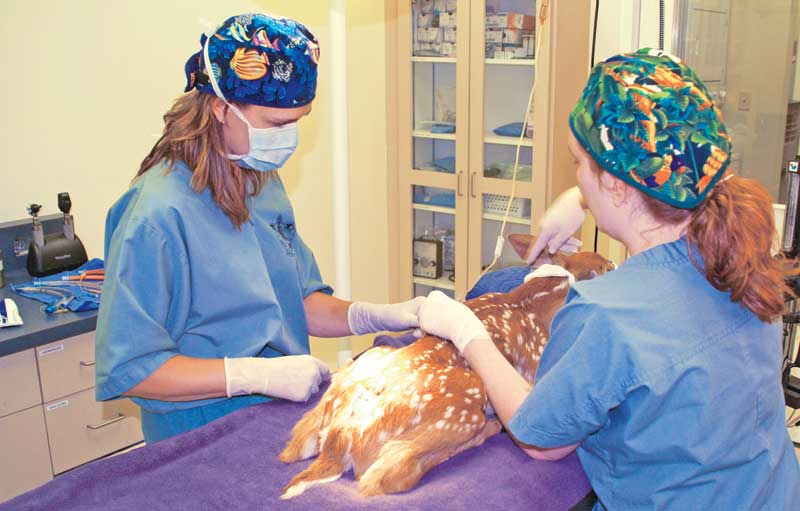 Over the years there have been a handful of patients that stand out in my mind—one was a great horned owl, brought to us with a severe foot injury. These are the only type of owl that will prey on skunks and, judging by the smell, that's exactly what this one was doing and what most likely led to the bite wound on its foot. The injury was extensive and required aggressive wound management. It soon became evident we would not be able to save the toe; however, amputating a digit could have severe consequences for a bird that uses its toes and talons to hunt. Wildlife medicine is like that—there's always an extra layer involved in decision-making; the need to determine if an animal can survive with a given handicap. Luckily for this owl, he was able to hunt without this digit. After surgery and a long rehabilitation process, he was eventually released back to the wild.
I'm still amazed to be working with such a variety of species—whether its wildlife at Toronto Wildlife Centre, animals that are part of Animal Experience International's conservation programs, or with a patient at Toronto Zoo. No matter what species I am treating, my goal is to help improve the life of the individual animal, with an eye to helping wild populations.
4) What can you tell me about your role with the Toronto Zoo? How did you get involved with the facility and what are some of the more unusual creatures you've treated there?
I recently joined the veterinary team at the Toronto Zoo in addition to my work at TWC—and I am excited to strengthen the ties between local wildlife rehabilitation and larger wildlife conservation initiatives!
The mission of the Toronto Zoo is connecting people, animals, and conservation science to fight extinction. Working with the facility allows for the sharing of expertise and resources, while educating members of the public on the importance of helping wildlife, both around the world and in our own backyards.
The zoo's veterinary team provides expertise and medical care to more than 500 species. I am particularly excited to work with species I support through Animal Experience International, such as the Przewalski horse. This endangered species is the last true wild horse on earth and, after being declared extinct in the wild, is being reintroduced to the steppes of Central Asia. The Toronto Zoo is part of the Association of Zoos and Aquariums' (AZA's) Species Survival Plan, which contributes to the conservation efforts and aims to provide horses for re-introduction to Mongolia and China. Other successful Toronto Zoo conservation programs include the re-introduction of wood bison, black-footed ferrets, Vancouver Island marmots, and Eastern loggerhead shrikes to the wild.
5) How can companion animal veterinarians contribute to wildlife health and conservation?
As animal professionals, veterinarians are an important source of information for their communities. For veterinarians who are not wildlife specialists, it is critical to know where to get accurate information and when to direct your clients to wildlife experts. Providing accurate advice can be the difference between life and death for the wild animal. I always suggest veterinary clinics take the time to establish a relationship with a wildlife rehabilitation centre that can provide information as needed. If there is a wildlife centre in the area, clients can be referred there directly and, if interested, a clinic can contribute to local wildlife rehabilitation and conservation efforts.
People have a range of experiences with wildlife, both negative (such as livestock predation) and positive (wildlife sightings, which can be quite meaningful). I believe our role as animal professionals is to educate people on how to safely co-exist with wildlife, and to teach people the health of people, animals (both wild and domestic), and our environment is interconnected. Wildlife conservation is critical and veterinary professionals have an important role to play in its promotion.