Veterinarians from Colorado State University James L. Voss Veterinary Teaching Hospital recently evaluated a 15-year-old African lion named Guero for neck injuries and damaged teeth.
Veterinary professionals from neurology, exotic animal medicine, small animal surgery, anesthesiology and dentistry collaborated to diagnose his injuries and provide a treatment plan for the 345-pound lion.
"With patients like this, it often takes a hospital to treat a patient," said Terry Campbell, DVM, Ph.D., who specializes in exotic animal medicine. "That's why CSU is perfect for cases like this, because we have so much expertise in a variety of medical specialties."
Not much is known of Guero's past, except that he had been surrendered by his owner to an animal rescue organization in Pachuca, Mexico. On April 24, Guero was airlifted to the Wild Animal Sanctuary in Keenesburg, Colo., a place where he will now call home.
"We think Guero broke his neck around two and a half years ago," said Rebecca Miceli, director of animal care at the Wild Animal Sanctuary, theorizing that the injury was inflicted by a guillotine-type gate in the lion's cage. "From what we know, which is very limited, Guero's owner came home from vacation and noticed Guero was hanging his head, walking in circles, and appeared to be in pain."
CSU veterinarians used magnetic resonance imaging to identify an old neck fracture. It had healed, but left the lion with chronic pain and impaired movement, according to the university.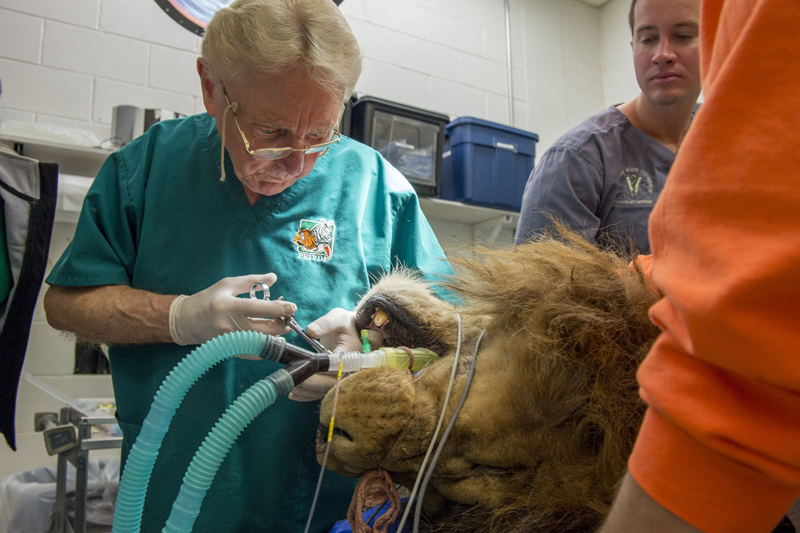 Joe Mendoza, CSU
Dr. Peter Emily works on Guero's broken teeth at the Colorado State University James L. Voss Veterinary Teaching Hospital.
Since surgery was deemed too risky due to Guero's age, extensive spinal disease and the length of time since the neck injury, the lion was placed on steroids with the goal of reducing pain and increasing mobility.
"Performing surgery on Guero would be similar to performing surgery on a 70-year-old man," Dr. Campbell said. "Since Guero broke his neck more than two years ago, the bone has fully healed, which would make surgery incredibly risky. It would most likely cause more harm than good."
Guero also had extensive mouth issues. Peter Emily, DDS, Hon. Dipl. AVDC, determined that Guero had several crown fractures, periodontal disease and root fragments on his upper incisors.
"This was likely caused by mistreatment or from chewing on hard objects, like the bars on his cage," said Dr. Emily, who has worked on the teeth of more than 100 lions.
Guero is now back at the Wild Animal Sanctuary where he will receive steroid therapy and further dental work.
Lions live 12 to 15 years in the wild and up to 23 years in captivity, according to the university.
"We really wanted to make sure—and the experts here told us—that absolutely he deserves a chance," Miceli said. "We think he'll most likely live another three to five years, but even if it's a year he lives, we're going to make sure that he's comfortable and happy – good food, soft ground, some grass to play on and some fresh air to breathe. That's our hope."
CSU Guero Clean Package from Colorado State University on Vimeo.