Suggested Veterinary Products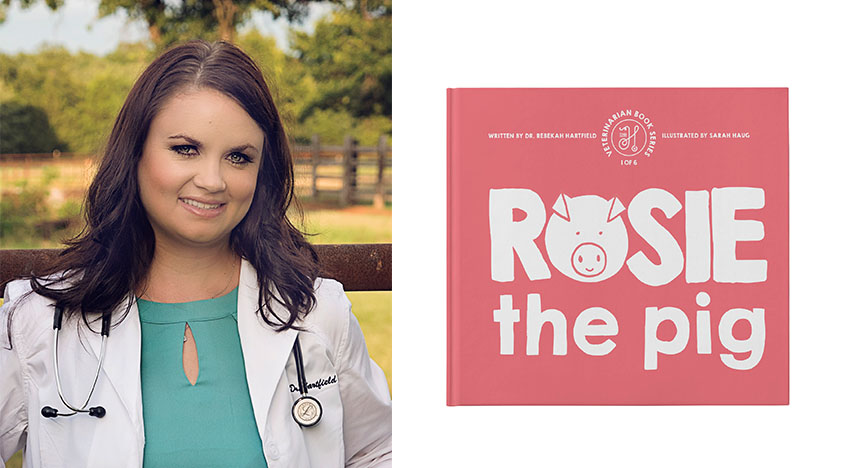 Rebekah Hartfield, DVM, is determined to reverse the trend of young veterinarians eschewing large animal practice by sharing her love of rural life and veterinary care one story at a time.
Her Doctor Hartfield Veterinary Book Series focuses on tales about caring for such large animals as pigs and horses to increase exposure and interest in these creatures. Dr. Hartfield hopes to spark a desire in young children to help care for some of the largest, most lovable, and vital animals in America, she said.
"My love for animals started at birth at our home in Bridgeport, Texas," said Hartfield, who practices at a clinic in Cushing, Okla. "Unfortunately, few kids have access to the ranch animals I grew up with in order to foster the same interest and love for them that I have. But every child does have access to books, and with my book series, I hope to at least spark an interest that will encourage more kids to consider rural veterinary care."
According to the American Veterinary Medical Association, about 17 percent of veterinarians work in food animal medicine, while more than 70 percent of veterinarians work with companion animals. The central region of the country—with stronger farming and ranching industries–are most heavily impacted, which could eventually impact the safety of the nation's food supply, according to Hartfield.
"I love to read, I love to teach, and I love veterinary medicine," she said. "To me, this was the perfect recipe to write a children's book, but I didn't just want to write about cats and dogs; I wanted to share real stories from my own farm."
The books chronicle young Abby and Dr. H. as they examine, diagnose, and treat various animals on Abby's farm.
While there are a handful of educational books for children with a veterinary focus, very few—if any—focus on rural veterinary care featuring large breed animals typically seen and treated by rural vets, according to Hartfield.
Her first book, Rosie the Pig, published in July, tells the story of how Abby and Dr. H examine, diagnose, and treat Rosie.
Her next book, Pistol the Horse, is due summer 2018. All books in the series will feature additional learning tools like quizzes and games to help increase reader knowledge.
The book is available at doctorhartfield.com for $14.99 plus shipping and handling, at the Cushing Veterinary Clinic, or at an upcoming reading or event, which can be found on her website. A portion of the proceeds from book sales will go to support a scholarship at the Oklahoma State University Center for Veterinary Health Sciences.