Suggested Veterinary Products
The University of Pennsylvania School of Veterinary Medicine (Penn Vet) has appointed Juan Luis Ferrer Perez, VMD, Felicia Madison Levy, Richard Lichter and Gail Riepe to its Board of Overseers.
Overseer boards serve as bridges between Penn's schools and centers and the community beyond campus boundaries, according to Penn Vet. Although overseers do not have fiduciary responsibility, the president, provost and board of trustees rely heavily on these boards to help inform the work of the schools and centers.
"It is with great pleasure that we welcome four accomplished individuals to join Penn Vet's Board of Overseers," said Joan C. Hendricks, VMD, Ph.D., the Gilbert S. Kahn Dean of Veterinary Medicine at the University of Pennsylvania. "Drawing on their varied professional expertise, Juan, Felicia, Richard and Gail will undoubtedly help bring Penn Vet to new heights."
Dr. Perez graduated from the University of Pennsylvania in 1978 and completed his veterinary degree at Penn Vet in 1982. He worked for three years at County Animal Clinic in New York and then returned to Puerto Rico where he was born and raised. He established Hospital de Animales Villa Caparra in Guaynabo, where he currently serves as medical director.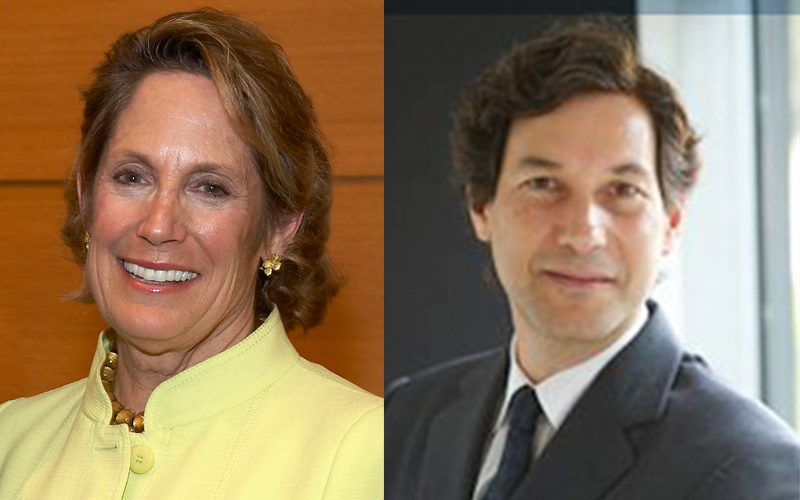 University of Pennsylvania School of Veterinary Medicine
Gail Riepe (left) and Richard Lichter
Levy graduated from the University of Pennsylvania in 1987 and has long been an active member of the Penn community. She first became involved with Penn Vet after touring the Working Dog Center in November 2013, and plans to leverage her background in both biology and marketing as a member of the board.
Lichter is the founder and managing partner of Newbury Partners LLC, where he is responsible for managing its secondary investment activity. Lichter connected with Penn Vet because of his interest in canine health. According to Penn Vet, he has been a generous supporter of the school's canine leukemia and lymphoma immunological research.
Riepe returns to Penn Vet's Board of Overseers, having previously served for nine years on its executive committee. It was her passion for horses that first brought her to Penn Vet, where she joined the school's Equine Advisory Committee.