One of the biggest mistakes veterinarians make when buying digital imaging equipment for their equine practice is not taking the time to learn the software and the accompanying image processing and tools.
That's according to J.K. Waldsmith, DVM, president of Vetel Diagnostics and owner of The Equine Clinic, a full-service hospital, both in San Luis Obispo, Calif.
Dr. Waldsmith and other professionals place lack of understanding before and after making a digital radiography equipment purchase on top of the list of possible mistakes equine practices can make.
Failing to ensure the following are also errors, Waldsmith said: a good environment for radiographs; proper electrical service where needed; proper staff; proper patient restraint; not having high speed Internet to transmit images and get technical support.
Another misstep is neglecting to check in with practice insurance providers about the new equipment, he said.
"Make sure you are covered [before] the DR system gets dropped," Waldsmith advised. "Make sure your policy covers the cost of loaner systems while yours is being repaired.
"In my experience there is a greater need for the veterinarian to take the time to understand the technology, and how it can benefit their particular practice," he said.
Waldsmith also said there's need for more information from sources without a motive behind pitching one technology over another—there's a need for a vendor-neutral product comparison provider like Consumer Reports.
"The profession has not seen the [needed] amount of leadership from the experts in terms of unbiased information both in the technology as it evolves, and also the impact on the utility and work flow it provides in the veterinary practice," he said.
Still, there are ways to get information on products, Waldsmith said, such as asking vendors for a list of 10 references and personally asking radiologists and other experts their opinions as to the diagnostic quality of a product.
Not using physical markers on the plate is a common mistake seen by Carter E. Judy, DVM, Dipl. ACVS.
Making it a habit to use a physical marker helps reduce the risk of inappropriately labeling radiographs, said Dr. Judy, a staff surgeon at Alamo Pintado Equine Medical Center in Solvang, Calif.
"Almost all systems come with a digital marking system that attempts to identify the laterality of a radiograph," Judy said. "However, those digital marking systems rely on holding the imaging plate in a certain position. If that position is changed, then the digital marker may very well be in an inaccurate location and can hamper the proper identification of a specific problem."
A simple solution: When buying a digital system, don't throw out the old one's physical markers.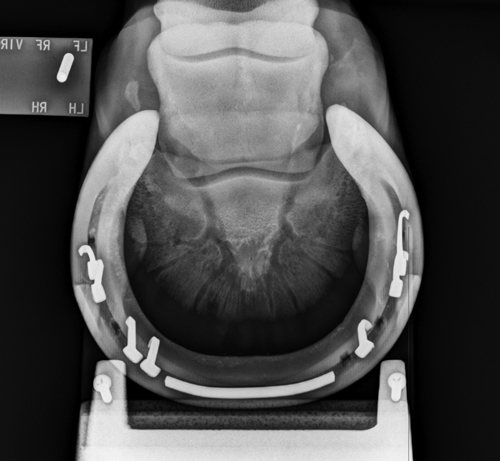 Courtesy of Kent Allen, DVM, with Virginia Equine Imaging in Middleburg, Va.
Figure A is Navicular DP view, also known as a 65-degree DP view of the foot. It is of the same foot on the same horse as Figure B (below), and demonstrates the difference in image quality and diagnositic value between a DR system that isn't working properly and a high-quality system.
"Use them just like the old radiographic techniques and tape them onto the plate in the correct laterality," said Judy, who will be speaking at the American Association of Equine Practitioners "Focus on the Sport Horse" conference in Louisville, Ky., July 20-22.
Improper positioning, over-interpretation and human radiation exposure are all common problems and concerns identified by Steve Trostle, DVM, MS, Dipl. ACVS, Dipl. ACVSMR (Equine).
Dr. Trostle recommends proper positioning to optimize the area or areas that are to be evaluated; understanding DR anatomy, like the finer details of cortical and trabecular bone patterns; practicing radiation safety, such as wearing protective gear and wearing a monitoring badge.
"On-demand interpretation" is another trouble spot, said Dr. Trostle, who works with Blue Ridge Equine Clinic in Earlysville, Va.
He pointed to instances in which DR images are acquired with the owner standing there, which can create a situation in which interpretation is often expected on the spot.
"In some scenarios the acquisition monitor is not of high-quality resolution and the reading monitor and some edge detail might be overlooked," he said.
He suggested setting client expectations regarding interpretation of images, reading images on high-quality monitors and minimizing distractions during interpretation to help avoid errors.
One of the biggest mistakes Kent Allen, DVM, with Virginia Equine Imaging in Middleburg, Va., sees practices make is buying poor-resolution CR or DR equipment.
Dr. Allen's mindset is that expedience is a nice advantage, but quality is key.
"You can buy the new wireless plates which make the radiographic shooting process go much quicker," he advised. "Or you can buy the now older or used direct DR plates with wires at a much cheaper price. Make sure you get high-quality radiographic resolution either way."
Techniques
Avoiding buying inferior equipment in the first place, Allen said.
"Compare the image quality to some of your colleagues' radiographs that you admire or talk to practitioners who do radiographs on an everyday basis," he said.
Another of his suggestions is to consider shooting a larger number of radiographs around a horse's body.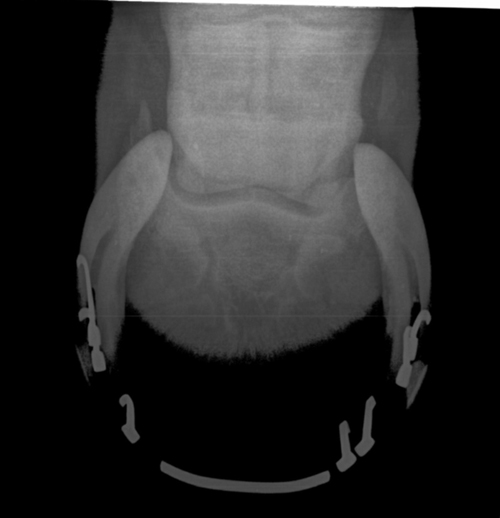 Courtesy of Kent Allen, DVM, with Virginia Equine Imaging in Middleburg, Va.
Figure B is Navicular DP view, also known as a 65-degree DP view of the foot. It is of the same foot on the same horse as Figure A (above), and demonstrates the difference in image quality and diagnositic value between a DR system that isn't working properly and a high-quality system.
"You need to do quality control on the radiographs as you're shooting, not when you return to your clinic," said Allen, who is certified in equine locomotor pathology.
Waldsmith noted that there are various ways to digitally image a horse, but that "The biggest difference is the variability of the X-ray dose," he said. "This is dependent on the X-ray machine's capability, and also age. Many times as X-ray generators age the X-ray dose that is actually produced is less than what the settings indicate."
Another variable is focal film distance. This is fixed in companion animal DR systems, and brings greater predictability to what is expected when using a technique chart, Waldsmith said.
"One practice tip for equine practitioners, especially those using 80 kVp/15 mA X-ray generators, is to shorten your focal film distance if you feel your image lacks subject penetration," he said.
Another Waldsmith tip is that if images appear dark enough but have a grainy appearance, cut the kVp 15 percent and increase the mAs at least 20 percent.
"This will provide better saturation of the DR panel and also decrease scatter radiation, producing a much more pleasing and diagnostic image, especially when it comes to soft tissue detail," he said.
Digital Thought
Thinking that digital is always better is a misconception, said Myra Barrett, DVM, MS, Dipl. ACVR.
"There is a large range in the quality of products on the market and many lower end —and some higher priced—digital units are poor quality," said Dr. Barrett, an assistant professor at Colorado State University's College of Veterinary Medicine & Biomedical Sciences.
"Good screen/film radiography remains superior to low quality digital imaging. Consulting with a radiologist prior to purchase can help eliminate this problem."
While digital imaging provides greater latitude with radiographic technique than traditional radiography, there is still the potential for over and underexposure, Barrett said, adding that proper technique is important.
"Also, many units have too strong an edge enhancement," she said. "While this contrasting appearance can be pleasing to the less trained eye, the risk is of increased mock lines and over-diagnosis of fractures and other osseous pathology. Most units allow you to modify the algorithm; choosing a smoother algorithm can decrease this problem."
And with digital, positioning and labeling are still equally important, because positioned or unlabeled images are not adequately diagnostic, she cautioned.
"In fact, some people are less attuned to positioning with digital because they just keep reshooting, which is easier with digital, thereby increasing the exposure to personnel and the patient," Barrett said.