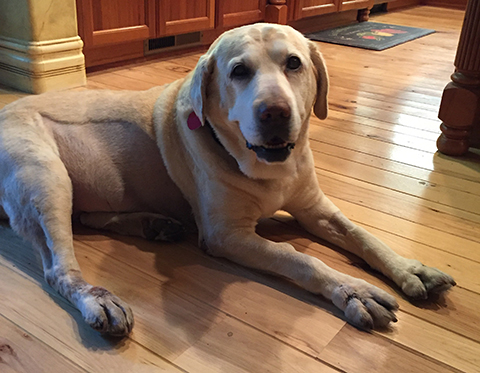 After handed a diagnosis of bilateral adrenal tumors in their dog, Makana, her owners took her to the University of California, Davis Veterinary Medical Teaching Hospital, where the Internal Medicine Service, the Soft Tissue Surgery Service, and the Diagnostic Imaging Service developed a plan to address the 7-year-old yellow Labrador retriever's complicated condition.
A CT scan revealed large adrenal tumors present on both sides without significant evidence of invasion into the vasculature or surrounding structures, and UC Davis surgeons recommended a surgical excision of both adrenals, according to the case file.
Adrenal tumor removal is one of the most challenging small animal surgeries due to the adrenal gland's location as well as the potential for tumors to release excessive amounts of hormones and to invade surrounding structures, according to UC Davis.
UC Davis soft tissue surgeon Philip Mayhew, BVM&S, and surgery resident Jeremy Fleming, DVM, performed a laparoscopic adrenalectomy, a keyhole alternative to traditional open surgery that is minimally invasive and less painful for the patient. Bilateral tumors are rare in dogs, and bilateral laparoscopic adrenalectomy is very rarely performed, said UC Davis, adding that it has performed more laparoscopic adrenalectomies than any veterinary hospital in the world.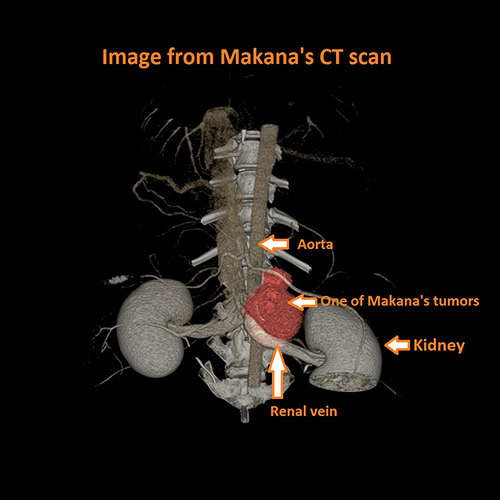 Drs. Mayhew and Fleming used four keyhole ports in the left side of Makana's abdomen and three in her right side to successfully remove both adrenal glands.
Now regarded as a dog with Addison's disease, Makana will of course need hormone supplementation daily for the remainder of her life, according to UC Davis.
Makana was hospitalized for three days before she was discharged. She was bright, alert, and responsive at her two- and four-week recheck examinations, is recovering well from surgery, and as long as she takes her meds and is monitored carefully, she should live a normal lifespan, according to UC Davis.