A New Journey: Mary Beth Leininger, DVM
by Veterinary Practice News Editors | January 5, 2009 1:22 pm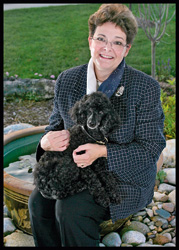 Mary Beth Leininger, DVM, says it all started with an invitation.
Less than a week after she and her husband, Steven R. Leininger, DVM, launched their veterinary practice in Detroit, a colleague invited them to a seminar on heartworm. This was nearly 40 years ago, when heartworm was beginning to show up in northern climates. The Leiningers had recently moved from Chicago, where, she recalls, she had made a heartworm diagnosis only two or three times in two years.
She didn't think the meeting would have much relevance, but a colleague gently insisted she really needed to hear the latest news.
So they attended, and it changed her life.
On the purely practical side, the seminar drove home the lifelong importance of staying current on medical issues; she gained the tools to properly diagnose the condition and discovered six cases the very next month. But from a larger standpoint, it set her on a path that shaped her entire career.
Retiring this month after 10 years as director of professional affairs at Hill's Pet Nutrition of Topeka, Kan.,  Mary Beth Leininger has devoted much of her life to leadership on professional veterinary issues, including her service as president of the American Veterinary Medical Assn. in 1996-97.
She says she became active in professional circles at first because it was useful and interesting, but it didn't take long to recognize the bigger issue: "We are not a very big profession; there are only 80,000 to 90,000 of us. To have our voices heard, we have to work together; we need to speak with one voice."
An Early Choice
Dr. Leininger didn't have that big picture in mind when she decided to become a veterinarian. She made the decision as a second-grader.
"I was all about animals," she says of her childhood. "I would bring home baby bunnies that my dog had found. I always had turtles from the creek across the road. I had the most patient parents!"
With their support, especially from her father, a longtime Cleveland firefighter, she eventually went off to veterinary school at Purdue University, one of just seven women in the Class of 1967. The majority of her classmates were male Midwestern farm kids. Many barnyard and reproductive-system jokes ensued.
"I spent the majority of my years in veterinary school blushing, having come from an all-girls Catholic high school," she says.
---
 "I just can't imagine not having something that drives me to get up every day, because I've never not enjoyed what I did."
---
But she'd had an older brother and could deal with a little teasing. Only once, she says, did she come across a real obstacle. Just before graduation, she applied for a job at a practice. The interview seemed to go well until at the end the male interviewer thanked her, shook her hand and told her to make sure she told all her male classmates about the opening.
"That was the one and only time I can point at that someone looked at me and said, 'You're not good enough,' " she says. "And to be honest, it made me mad. I knew I was good enough."
She shook it off, and a couple of years later she and her husband started building their practice in Michigan. Their partnership, she says, always worked for them. He saw most of the clients and she handled the business side and most of the elective surgeries.
Simultaneously, she became active in veterinary organizations, culminating in her running for the AVMA presidency.
Leininger was the first woman to win that office, but she says that had little to do with why she ran.
"I didn't start that journey because I wanted to be a trailblazer," she says. "I think my election was more about someone who was different, someone who had reached out to members in the state veterinary medical associations and engaged them in the decision-making process, someone who seemed to be looking for ways the association could better serve members."
Leininger focused her term on trying to make the organization more responsive to change and to address the needs of a profession that has changed rapidly in the last generation—both in the way veterinary businesses were structured and the makeup of the professionals involved. Women, for instance, now make up the majority of new veterinary school graduates.
The Face of Hill's
After her AVMA term ended, she returned to the family practice but felt a pull to do something else with a broader reach. Hill's was another natural fit. In her role there for the past decade, she's been able to work both sides of the room: She has served as the face of Hill's to her fellow veterinarians, helping them see how the company could help them better serve their patients. But inside the company, she brought the voice of the practitioner to the table, championing the issues that matter to vets who are treating patients in the real world while trying to run viable businesses.
"In companion animal practice, the level of care is exponentially higher than it was (a generation ago)," Leininger says. "And pet owners are far more savvy about what's possible. The days when a pet owner would ask, 'You actually do dentistry?' are long gone.
Now pet owners (ask) where is a cancer specialist that can treat their pet or why can't you do the exciting things like a kidney transplant."
At the same time, she worries, the changes have led to a profession that is increasingly fragmented.
Veterinary groups must do a better job of reaching out to younger veterinarians, women and veterinarians of color, she says. They must better accommodate the busy lives of today's vets, perhaps with more teleconferences and more short-term, intense task forces. And she thinks the organizations must stay relevant to the needs of today's veterinary professionals, especially in a shaky economy.
"I think practitioners will be economically affected like most other small businesses," she says. "Maybe some elective procedures may be postponed or eliminated. Maybe clients won't choose some high-tech things like chemotherapy or orthopedic surgery. I think we all need to recognize that when people are worried about paying their mortgages they make hard choices, even when it concerns their pets, and we will have to make choices in our practices" to deal with the economic realities.
That doesn't sound like someone who's leaving the field. In fact, Leininger admits this may not be a real retirement. While she plans to enjoy more time with her retired husband, Leininger is thinking about her next act, perhaps in a consulting or part-time role in academia, in a professional group or an animal organization.
"I just can't imagine not having something that drives me to get up every day, because I've never not enjoyed what I did," she says.
"That's a very fortunate thing that we veterinarians can say—we get to do what we love and it's our job, too."
<HOME>[1]
Source URL: https://www.veterinarypracticenews.com/a-new-journey-mary-beth-leininger-dvm/
---