ACVS Certifies 65 Veterinary Surgery Specialists
by Veterinary Practice News Editors | March 17, 2009 2:06 pm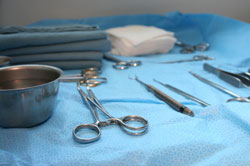 The American College of Veterinary Surgeons[1] has board-certified 65 veterinary surgery specialists.
"Successfully completing the certifying examination of the American College of Veterinary Surgeons is a personal and professional accomplishment by these former residents," said Larry Bramlage, chairman of the ACVS Board of Regents. "We, as an organization, and I personally wish to congratulate these new diplomates on the culmination of their training, the mastery of the certifying examination. I wish them all a rewarding and fruitful career as a specialist in veterinary surgery."
Some 1,403 veterinary surgeons are board-certified. Almost 65 percent of ACVS diplomates are small-animal surgeons and the rest are large-animal surgeons.
The 65 veterinary surgery specialists are:
| | |
| --- | --- |
| Name | Location |
| Nicole S. Amato, DVM | Roslindale, Mass. |
| Jonathan D. Anderson, BVM&S | Davis, Calif. |
| Jonathan R. Anderson, DVM | Pittsburgh, Pa. |
| Gregory A. Arnold, DVM | Plano, Texas |
| Nicholas J. Bacon, VetMB, MRCVS | Gainesville, Fla. |
| Jason Balara, DVM | Charlotte, N.C. |
| William J. Banz, DVM | San Leandro, Calif. |
| Britany Benson-Timberlake, DVM | Delavan, Wis. |
| Mary Sarah Bergh, DVM | Madison, Wis. |
| John M. Bevan, DVM | Austin, Texas |
| Catherine Briere, DVM | Duxbury, Mass. |
| Charles W. Bruce, DVM | Manotick, Ontario |
| Evita Busschers, DVM, MVR | Kennett Square, Pa. |
| Susan A. Casale, DVM | Sherborn, Mass. |
| A. Berkley Chesen, DVM | Bryan, Texas |
| Sara A. Colopy, DVM | Madison, Wis. |
| Jennifer L. Covey, DVM | Northville, Mich. |
| William T. Culp, VMD | Fort Collins, Colo. |
| David I. Dismukes, DVM | Columbia, Mo. |
| Christina M. Ellis, DVM | Dunnellon, Fla. |
| Dean Filipowicz, DVM | Oakland, Calif. |
| James T. Giles, DVM | Bann, Germany |
| Marc J. Greenberg, DVM | New York City |
| Santiago D. Gutierrez Nibeyro, MV | Champaign, Ill. |
| Kathleen M. Ham, DVM | Royal Oak, Mich. |
| Justin Scott Harper, DVM | Boerne, Texas |
| Laurel Niki Hays, DVM | Santa Monica, Calif. |
| Cortney Erik Henderson, DVM | Okemah, Okla. |
| Robert B. Hillman, DVM | Portsmouth, N.H. |
| Carl T. Jehn, DVM, MS | Coral Springs, Fla. |
| Thomas Jenei, DVM | Grafton, Mass. |
| Matthew D. Johnson, DVM | Annapolis, Md. |
| JoLynn Joyce, DVM | Driftwood, Texas |
| Alastair Thompsom Kay, BVSc, MRCVS | Athens, Ga. |
| Kristin Ann Kirkby, DVM | Gainesville, Fla. |
| Pilar M. Lafuente, DVM, Ph.D. | Zaragoza, Spain |
| Steve Leshem, DVM | West Hartford, Conn. |
| Jayce A. Lineberger, DVM | Mission, Kan. |
| Stephanie Lister, DVM | Richmond, Va. |
| Amy A. Little, DVM | Lynnwood, Wash. |
| Omar Maher, DVM | Dover, N.H. |
| Sarah A. Matyjaszek, DVM | Gainesville, Fla. |
| Wilburn M. Maxwell, DVM | Starkville, Miss. |
| Milan Milovancev, DVM | Madison, Wis. |
| Oliver D.E. Morgan, VMD | Manhattan Beach, Calif. |
| Laurinda J. Oliver, BVSc | Lafayette, Ind. |
| Jacquelyn S. Parker, DVM | Wauseon, Ohio |
| Erin R. Paster, DVM | Wilton, Calif. |
| Shannon K. Reed, DVM | Columbia, Mo. |
| Ryan D. Rothenbuhler, DVM, MS | Indianapolis, Ind. |
| Luis M. Rubio-Martinez, DVM | Guelph, Ontario |
| Kelli N. Russell, VMD | Portland, Ore. |
| Sarah N. Sampson, DVM | Pullman, Wash. |
| William E. Scherrer, DVM | Fremont, Calif. |
| Rebecca M. Stanclift, DVM | Clifton Park, N.Y. |
| Matthew W. Stepnik, DVM | Davis, Calif. |
| Jason A. Syrcle, DVM | New York City |
| Sunil C. Vasanjee, BVSc | Baton Rouge, La. |
| Tyson W. Wallis, DVM | Louisville, Tenn. |
| Jennifer L. Wardlaw, DVM | Starkville, Miss. |
| Martin Waselau, Dr. med. vet. | Zurich, Switzerland |
| Marta Wereszka, BSc, BVMS | Sydney, Australia |
| Thomas Witte, BVetMed | Wiltshire, England |
| Joshua R. Zacharias, DVM | Katy, Texas |
| Steven T. Zedler, VMD | Kennett Square, Pa. |
Endnotes:
American College of Veterinary Surgeons: http://www.acvs.org
Source URL: https://www.veterinarypracticenews.com/acvs-certifies-65-veterinary-surgery-specialists/
---