AHS Survey Defines Heartworm Research Priorities
by Veterinary Practice News Editors | April 2, 2009 7:10 am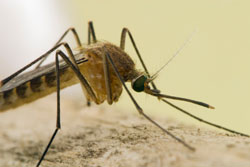 The American Heartworm Society[1] released the results of its first stakeholder survey, designed to identify the top priorities for researchers to take on.
Some 495 veterinarians, scientists, industry representatives, shelter directors and animal rescue organizations ranked the importance of topics, including:
The biology of Dirofilaria immitis and its vectors.
The impact of climate change on transmission.
Reservoirs of infection.
Epidemiology of infections in different species.
Issues regarding pet owner compliance.
The highest-ranking priorities in veterinary practice included treatment of feline infection, feline diagnostics, treatment of canine infection and owner compliance with preventive administration.
For scientists, the highest priorities included canine preventives, treatment of feline infection and feline diagnostics.
Treatment of canine infection was one of the highest priorities among those who had experience in animal shelters, followed by owner compliance with preventive administration and canine preventives.
Those with experience in academics or education ranked canine epidemiology as one of the highest priorities, followed by vectors of transmission and reservoirs of infection.
From an industry perspective, the highest priorities were canine preventives, owner compliance with preventive administration and feline preventives.
"Even though heartworm disease is an ancient threat to our companion animals, there are still critical issues that remain to be solved," said board member Julie Levy, DVM, Ph.D., Dipl. ACVIM, and director of Maddie's Shelter Medicine Program at the University of Florida.
"As a profession, we still struggle to control this preventable disease and too often experience disappointment. The biology and epidemiology of D. immitis suggests it would be virtually impossible to eradicate, so we need to be vigilant to ensure that each pet receives appropriate medication to prevent the development of heartworm disease."
When asked to describe their greatest personal concerns, some general clinical questions emerged. They included, in no particular order:
How can we get veterinarians to actually inform their clients that heartworm infection is an issue?
How serious is the apparent spread of heartworm infection?
Is it possible to get higher owner compliance?
Are patterns of climate change, urban/land development and wildlife reservoir populations important factors to consider?
The society said it is calling on scientists to recommit to solving the puzzles that remain for heartworm disease and for companion animal health research foundations, industry and others to fund the research.
A Heartworm Symposium will take place April 15 to 18, 2010, in Memphis, Tenn., giving scientists and veterinary clinicians an opportunity to present research findings and clinical observations. The meeting takes place every three years.
Click here[2] for more on the survey results.
Endnotes:
American Heartworm Society: http://www.heartwormsociety.org
Click here: http://www.heartwormsociety.org/survey-results.html
Source URL: https://www.veterinarypracticenews.com/ahs-survey-defines-heartworm-research-priorities/
---