American Humane honors lifelong aquatic animal advocate
October 1, 2018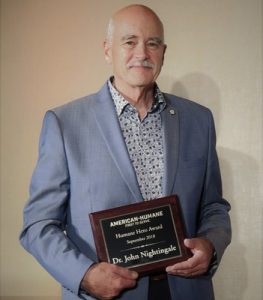 John Nightingale, PhD, animal advocate, conservationist, and educator, received American Humane's Humane Hero Award in Los Angeles on Sept. 28. at the Beverly Hilton in Los Angeles.
Dr. Nightingale is president and CEO of Ocean Wise and its initiatives, including the Vancouver Aquarium, the first Canadian zoological institution to receive certification through the American Humane Conservation program; Ocean Wise Sustainable Seafood Program; Plastic Wise; the Coastal Ocean Research Institute; the Great Canadian Shoreline Cleanup; and partner/operator of Europe's largest Aquarium, Oceanogràfic in Valencia, Spain.
As a professional biologist and public communicator with a background in marine biology, nonprofit management, education, and ocean conservation, Nightingale helps raise awareness about preserving the world's oceans, said American Humane.
Through his work at the Vancouver Aquarium, now Ocean Wise, and prior to that at the New York Wildlife Conservation Society/New York Aquarium, the Seattle Aquarium, the Maui Ocean Centre, and Bios Inc., he spearheaded the development and delivery of some of the world's most effective aquatic ecosystem science, interpretation, and public engagement programs, according to American Humane.
"It is my great pleasure and honour to receive the American Humane Hero Award," said Nightingale. "Having dedicated my life to conserving our natural world, I am heartened by the growing number of people and organizations who care enough about our planet to make positive daily changes. From protecting species at risk and developing marine protected areas to bringing awareness to the global ocean plastics issue, supporting choices towards sustainable seafood and influencing long-term policy to support a natural world where oceans are healthy and flourishing—I could not have asked for a greater calling. We have an enormous opportunity to be even better stewards of the environment, particularly at a time when our planet is being challenged in unprecedented ways. I am hopeful that we will continue to see progress as millions of people worldwide take bold steps to take action. Please join our movement and get involved at Ocean.org[2]."
"Dr. Nightingales unwavering dedication to the conservation of the world's oceans and aquatic animals at a time when the world's species are facing what scientists are terming a Sixth Mass Extinction will help us preserve the rich legacy of life on earth for future generations," said Robin Ganzert, PhD, president and CEO of American Humane. "For his outstanding work in helping protect and preserve the very cradle of life itself with all its vitally important creatures, American Humane, which has worked on behalf of the world's animals for more than 140 years, is honored to recognize him with our Humane Hero Award."
Endnotes:
[Image]: https://www.veterinarypracticenews.com/wp-content/uploads/2018/10/Nightingale.jpg
Ocean.org: http://ocean.org/
Source URL: https://www.veterinarypracticenews.com/american-humane-honors-aquatic-animal-advocate/
---