AVMA And AVMF Partner With Red Cross
by Veterinary Practice News Editors | April 17, 2009 4:06 pm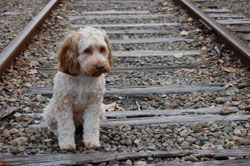 The American Veterinary Medical Assn.[1] and its charitable branch, the American Veterinary Medical Foundation[2], have signed a memorandum of understanding with the American Red Cross[3] to coordinate animal rescue efforts and programs.
The national groups have had a statement of understanding since 1998, but this formal agreement lays the groundwork for increased cooperation.
"This partnership with the Red Cross will help the American Veterinary Medical Foundation bring substantive help to pets and animals not only on the national level but at the local level," said Michael Cathey, head of the foundation. "It gives us a hands-on network of people who will work around our goal of helping pets in times of disaster. This is an exciting new chapter in the AVMF's outreach efforts."
The foundation will use grants to help fund programs developed under the agreement.
The AVMA will serve as a technical adviser to the Red Cross on all animal and veterinary aspects of disaster-response efforts.
About 100,000 animals, pets and livestock are separated from their owners or lost during a major natural disaster such as a hurricane or forest fire, according to the AVMA. Many times owners are forced to leave a pet behind because they aren't prepared for evacuation. In other cases, the owner is prepared, but local or state disaster plans are not written to accommodate animals. One of the group's goals is to solve this problem.
The Chicago chapter of the Red Cross and the AVMA are working together to find temporary housing for pets after house fires. The new program, still under development, will create a network of veterinarians who would house these animals.
The hope is that such a program will be duplicated nationwide.
Endnotes:
American Veterinary Medical Assn.: http://www.avma.org
American Veterinary Medical Foundation: http://www.avmf.org
American Red Cross: http://www.redcross.org
Source URL: https://www.veterinarypracticenews.com/avma-and-avmf-partner-with-red-cross/
---