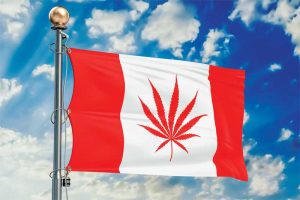 On Oct. 17, Canada becomes the first G7 nation to legalize recreational marijuana. While the effects of cannabis are clear on humans, the same cannot be said for animals. The legalization of marijuana is shining a spotlight on insufficient evidence of the benefits and risks of administering cannabis to animals, a lack of species-specific research, and the need for regulation within the veterinary community. We sat down with Sarah Silcox, DVM, president and director of the Canadian Association of Veterinary Cannabinoid Medicine (CAVCM), to discuss what legalization of cannabis in humans means for veterinarians, pet owners, and animals.
JD: What is the current law for prescribing cannabis-based medicine to animals in Canada?
SS: Under the current law, there is no legal pathway for veterinarians to prescribe cannabis-based medicine for animals. All cannabis products remain classified as a schedule II controlled substance under the Controlled Drug and Substances Act (CDSA). The only exceptions are for research, products exempt under the Industrial Hemp Regulations (IHR), or exemptions under the Access to Cannabis for Medical Purposes Regulations (ACMPR). However, since ACMPR applies only to 'persons,' veterinarians cannot authorize pet owners to access medical cannabis through this route. CAVCM and the Canadian Veterinary Medical Association (CVMA) are working together to request Health Canada consider amending ACMPR to include veterinary patients.
 JD: How does the Canadian veterinary community feel about the use of cannabis-based medicine?
SS: Much like human medical professionals, the veterinary community is seeing growing interest in the use of cannabis-based medicine. CAVCM members include veterinarians across the country from many areas of the profession: general practice, referral practice, academia, research, and industry. With more and more pet owners administering cannabis on their own as a treatment for their animals and reporting positive results, it is getting increasingly difficult to ignore its potential therapeutic value. Certainly as medical professionals, we would all like to see more research in this area to help support the anecdotal claims we are seeing and hearing about.
JD: What is CAVCM's overall position on prescribing cannabis-based medicine to pets?
SS: Along with the Canadian Veterinary Medical Association, CAVCM would like to see Health Canada amend ACMPR to include our patients and permit us to prescribe under those regulations. This would allow us an opportunity to recommend cannabis-based medicine where we felt it appropriate, set limits on how much and what type of product patients accessed, and maintain oversight of their care. However, until that time, CAVCM feels that, just like with other off-label medication use, veterinarians should be able to recommend the type of product and dosing guidelines with which they feel comfortable on a case-by-case basis. This is how we will help keep our patients as safe as possible.
JD: What effect will legalization of marijuana have on Canadian veterinary medicine?
SS: First and foremost, legalization will allow access to a range of cannabis products for human use. Of course, this raises the concern of accidental ingestion by pets or inadvertent overdose by well-meaning owners trying to medicate them. On the flip-side, legalization will provide clients with the ability to obtain cannabis products to use on their pets for therapeutic benefit. However, until we have products that are specifically approved for use in animals, veterinarians will need to be well-educated on cannabis so they can answer questions and provide guidance for clients who wish to give it to their animals in an off-label manner. As the use of cannabis in animals grows, I suspect we will learn much more from an anecdotal point of view about its benefits, potential adverse effects, indications, and dosing. Creating an online database of case submissions is a high priority for CAVCM, so we can continue to learn from the experience of pet owners using cannabis, while we await much-needed clinical research to better guide our treatment.
JD: According to your website, CAVCM is both excited and concerned about the upcoming changes to the cannabis laws. Please explain.
SS: By legalizing cannabis, Canada is positioned to become a global leader in cannabis research. For the medical communities, this will be a welcome addition, as we have been awaiting more clinical research to support cannabis use. It is a very exciting area. Legalization also provides those who are eager to explore medical cannabis for their pets an opportunity to begin cautious treatment with quality product, hopefully with the oversight of their veterinarian.
CAVCM is concerned the rapid growth of the cannabis industry occurred without paralleled growth in our medical understanding and education about this plant, or regulatory changes that would include veterinarians in active oversight of treatment. That leaves us with a population eager to give cannabis to animals, though without appropriate support from veterinarians or pathways in place for vets to prescribe or dispense product, as we can currently do with all other medications.
JD: Is anecdotal evidence generally in favour or against giving cannabis to animals? If against, how do you reconcile that with pursuing regulation?
SS: The anecdotal evidence we have seen and heard is overwhelmingly in favour of using cannabis for animals. However, that does not mean it should be used in every case or that it is free of risks. Just like any therapy, there are risks and benefits, and it is up to the practitioner to determine the suitability of a treatment for each individual patient. That said, when we are speaking about low-tetrahydrocannabinol (low-THC), higher-cannabidiol (higher-CBD) products (which have been used more extensively in the United States), the adverse effects are really quite minimal in comparison to the numerous positive effects reported.
JD: How do you see cannabis for veterinary purposes being regulated in Canada?
SS: Currently, there are no legal pathways for veterinarians to administer, dispense, or prescribe cannabis for our patients. When the Cannabis Act comes into effect on Oct. 17, little will change for veterinarians other than the fact our clients will now have legal access to cannabis. We hope veterinary regulatory bodies will agree cannabis should be treated just like other medicine. If they do, it will allow veterinarians to have discussions about, and make recommendations for, off-label cannabis use as we do for many products that are not specifically approved for animal use.
As this industry grows, we anticipate there will be a number of new drugs developed using cannabis. In fact, a recent announcement from Health Canada stated these products would be classified as prescription drugs. As such, practitioners would be authorized to administer, sell, or distribute them to an individual or animal if they were under their professional treatment, so long as the drug is required for the condition that is being treated. As with other drugs developed for animal use, we suspect veterinary drugs containing cannabis would be regulated by the Veterinary Drug Directorate (VDD) to ensure safety, efficacy, and quality.
JD: What legislative changes are you looking for to keep pets safe?
SS: Both CAVCM and CVMA have urged Health Canada to consider amending ACMPR that would permit veterinarians to participate under these regulations. This would allow veterinarians to retain oversight and set limits on the type of cannabis people use for their pets. It could potentially also provide an opportunity for licensed practitioners (LPs) to create animal-specific formulations.
Regarding classification, Health Canada recently announced all plant-derived cannabinoids (including CBD) would be added to the list of prescription drugs. Should a time come when it decides CBD can be classified as a natural health product, we hope it will also be reclassified to be included as a veterinary health product. This would allow products to be formulated in sizes and formats most suitable for the range of patients we see every day in practice.
JD: What is your advice to veterinarians who want to prescribe cannabis-based medicine?
SS: DON'T. Be patient. With the recent release of the Cannabis Act, many groups, including the veterinary regulatory bodies for each province/territory, are still trying to determine how this will affect the veterinary profession. Hopefully, they will determine that once legalized cannabis, like any other medicine not yet approved for animals, can be recommended/prescribed by a veterinarian in an off-label manner when appropriate for the individual situation.
In the interim, become educated, keep abreast of studies, and gather as much information as you can to better educate your clients.
Cannabis, hemp company to begin trials for CBD oil to treat anxiety
Companion animals suffering from anxiety may soon have access to a cannabidiol- (CBD-) enriched oil formulation.

In August, Canopy Growth Corp., announced it had received approval from the Veterinary Drug Directorate (VDD) of Health Canada to research the effectiveness of CBD to treat anxiety in certain animals.

"Our passion to create safe and effective products for animals is driven by the love we share for our pets," said Marc Wayne, managing director for Canopy Health Innovations. "The use of natural-occurring cannabinoids as a therapy for companion animals is a logical new forefront of medical discovery and the research we are working on at Canopy Animal Health is world-leading. These trial approvals mark a significant milestone on the journey of making cannabis-based drugs accepted and recommended by veterinarians."

The CBD formulation will be produced by Canopy Growth at its production facility in Smiths Falls, Ont. The research will be conducted by Canopy Animal Health, a division of Canopy Health, which focuses on developing cannabis-based healthcare products for companion animals.