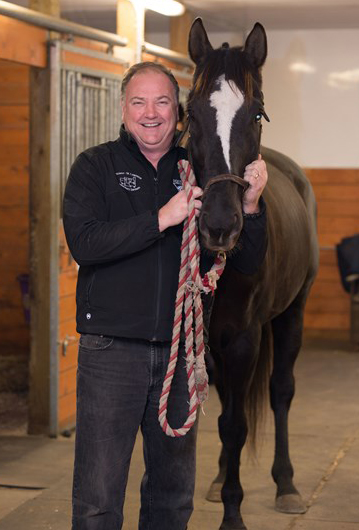 Three veterinarians and an animal welfare advocate in Canada's Heartland Province have been honoured by the Ontario Veterinary Medical Association (OVMA).
John Donovan, DVM, is this year's recipient of the OVMA Award of Merit, recognizing an individual for distinguished public service to the veterinary profession. After graduating from the Ontario Veterinary College (OVC) in 1995, Dr. Donovan joined Prescott Animal Hospital in Prescott, Ont., where he served as a mixed animal veterinarian before transitioning to partner of the Prescott Animal Hospital/Rideau-St. Lawrence Veterinary Services. As part owner of the group, Donovan has helped the business grow extensively, including mergers with other practices, the development of a large animal surgical facility, and the addition of a new companion animal clinic.
"Dr. Donovan continuously pushes and influences his veterinarians and staff to practice progressive medicine, wanting them to dedicate themselves to their clients all while striving to have a work-life balance for them," says his colleague, Alexandra Knoepfli, DVM.
Additionally, Donovan has mentored and trained more than 100 veterinary externship students and more than 70 high school, veterinary technician, and international veterinary students.
"Dr. Donovan is a huge reason why our practices have developed a reputation for being highly sought-after locations for education and employment," Knoepfli says. "He has always gone above and beyond for his clients, the animals, his staff, and his community."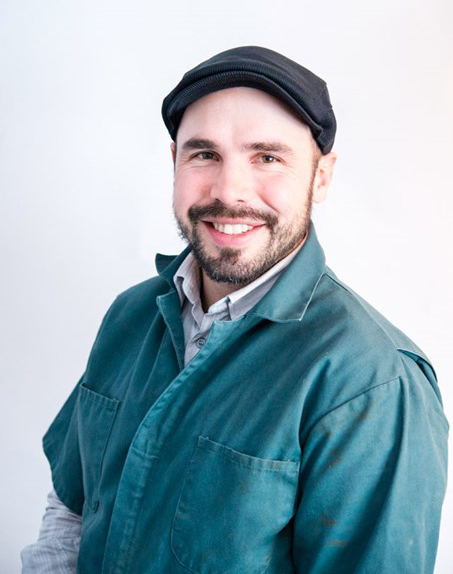 Meanwhile, Michael Krystolovich, DVM, is one of two associate veterinarians to receive the OVMA Associate of the Year Award, recognizing demonstrated superior customer service. An OVC alumnus, Dr. Krystolovich joined Upper Grand Veterinary Services in Guelph, Ont., in 2017, focusing on dairy herd problem solving, nutrition, and surgery.
"Whether it is reception, technician, student, or veterinarian, Mike patiently mentors them equally with kindness and skill," says practice owner, Rob Swackhammer, DVM. "His kind guidance is invaluable to this clinic. He has been described by our practice manager as the glue that holds this clinic together. I could not agree more."
Krystolovich is also a food safety veterinarian (appointed by the Ontario Ministry of Agriculture, Food and Rural Affairs [OMAFRA]) and regularly holds presentations for local farm producers in his community.
"He is knowledgeable, always on time, patient, and truly cares about his work as he constantly rises above and beyond our expectations," says one of his clients, who operates a dairy farm. "Following every visit on farm, he never fails to ask if there is anything else he can help with or do for us. One of the things that sets Dr. Mike apart is his care and dedication for people, not just for the livestock."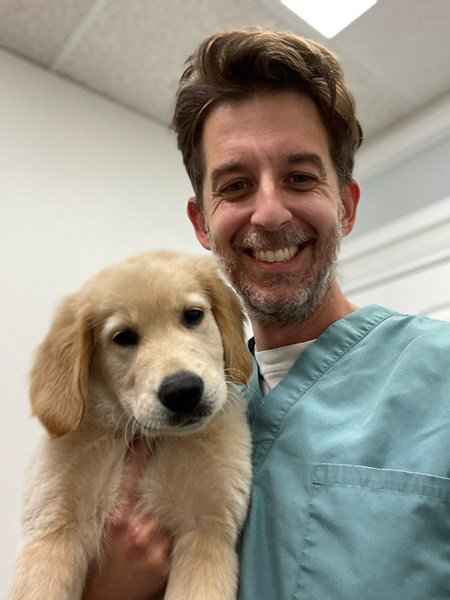 Sean Herzog, DVM, a 2009 graduate of the University of Sydney, also received the OVMA Associate of the Year Award. Dr. Herzog has worked clinics in his native Thornhill, Ont., since 2013, most recently serving as associate veterinary at Green Lane Animal Hospital. His primary interest is in internal medicine, dermatology, cytology, and feline medicine.
"I have never seen someone give of themselves the way Sean does," says colleague Michael Cooper, DVM. "He truly endeavours to ensure all of his clients are satisfied and cared for to the maximum capacity he can offer."
Southern Ontario locum veterinarian Scott Reid, DVM, received the OVMA Golden Life Membership Award, recognizing the extraordinary efforts of a veterinarian who has mostly retired from full-time career pursuits. Recipients receive an honorary lifetime OVMA membership.
In a career spanning 35 years, Dr. Reid has worked extensively with after-hours and emergency care clinics. He also has a passion for zoological medicine and has treated unique species at various zoos in southern Ontario, including African Lion Safari. Currently, Reid provides locum services for seven hospitals. He has also mentored countless students.
"For as long as I have known Scott, he has had an unquenchable thirst for knowledge and unwavering passion for the practice of veterinary medicine," says colleague and friend, Steve Backman DVM. "His passion for his profession is only matched by his compassion for the animals in his care and support for the emotional well-being of their owners."
Finally, the OVMA Honorary Membership Award, which is given to someone who is not a veterinarian but has contributed to animal welfare and/or the veterinary profession, was presented to Doug Raven, former CEO of OVMA and developer of its charitable arm, the Farley Foundation. Raven, who served as the association's CEO for 23 years, played an integral role in the development of OVMA's Conference and Trade Show, as well as the Great Ideas Conference, which offers continuing education for veterinarians and clinic teams.
"Although he is not a veterinarian, Mr. Raven has an uncanny ability to see what the profession needs, and how to steer the profession toward that goal," says OVMA executive director, Matthew Richardson, DVM, PhD. "Throughout his tenure at OVMA, he identified lapses and built programs that made OVMA stronger and enabled the association to make the lives of veterinarians, pets, and pet owners in Ontario and across Canada significantly better."