Esther the Wonder Pig diagnosed with cancer
August 15, 2018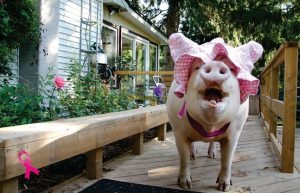 There's no telling how many animals will owe their health to Esther the Wonder Pig, but now she is facing her own medical battle.
Famed for inspiring the Esther Scanner Fundraiser, the 295-kg (650-lb) social media starlet will undergo surgery within a week following the discovery of a suspicious mass on her belly.
"We're going home today while the staff here assembles a team of specialists, and finalize their plan of attack," owners Steve Jenkins and Derek Walter said on Twitter. "Thankfully, some of the world's best veterinary minds are working on our special girl, and they're gonna get this all sorted out, no question."
According to an article in the Toronto Star, veterinarians discovered four tumors in her mammary glands on Aug. 9, one of which tested positive for cancer. The cancer appears to be in early stages, and tests so far have determined it has not spread to other areas.
Launched in April, the Esther Scanner Fundraiser was supposed to raise C$650,000 for a Pegaso CT scanner, the first of its kind in Canada. Thanks to Esther, it surpassed its target by more than C$25,000 by July 1.
Jenkins and Walter of Campbellville, Ontario, Canada, started the fundraising campaign after their beloved pig experienced health complications that caused her to have seizures and hyperventilate. Veterinarians at the Ontario Veterinary College (OVC) recommended a CT scan to better diagnose the pig's condition, but told them a scanner able to accommodate an animal of her size was not available in Canada. Further, transporting Esther to the United States would require a three-week quarantine upon her return.
Fortunately, Esther—who turned six in July—recovered on her own and was able to forgo the scan. Her owners decided to launch the fundraiser to save other large animal owners future distress. And they appealed to Esther's 1.5 million social media followers to do it.
The new machine—which would allow for diagnostic imaging for pigs, standing horses, and other large animals—will have a permanent home at OVC in September and is expected to fill a gap in large animal care across Canada. According to the Toronto Star, the machine was temporarily installed this month to allow Esther to be scanned.
Reactions to Esther's medical update on Facebook[1] and Twitter[2] were filled with supportive comments and heartwarming words from fans and cancer survivors around the world.
Endnotes:
Facebook: https://www.facebook.com/estherthewonderpig/
Twitter: https://twitter.com/EstherThePig?ref_src=twsrc%5Egoogle%7Ctwcamp%5Eserp%7Ctwgr%5Eauthor
Source URL: https://www.veterinarypracticenews.com/esther-the-wonder-pig-diagnosed-with-cancer/
---