Suggested Veterinary Products
Encouraging feline office visits for the nation's more than 58 million cats1 offers benefits for the practice, the patient and cat owners.  This article will focus on simple equipment modifications or changes that can complement low stress handling and other practices.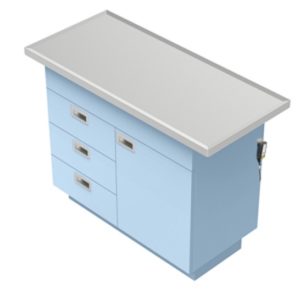 Rethinking the Exam Room. Consider adding a feline scale to the room. It allows the cat and cat parent to move only once. A higher sided feline scale can help the pet crouch down and weigh comfortably. Some practices encourage keeping the cat inside the carrier or using it as a "safe space." Other practices have success examining the feline in the owner's arms.
Traditional exam tables can be covered with towels or mats and sprayed with pheromones to calm the environment. Consider exam lights for proper lighting to replace harsh overhead lights. You can dim these lights and switch to higher light levels when needed. Special low stress exam tables with heated tops are now available for exam room as well.
Retrofit Housing for Feline Comfort. Stainless Steel housing has the benefit of being durable and easy to keep germ-free, which is ideal for the ill feline. Several items are available to provide enrichment and meet more feline needs.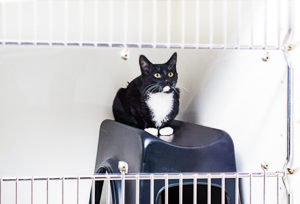 Cats naturally enjoy perching, and it helps lower their stress level. You can retrofit most 30"W and smaller Stainless Steel cages with adjustable 7"W back shelves.
There is also a new product, the Kat Kave, that provides a lounging area on the top and a hiding area beneath it. There are three openings the cat can wind through, providing mental stimulation as well. It is made from durable black polyethylene. It cleans up with disinfecting solutions and allows you to use it in multiple cages.
Consider Double Compartment Housing. Studies done on shelter housing addressed the needs of cats. They found that cats especially did better when they had larger spaces and had different areas for sleeping and elimination. This can be meaningful for longer boarders and recovering pets in the veterinary environment.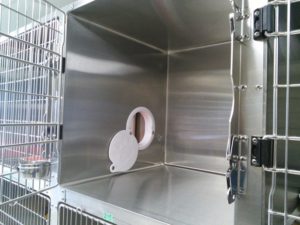 By retrofitting some of the hospital's existing Stainless Steel cages, you can create flexible double compartment housing. To retrofit, Kat and Puppy Portals can slide over openings cut in Stainless Steel cages. This allows for the portal to open to allow the pet to pass between the cages or close off for cleaning or single compartment housing.
Address Stress with Cage Covers. Draping towels around cage doors is the traditional practice to help calm stressed or recovering pets. But towels are tough to manipulate and take lots of energy to wash. Nylon cage covers with card holders that allow for adjustments from full to half covering provide options while taking a fraction of the energy to launder and shelf space to store.
New Thinking on Feline Housing. Laminate feline housing became popular as a "softer" option for cats. But many veterinary practices felt Stainless Steel was still the standard for sanitary housing.
There are now durable feline housing products that don't force veterinarians to choose. Shor-Line introduced the Feline Comfort Suites that are made from an extruded PVC material. It was originally manufactured for all-weather uses, so it is impervious to moisture and stands up to veterinary cleaning products.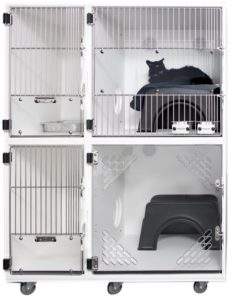 University thought leaders have looked at how double compartment housing in Stainless Steel can be a benefit to both shelters and veterinary practices. Recent innovations in Stainless Steel feline cage banks offer the polycarbonate viewing space on the cage door and marry it with a Stainless Steel kennel. A controlled pass through to the litter area allows some extra space and a separate litter area where the cat can posture correctly for elimination.
Each practice will have its own protocol for welcoming feline patients. These new ideas and innovations provide even more tools to help veterinarians keep cats healthy and happy.
References:
2017-18 edition of the AVMA Pet Ownership and Demographics Sourcebook  https://www.avma.org/News/JAVMANews/Pages/190115a.aspx
Wagner, D., Hurley, K., & Stavisky, J. (2018). Shelter housing for cats: Practical aspects of design and construction, and adaptation of existing accommodation. Journal of Feline Medicine and Surgery, 20(7), 643–652. https://doi.org/10.1177/1098612X18781390