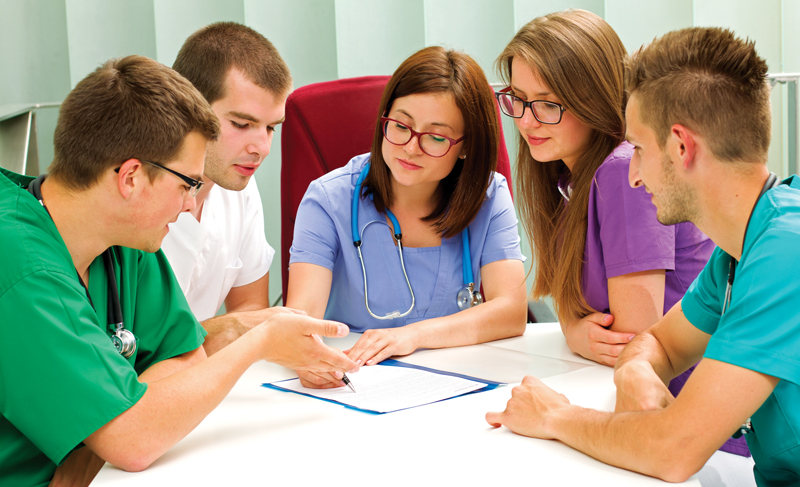 After being hurled into chaos for several months by the COVID-19 pandemic, perhaps things are starting to normalize out a bit, whatever that 'new normal' may be. However, this isn't the time to relax when it comes to self-care. Now more than ever, teams need to check in on each other to make sure life—whether in the clinic or outside it—is going as best as it can in this still-changing environment.
The aftermath of a storm always requires cleanup. So, what have you been doing?
"We're keeping up team morale by blasting our favourite tunes five minutes before team huddles are called twice a day. We're constantly checking in on each other, sharing funny stories, pictures, and memes. Mostly, I'm genuinely thanking each of them for sticking together and running this marathon together with pride," says Lisa Milan, practice manager at Dundas West Animal Hospital in Toronto.1
To hear about such positivity and intention is fantastic! It is important for teams to routinely and purposefully have huddles, debriefing sessions, or engage in other forms for connecting.
To get through these tough times, it will take team members consciously checking in on each other (connecting with sincerity and appreciation), debriefing the day and hospital protocols, and taking self-care measures to heart. Keep in mind, weathering the storm is a marathon, not a sprint.
Checking in
Now is a good time to ask your team members or colleagues, "How are you doing?" Do it with sincerity and not as a simple, disconnected question. Allow for the time to build an understanding for what's really going on with the person.
Consider taking a few moments during the day to ask questions in a way that builds stronger connections. Here are a few ideas:2
What is working well for you right now?
If you could gift yourself one thing, what would it be?
How would that gift support you in this moment?
What are you struggling with the most right now?
What tools are at your fingertips to alleviate some of the current challenges?
What else do you wish to share?
Two nurses from the Oncology Nursing Society (ONS), Chelsea Backler, MSN, APRN, AGCNS-BC, AOCNS, and Erin Dickman, MS, RN, OCN, explain that health-care workers facing a buildup of stress may be feeling secondary traumatic stress (STS).3 This can be triggered when exposed to persons who are experiencing trauma in a health-care situation, such as during an infectious outbreak. As we know, in both human and veterinary medicine, we not only deal with our clients, but also our teammates.
The following are some of the signs of STS:3
irritability, sadness, depression, mood swings, guilt, fear, and anxiety;
change in appetite, fatigue;
memory problems, difficulty making decisions, limited concentration; and
change in activity, inability to rest, social withdrawal, increased use of alcohol or tobacco.
Four steps to debrief a bad day
Carrie McCrudden, PsyD, a psychologist and owner of Colorado Therapy, is aware of veterinary team dynamics. She offers the following four-step plan as support during highly stressful times.4
1) Normalize your reactions. It is a reasonable human response to threat to become physically tense or more sensitive to things you would normally shrug off. This is your brain telling you to be extra careful and watchful. Oftentimes, you may have a mixture of feelings, which is to be expected. It is also normal to need time to feel well again.
2) Feel the reaction you are actually having. Label what is going on internally. These emotions can range from being tense to having your heart race to feeling tearful or upset. It is better to allow yourself to feel these emotions than to resist them, blow them out of proportion, or ignore them. These are all less powerful methods for dealing with what is really happening.
3) Make a plan for what you need. Maybe going for a run or a hot bath will help you to relax, although neither is realistic in the middle of a shift. While you may need to put these thoughts away so you can continue to function for the day, having a plan in place will allow you to look forward to when you can relax and process. Once you have the proper time and space, write down what was stressful and what you can do to feel better (really, with a pen and paper, as handwriting helps our brains consolidate information better than typing).
If you are going to debrief with co-workers, ensure the entire team benefits and it isn't just an opportunity to create more stress. While time for venting is appropriate, also make sure to finish with either learning lessons, solutions, or a way to put the incident to rest. Sometimes a staff ritual can help people process their emotions. Sharing positive stories about animals or giving co-workers credit for their actions can put stressful incidents in context and allow people to move forward.
Teams that engage in structured debriefing sessions are typically 25 per cent more effective, as they capitalize on timely and meaningful learning.5 One way to debrief is to hold a short meeting and ask the group the following questions:
What went well today? (Keep doing these things.)
What could be improved? (Went OK, but could be better.)
What went poorly today? (Stop doing it or concentrate on doing it better.)
What should be our focus for the next day or week? (Choose one or two things only.)
4) Give yourself time to heal. Be gentler with yourself and your co-workers when a day has been particularly stressful. Remember to go back to the basics (sleep, exercise, nutrition, connection with others) and resist the urge to feel awful about everything. If you are unable to get back to wellness on your own, perhaps reaching out to a licenced mental health professional is the best course of action.
Self-care for the marathon
"Taking care of yourself is a tricky business. You can be doing 'all the right things' and still feel sideswiped by stress when something big happens. It is great to establish a base of excellent self-care: healthy nutrition, enough sleep, regular exercise, enjoyable connections, a sense of spirituality, time spent outside… all the basics we keep hearing about and hopefully practicing," Dr. McCrudden says.4
To cope with stress, take care of yourself physically, mentally, and spiritually. Here are some common ways of doing just that:
Eating healthy meals; getting enough time for rest, exercise, and relaxation; and meditating
Talk with friends and family about your feelings and use a buddy system to support your fellow team members
Maintain as much normalcy at your home as possible
Keep perspective on the number of patients you can and can't help, along with the clients' capacity for compliance
If the news and social media is overwhelming, step away and disconnect
Regardless of world circumstances, connecting, debriefing, and self-care are good habits to embrace for the long haul. Veterinary medicine is a rewarding, satisfying career and will be even better when your support system is strong, the team gathers after difficult cases or tough days, and well-being is celebrated together.
These are unprecedented times. Let's hope the worst is in the past. By recognizing what carried you and the team through this storm, you will be better set up to manage the next crisis, no matter what it looks like. The more you can focus on your self-care and the well-being of co-workers, the better you can take care of your clients and patients.
Rebecca Rose, CVT, certified career coach, founder, and president at CATALYST Veterinary Professional Coaches, has a diverse background in the veterinary community. She has worked in and managed clinics, collaborates with industry partners, and facilitates engaging team workshops. Rose's enthusiasm for professional development in veterinary medicine is contagious, as she encourages and supports veterinary teams in reaching their highest potential. She can be reached via getCATALYST@CATALYSTVetPC.com.
References
1 Flattening the Curve: How Clinics are Helping to Prevent the Spread of COVID-19, Samantha Ashenhurst, March 2020, bit.ly/3idNsRY
2 How you doing? Short Questionnaire, CATALYST Veterinary Professional Coaches, Rebecca Rose, CVT, April 2020, bit.ly/3igBOG9
3 Emotional Coping Strategies for COVID-19, Oncology Nursing Society, Chelsea Backler, MSN, APRN, AGCNS-BC, AOCNS and Erin Dickman, Ms, RN, OCN, March 2020, bit.ly/3iip4z0
4 Veterinary Teams Debriefing Stressful Situations; Take Care of Yourself, Dr. Carrie McCrudden, April 2017, bit.ly/3fuad2r
5 Retrospectives-What Went Well, What We'd Like to Improve, All the Responsibility Podcast, Nils Davis, bit.ly/33qzwjD