How to Work With Common Horse Injuries
by Veterinary Practice News Editors | April 6, 2016 7:17 pm
If your patients follow the "Equine Laws of Probability," then you are frequently faced with injuries of all kinds, especially those involving the musculoskeletal system. Phenylbutazone will naturally be one of your primary go-to drugs to help control both pain and inflammation (regardless of the nature of the injury), but what else do you have up your sleeve?
Advances in Analgesics
Phenylbutazone and other nonsteroidal anti-inflammatory drugs (NSDAIDs) are a godsend, but can we being doing more to provide appropriate relief from the pain associated with acute and chronic injuries? According to Lori Bidwell, DVM, Dipl. ACVAA and certified veterinary acupuncturist from the Kentucky-based company, East West Equine Sports Medicine, we know have more options than ever to gain control of pain in our patients. NSAIDs remain the first option in many cases, but other analgesics can be used in combination with the staple, including gabapentin, tramadol, acetaminophen as well as local anesthetics. Lidocaine is inexpensive and can be used as an IV bolus, locally, and even via a topical patch (e.g., on the ankles for local pain relief in the distal extremities).
Although ketamine can cause recumbency when administered as an IV bolus, Bidwell says that ketamine is an excellent drug choice for "break the pain cycle and regain control over the patient's discomfort."
Intramuscular morphine administration and quick-dissolving methadone tables (with are more economical than injectable methadone) are also viable treatment options that appear underutilized in general practice.
Practical Application of Stem Cell Therapy for Soft-Tissue Injuries
As we know, soft-tissues are among the most commonly injured body part, and the type of work your patient is involved in often gets the ball rolling in achieving a diagnosis—DDFT, SDFT, suspensory, other. At the end of the day, the major problem with any injury to a ligament or tendon is that scar tissue forms during the healing process instead of the connective tissue that normally comprises those structures. As a result, healing times are long and reinjury is common, making both you and your clients frustrated to say the least. Enter: regenerative therapies.
Many practitioners have already embraced some form of regenerative medicine. IRAP I or II to help control joint inflammation and manage patients with osteoarthritis, stem cell therapy and platelet-rich plasma[1] (PRP) are among the most common forms of regenerative medicine in horses. In fact, the table topic session devoted to regenerative therapies at the 61st Annual Convention of the American Association of Equine Practitioners was filled to capacity with veterinarians either already using these therapies or interested in incorporating them into their treatment armamentarium.
Probably the most important tidbit I gleaned during the session was that not all stem cells are created equal. Products derived from either bone marrow or adipose tissue and processed in-house using a kit[2] are, in reality, simply enriched in stem cells. Only 1 to 10 percent of the resultant product is actually comprised of stem cells. This means that treated horses are only receiving an estimated 100,000 to 150,000 stem cells rather than the millions of stem cells delivered when using cultured bone marrow stem cells.
Bear in mind that cultured stem cells take weeks to produce, leaving an injured horse healing on its own with scar tissue. This is where some equine practitioners report using a combination of both products: they inject in-house derived stem cells into the lesion to support healing while awaiting the cultured cells. Alternatively, some equine veterinarians are using a combination of stem cell therapy together with PRP to facilitate healing. The injected PRP is believed to form a scaffold for the stem cells to perch on and exert their influence. Which leads us to the next question, "What exactly are those stem cells doing in there?"
According to one study published by[3] stem cell guru Roger Smith, VetMB, PhD, DEO, Dipl. ECVS, MRCVS, a professor of equine orthopedics at the Royal Veterinary College and colleagues, only 24 percent of technetium99m-labelled stem cells injected directly into a naturally occurring tendon or ligament lesion were still present 48 hours later. The research group also reported that stem cells injected intravenously tend to get "stuck" in the lungs but regional limb perfusion of stem cells appears to be a viable alternative for direct intra-lesional injection. Smith also suggested that if the stem cells aren't differentiating into resident tendon or ligament cells themselves that perhaps they simply signal other nearby undifferentiated cells to the lesion to become tendon or ligament cells to help repair the lesion.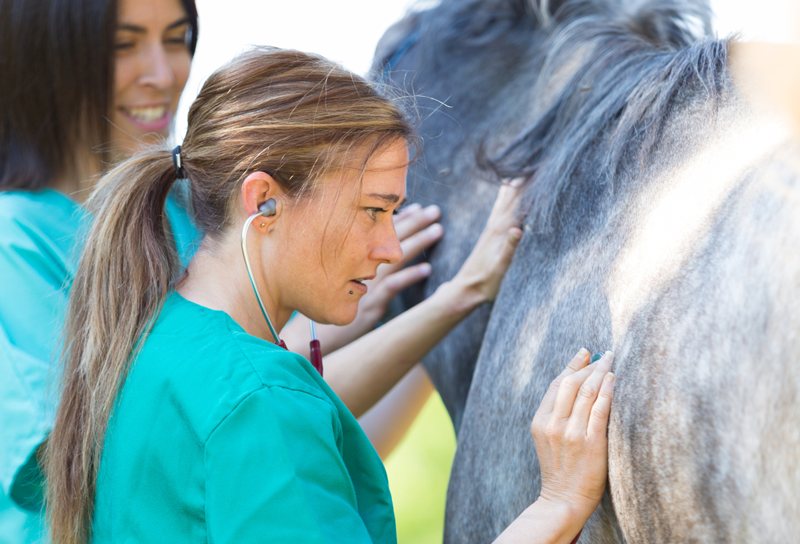 fotoedu/istock/thinkstock
Encourage your clients to know how to deal with injuries and to create a first-aid kit.
Don't Forget Complementary and Alternative Therapies for your Equine Patients
Gaining widespread acceptance throughout North America, complementary and alternative medical approaches may also be helpful in some injuries. For example, there is evidence that electroacupunture can be used for surgical analgesia. The study, "Successful Practice of Electroacupuncture Analgesia in Equine Surgery[4]," published in the February 2015 edition of the Journal of Acupuncture and Meridian Studies, reported the use of electroacpuncture for:
Cheek and neck wound suturing;
Frontal sinus trephination;
Remove a sarcoid from the medial canthus;
Suturing of a wound on the thorax, removal of a fibroma;
Laparoscopic surgery, and;
Removal of a urolith and repair of a ruptured bladder of a donkey.
Overall, 95 percent of the included 18 patients experienced no response to strong surgical pain, and any patient reacting to skin pain received a local anesthetic agent was administered (2 percent lidocaine).
"The observed lack of pain in combination with the relaxed surgical environment, unexpected decrease in intraoperative bleeding, and improved healing without complications support the effectiveness and reliability of electroacupuncture analgesia in equine analgesia and surgery," concluded the study authors.
Additional Suggestions
Encourage your clients to have standard first aid equipment available for dealing with injuries while they await your arrival. The AAEP has an excellent article to share with owners describing appropriate first aid kit contents and other steps to take during an emergency[5]. One of the most important is for owners to routinely and carefully evaluation their horses' environment to identify and eliminate items or conditions that can potentially cause injury.
For more information on the use of regenerative therapies or analgesics, download the free 2015 AAEP Convention Wrap-Up[6] available on TheHorse.com (an AAEP Media Partner). Finally, consider creating a free account with the International Veterinary Information System[7], home to thousands of articles and abstracts/conference proceedings on managing horse using an array of practical on-farm procedures, including subpalpebral lavage systems for ocular injuries and skin grafts for wounds/lacerations for example.
Endnotes:
platelet-rich plasma: http://www.veterinarypracticenews.com/why-platelet-rich-plasma-is-a-pretty-remarkable-product/
in-house using a kit: http://www.veterinarypracticenews.com/November-2011/Technology-Brings-Stem-Cell-Therapy-In-House/
study published by: http://onlinelibrary.wiley.com/doi/10.1002/jor.22338/abstract
Successful Practice of Electroacupuncture Analgesia in Equine Surgery: http://www.jams-kpi.com/article/S2005-2901(14)00118-6/pdf
appropriate first aid kit contents and other steps to take during an emergency: http://www.aaep.org/info/horse-health?publication=781
free 2015 AAEP Convention Wrap-Up: http://www.thehorse.com/free-reports/37205/2015-aaep-convention-wrap-up
International Veterinary Information System: http://ivis.org/home.asp
Source URL: https://www.veterinarypracticenews.com/how-to-work-with-common-horse-injuries/
---