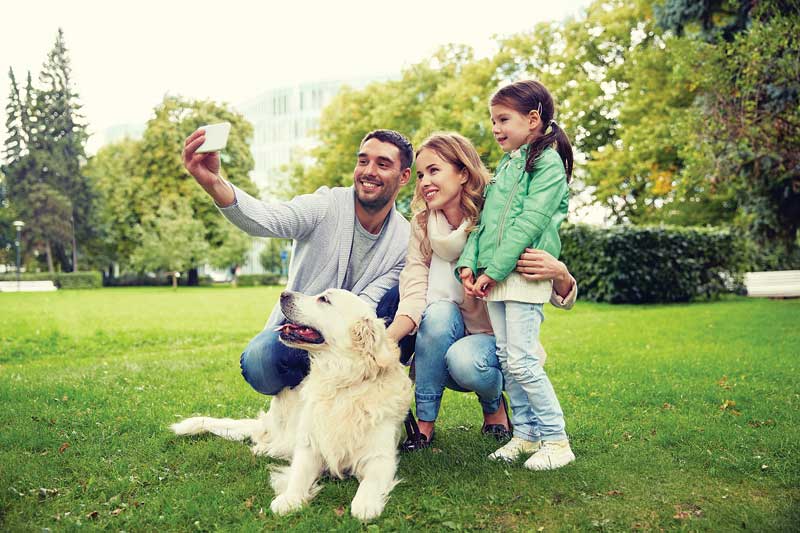 Half our world's population is younger than 30. Millennials, age 18 to 34, grew up tethered to their smartphones, which they check 43 times per day.1 They now comprise the primary pet-owning demographic at 35 percent of U.S. pet owners, surpassing baby boomers' 32 percent, according to the American Pet Products Association (APPA).2 This generation will add 2.6 million pet owners between now and 2020.3 After surviving the recession, our profession will experience renewed vitality thanks to millennials, who spend more on veterinary care and pet services compared to other generations.4
Five trends, sparked by millennials, will shape the future of the veterinary profession.
Trend 1: Text, don't talk
Text is the preferred communication method of millennials, and other generations want texts, too.5 Use texting services through your practice-management software or third-party providers. Graduate beyond texts for appointment confirmations and medication dosing reminders. Use direct and automated texts for:

Medication refill requests

Prescriptions and diets ready for pickup

Left you voicemail, please listen and call <employee name> at 555-555-5555

Late-arriving clients

Rescheduling clients who missed an appointment

Driving directions to new clients on appointment day

How-to video links

Weather closure

Client experience surveys

Extended hours now available/coming soon

Lab results ready, please call

Collections
As a baby boomer, texting is my first choice for simple requests of my veterinarian. 
For example, I sent a text to The Cat Specialist in Castle Rock, Colo., to refill my cat's medication. The task took seconds, and I received a reply that the prescription was ready the same day. Texting saved time for the team and me—a win-win.
Imagine client experiences without telephone hold times and waiting for doctor approval. Did you know 70 percent of business callers get placed on hold? After holding 1 minute, 55 seconds, most callers hang up annoyed, and 34 percent won't call back, studies report. The average person will spend 1.2 years on hold during their lifetime.6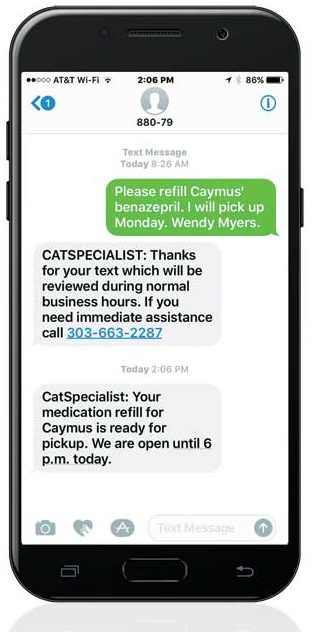 Trend 2: Get an app
When people are on their smartphones, they spend 70 percent of their time in apps.7 Amazon and Uber don't make you call. Likewise, your clients could make appointments, request refills, redeem loyalty rewards, view pets' medical records, read your blogs, check clinic hours, and more. A Colorado State University survey of 600 pet owners found half prefer an app to a phone call to make appointments.8
Trend 3: Be social
Millennials average 250 friends, and 91 percent check in on Facebook.9 On smartphones, clients can tap "check in," so their friends see they're at your animal hospital. Pet owners can add descriptions of what they're doing as well as photos. When they check in, the post appears in their friends' news feeds, so they're advertising your business for free.
Millennials are running to Snapchat and Instagram apps. Targeting millennials means you must be an early adopter of new platforms. If millennials start flocking to a new social network, join them now rather than waiting to see how big the social network will grow. Instagram has more than 500 million users, and Snapchat reaches 41 percent of 18 to 34 year olds.10 Snapchat isn't just cute photo filters and edited videos. It's about snapping a moment and immediately sharing it.
Trend 4: Support a cause
Giving back can gain millennials' loyalty. If you help a rescue group, offer free exams for newly adopted shelter pets, or volunteer with Christian Veterinary Mission or another organization, let your clients know through website blogs and social media posts. The Village Vets, which has three hospitals in Georgia, lists pet rescue organizations on its website along with how to donate to its Rescue Relief Fund that saves lives of pets rescued by Good Samaritans. Doctors also volunteer with Project Samana in Caribbean and Latin American countries, educating pet and horse owners about parasite control, basic first aid, nutrition, and animal husbandry. Volunteers have spayed and neutered more than 3,000 dogs and cats and castrated hundreds of stallions.
Fort Caroline Animal Clinic in Jacksonville, Fla., sponsored a spring pet food drive with a goal to get 200 pounds of pet food donated for pets in the local community.
Trend 5: Map out healthcare plans for pets
Millennials' median salary is $39,700, so help them budget for routine veterinary care.11 An American Animal Hospital Association State of the Industry Report found that 80 percent of pet owners are interested in preventive care plans.12
Plans with monthly payments could help more clients accept optimal care. Design plans by life stages that reflect your standards of care, and offer plans with dental procedure add-ons. Third-party providers who provide financing for preventive care plans include:

Avimark Wellness (avimark.net)

Extend Credit Financing (extendcredit.com)

IDEXX Petly Plans (petlyplans.com)

PaymentBanc Financing (paymentbanc.com)

Vet Billing (vetbilling.com)
As the fastest growing group of pet owners, millennials will play a key role in the veterinary and pet product markets. Will your hospital have the welcome mat ready?
Wendy S. Myers owns Communication Solutions for Veterinarians in Castle Pines, Colo. She is a certified veterinary journalist and the author of 101 Communication Skills for Veterinary Teams." Reach her at wmyers@csvets.com or csvets.com.
References