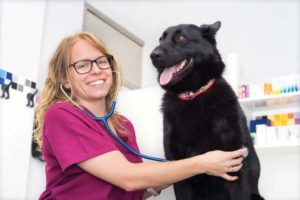 This is the second installment of a three-part series on business and financial planning strategies for growing your practice. Check out part one here.
As a veterinary practice owner, caring for the animals that come into your clinic isn't your only responsibility. You are also a small business owner, and as such, you need to tend to the practice's health and wellness, too. In part one of this series, we looked at some of the key factors to getting a veterinary clinic off the ground. With an established practice, it's about keeping momentum, staying relevant, and engaging with your patients' owners. As you may have figured out, that isn't always easy!
All small business owners face challenges. Yet, for veterinarians who own a practice, there are some unique to the veterinary profession, such as a possible decline in the number of people and pets coming through the door.
Visits to the veterinarian
According to a recent IBISWorld Market Research Report on Veterinary Services in Canada, industry revenue is forecast to grow at an annualized rate of 4.2 per cent to $5.8 billion in Canada over the next five years. While this may be true, growth might be dampened by greater use of preventive tactics, such as more nourishing diets for pets and more effective vaccinations. On the other hand, there also has been a trend toward pet owners investing in pet insurance, as they attempt to mitigate rising veterinary costs. Clients who buy pet insurance are more likely to invest in higher-cost treatments, which will increase industry revenue.
In the event fewer patients come through the door and cash flow dips, it's important to have a strategy in place to help mitigate things. One factor that should have a profound impact on success is how you engage with current customers and keep track of how often you see them. Sometimes, the best way to keep your top line consistent is to look for opportunities to engage with current clients more frequently. If you have an understanding of when clients are visiting your clinic, look for value-add opportunities to bring them in more often (e.g. yearly vaccinations, preventatives). The key is to keep clients engaged and visiting your practice on a regular basis.
While today's market is challenging, it's important to have a fluid plan in place that will help keep your practice going (and growing). The following four core elements should form the foundation of your plan:
1) Your practice's location
Constantly assessing your practice's catchment area is vital to ensuring your business's continued success.
While location typically doesn't change over time, its dynamics do—people move in and out of areas, which can result in business or customer turnover. Always look at what is going on in the area where you've set up your practice. Having an idea of how long businesses stay where they are can be a good indicator of the current economic situation. This will help you keep a pulse on whether the area is becoming income-constrained.
It also is important to establish an alliance network. Reach out to pet stores and shelters in close proximity to your practice to introduce yourself. This form of business development can go a long way. Cultivating synergistic relationships that are nurtured constantly can help spur business referrals.
If the area and practice are both doing well, it could be time to turn attention either to opening or acquiring another clinic. If you're operating at full capacity and feel you can take on another veterinary practice, it's worth exploring this option.
2) Marketing and online reputation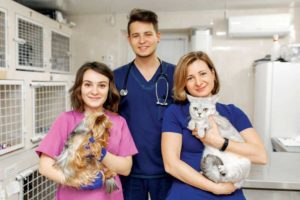 One of the keys to growing a business is tapping into marketing techniques, which, contrary to popular belief, don't have to be capital-intensive. There are very effective ways to promote a clinic while spending little to no money. First, take a look at your online presence—create a website if you don't already have one. Consumers will look at a website as an indicator of the clinic itself; if you don't have one or if it looks outdated, it is likely pushing potential customers away. It also is worthwhile to set up a Facebook page, which can help drive new business. In addition, this particular social media platform provides an invaluable opportunity to engage with customers through curated content, as well as chatting live or answering followers' questions.
That said, it's never been more important to monitor your business's online reputation. All the work done by you and your team to help customers and any marketing efforts you've implemented can be sidelined by negative reviews. If any do surface, take the time to read them and address the client's concerns immediately. On the flip side, if customers have had a positive experience, it may be worthwhile to ask them to share their experiences online. A handful of positive reviews can help generate new business.
Tapping into existing customer data represents another low-cost option to help promote your practice. With a clinic that has been up and running for a few years, you should have a healthy list of e-mail addresses. As long as there is consent, strive to e-mail helpful tips for pet owners, preventative reminders, or specials once a month. Doing so will help keep your clinic relevant and top of mind (this part is critical) and provides another value-add for your existing customer base.
3) Having the right team in place
When hiring, it's critically important to find team members that are going to set the tone for the front desk. With a veterinary practice, there is an expectation that team members have a high degree of empathy. This is especially important because theirs are the first faces clients see when coming into your practice and the last people with which they have an experience when leaving. Ensuring a high level of service and care from the entire team will help with repeat business. Your team reflects you and your business. Having daily or weekly meetings with staff can go a long way to helping establish and maintain the environment you're looking to set in your practice.
4) The referral business
Referrals are one of the key aspects of business longevity, as they help grow a customer base. When thinking about how to get referrals, make it easy for customers. For example, include links on your website or Facebook page to help share information about your clinic. The easier it is, the more likely a customer will follow through on it. It also is a good idea to have different ways to 'ask' for a referral. Again, links on a website or Facebook page are a good place to start, but you could also include a line at the bottom of your invoices or in any e-blasts sent to your customer base. Having a healthy referral business and growing your client base is critically important to keeping a practice healthy.
While owning a veterinary clinic will offer some twists and turns along the way, it also can be a rewarding experience. As a practice owner, remember to take the time to check up on the financial and operational health of your business. Having a plan in place will set you on your way to long-term success.
To read the final installment of this series, click here.
Kathryn Buis is the regional market leader, Healthcare Finance GTA, for BMO Bank of Montreal. She can be contacted via e-mail at Kathryn.Buis@bmo.com.