KSU food animal medicine research receives investment from alumni couple
September 4, 2018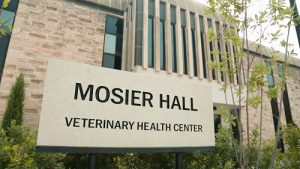 [1]Kelly and Marcie Lechtenberg[2] have created the T.G. Nagaraja and M.M. Chengappa Excellence Fund at the Kansas State University (KSU) College of Veterinary Medicine to support graduate student work and research in food animal medicine.
T.G. Nagaraja, BVSc, MVSc, PhD, is a University Distinguished Professor of Microbiology in the Department of Diagnostic Medicine/Pathobiology in the College of Veterinary Medicine at Kansas State University whose research expertise is in gut microbiology of cattle.
M.M. Chengappa, BVSc, MVSc, MS, PhD, DACVM, also a KSU University Distinguished Professor, primarily researches the pathogenesis of important infectious diseases of animals in an effort to develop strategies to protect animals from such diseases.
"This gift and past contributions to the department from the Lechtenbergs are vital in helping us maintain and build programs critical to our missions in teaching, research discovery and contributions to animal and human health," said Derek Mosier, DVM, PhD, DACVIM, head of the diagnostic medicine and pathobiology department. "The Lechtenbergs' gift in particular helps support a wide variety of department needs, from infrastructure, student support, support of specific research projects and as an investment in the future of our training and research programs."
The Lechtenbergs both are KSU alumni and members of the KSU Foundation board of trustees, with Kelly Lechtenberg also serving on the foundation's board of directors.
Kelly Lechtenberg received his DVM degree from KSU in 1987 and his doctorate in ruminant nutrition in 1988. He founded the Veterinary and Biomedical Research Center, which helps design and conduct research that guides potential products through the Food and Drug Administration and U.S. Department of Agriculture regulatory approval pathway for vaccine and pharmaceutical manufacturers. He currently serves on the advisory boards for several international animal health companies, and on the board of directors for several smaller biomedical and animal health companies.
Marcie Lechtenberg received two masters and one doctorate from KSU. She serves as the clinical director for the couple and family therapy program in the College of Human Ecology at the university.
Endnotes:
[Image]: https://www.veterinarypracticenews.com/wp-content/uploads/2018/09/KSU-Mosier-Hall-e1536081497373.jpg
Kelly and Marcie Lechtenberg: http://www.vet.k-state.edu/
Source URL: https://www.veterinarypracticenews.com/ksu-food-animal-medicine-research-receives-investment-from-alumni-couple/
---