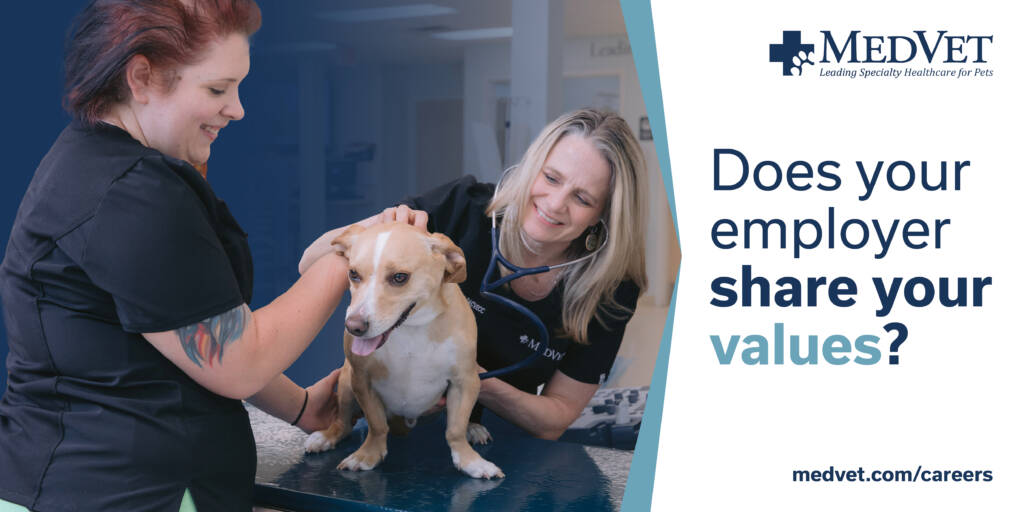 At MedVet, we are dedicated to delivering exceptional care and experience every time, every day,
to everyone. Delivering on this promise is how we've been able to enhance the lives of pets and their loving families, as well as give back to our profession, for more than three decades. This dedication is part of what makes us special. And we know it would not be possible without our caregivers and culture being anchored by our three core values: Teamwork, Leadership, and Compassion.
Dyad Leaders Embody Teamwork
Teamwork is critical to achieving the best patient outcomes in our multi-specialty hospitals. Our caregivers collaborate with each other within and across departments, and even across hospitals, to deliver the best care. This is also the case with our experience delivery as we work with each client and referral partner.
Another area in which working together as a team is key is in how we lead. We have a true healthcare dyad present at the hospital, regional, and central levels of our organization. This is uncommon in the veterinary profession. Yet, we've found pairing peers such as a medical director with a hospital director, a Regional Medical Director and VP of Clinical Services, and Chief Medical Officer and Chief Clinical (Nursing) Officer works exceptionally well.
Our peer dyad leaders enable stronger representation and deeper connections allowing us to build consensus. Their working together allows for more focused attention and a more in depth understanding, which in turn leads to more informed decisions and better solutions.
Leadership Creates Opportunity and Advances Careers
Beyond the structure through which we lead our hospitals, leadership is evident in the meaningful ways our caregivers can own and advance their career. We encourage our team members to apply what they know and share their expertise. Leadership means supporting growth and development because advancing skills brings opportunity. Leadership also means evolving veterinary medicine to be even better – not just for our patients, clients, and referral partners – but for our teams doing the work.
As the number of pets requiring emergency, specialty, and urgent care continues to climb, we are finding new and unique ways to advance care and service delivery by creating new roles within our hospitals. New hospital roles also provide more opportunities for our colleagues in the veterinary profession – like you. This, along with providing a nationwide circle of support from talented colleagues in experience, operations, HR, IT, marketing, and finance allows our caregivers to focus on their first love – caring for patients.
Compassion is at the Heart of Every Action, Especially When it Comes to Wellbeing
Caring for our team starts where you might expect; competitive compensation and benefits supporting our caregivers' financial and personal wellbeing. We've taken care to develop a benefits approach with a long-term outlook. Initial incentives are nice, but the real advantage for our caregivers is security over time, being able to plan for their future, and having the resources and training needed to build a successful career.
Access to scholarships and student debt assistance programs are just two more examples of how we positively impact our caregivers' wellbeing. We also offer resources ranging from a confidential Employee Assistance Program (EAP), suicide prevention (QPR) and compassion fatigue training, generous paid time off, and paid parental leave, to wellbeing rooms, free access to Headspace and Talkspace, and an Employee Relief Fund.
Importantly, we further extend our wellbeing support to include the workplace, which is often overlooked despite its significant impact on caregiver wellbeing. By investing in equipment, technology, facilities, training, and work processes, we make it easier for our team to provide exceptional care and service. This increased efficiency supports less overtime, fewer hours spent at the computer, and a more balanced work-life harmony.
A Team of Exceptional Caregivers Showing TLC Makes a Difference
There are many ways to build a rewarding career in veterinary medicine – and many organizations with which a veterinary professional can share their talents. Making sure your talents best fit with an organization's culture is a key factor in your personal and professional wellbeing. If you're an exceptional caregiver looking to build a career with an organization where TLC is making a difference, we hope you will contact us to learn more.
To learn more, please click here.