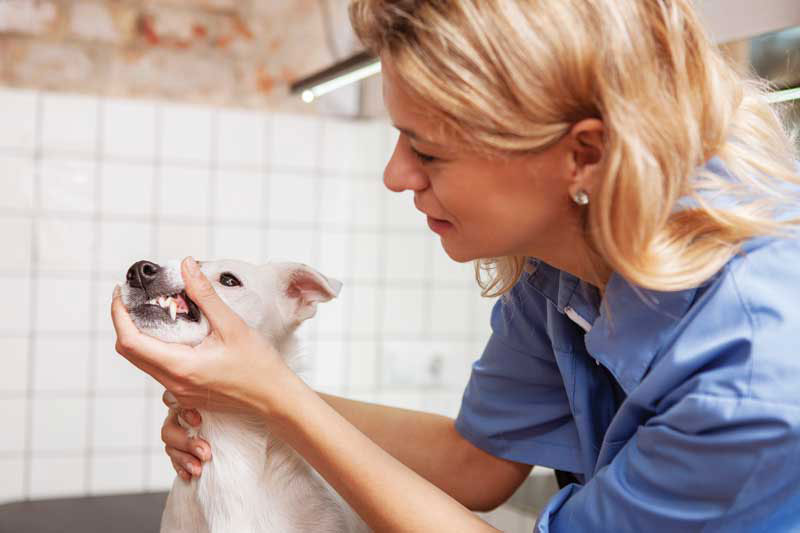 A combination of adopting existing dental instruments originally intended for use on human patients and the creation of newer veterinary-specific instruments has resulted in the plethora of dental extraction instruments currently available to the veterinary community.
If we consider dental elevators in particular, this is especially evident. While the increased choices for dental elevators over the past few decades has vastly improved our ability to extract teeth in a more efficient and atraumatic manner (hacksaws and screwdrivers were not unusual 'dental tools' many years ago when this author started working in small animal practice), the lack of education on the differences between the options available can result in confusion.
Certainly, the sheer numbers and types of dental elevators can be overwhelming, and the differences between some of the most commonly used elevators are not always well understood. So much so, in fact, that one of the most common instrument questions addressed by this author is, 'What's the difference between an elevator and a luxator?'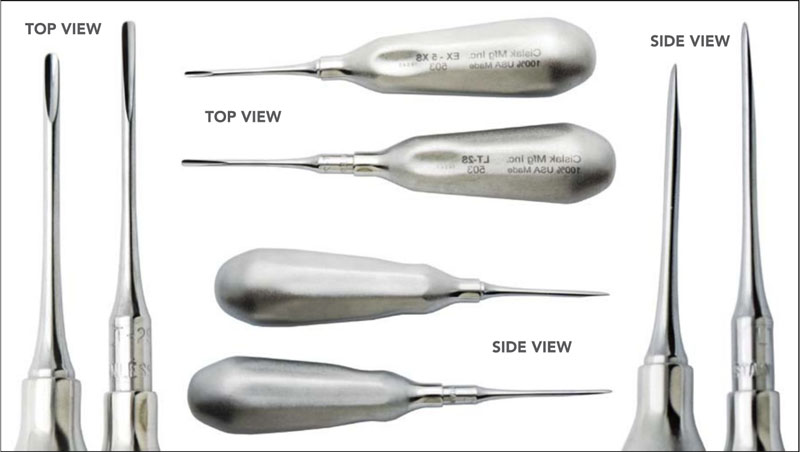 What they do
Dental elevators and luxators (i.e. luxating-type elevators) are designed to serve the same purpose—to loosen the tooth from the periodontal ligament to facilitate extraction. In a simplified summary, these instruments are primarily used in veterinary dentistry as a wedge inserted into the periodontal ligament space between the tooth's root and surrounding alveolar bone, parallel to the long axis of the root, forcing it against the opposing side of the socket, thus luxating the tooth.
This rocking movement while gradually working circumferentially around the root toward the root's apex causes the periodontal ligament to stretch on one side of the root and compress on the other, resulting in fatigue and tearing of the periodontal ligament. By virtue of being forced into the tight periodontal ligament space, the instrument tip compresses the alveolar bone surrounding the root, creating more space to allow for greater luxation of the tooth, making extraction easier.
Despite having a shared purpose, however, there are significant differences in the design and intended use of elevators and luxators. The differences are important, as they can not only impact the speed and efficiency of dental extractions in veterinary patients, but different techniques are required depending on the type of instrument being utilized.
Although there are a lot of dental elevators to choose from, essentially, there are three main types of surgical elevators used for extraction by general practitioners: traditional elevators, winged elevators, and luxators. So, what's the difference?
Traditional elevators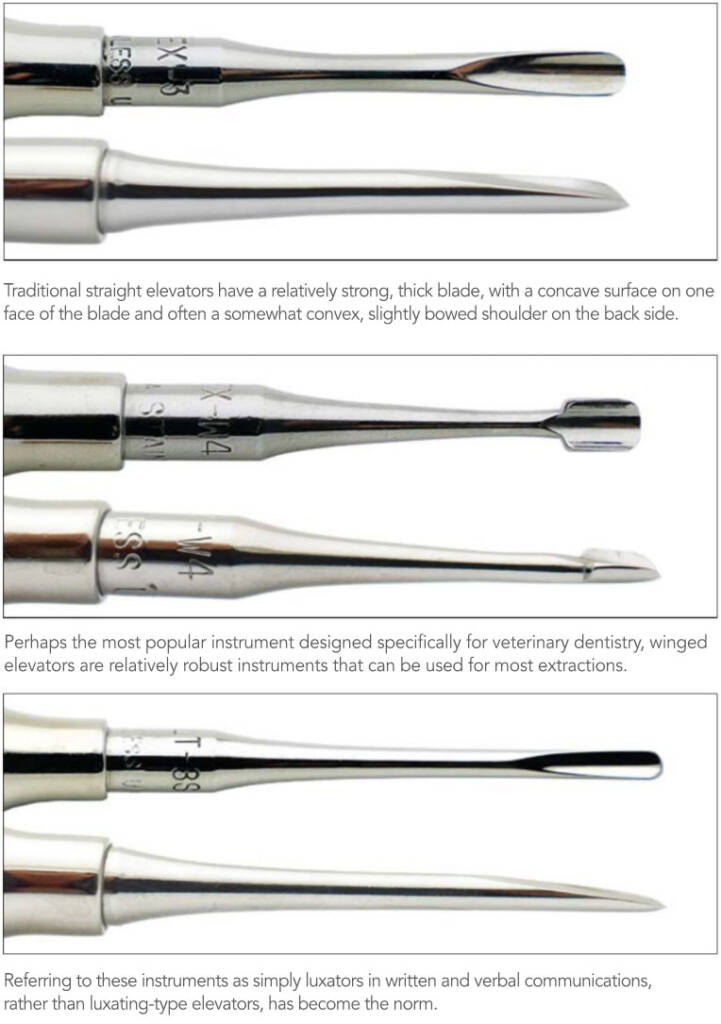 There is an astonishing variety of surgical dental elevators to choose from, most of which we rarely, if ever, see used in veterinary dentistry. These instruments were generally designed for human dental patients rather than veterinary patients, although we have adopted some for our purposes. Of the traditional elevators available, the straight patterns are the ones most often used in veterinary dentistry, and at least a few can be found in almost every practice.
Traditional straight elevators have a relatively strong, thick blade, with a concave surface on one face of the blade and often a somewhat convex, slightly bowed shoulder on the back side. Although they are not as sharp as luxators, straight elevators are more durable because of the blade's thickness. These instruments are used to fatigue and tear the periodontal ligament, rather than cut it like a luxator. By applying a wedge technique, the tooth gradually becomes increasingly mobile when worked toward the root's apex, with the downward movement of the elevator helping to lift it out of the socket.
In addition to the wedge-style extraction technique we use in veterinary dentistry, straight elevators are also used with a levering technique on human patients to help 'lift' teeth out of the socket. Although we don't extract teeth in a veterinary patient in quite the same manner, these elevators can be used to apply some leverage when removing a tooth.
They are extremely popular and useful instruments, especially so in situations where more force and/or more rotational torque is needed to extract a tooth.
Straight elevators are a good choice for those less experienced in recommended extraction techniques, as well as for those who tend to be aggressive with their extraction instruments. They are a more forgiving instrument than a luxator, and don't have 'wings' like a winged elevator that can be prone to damage during extractions. Due to the thickness of their blades, however, these instruments do not always fit well into tighter apical spaces, sometimes limiting their use in practice. 
Winged elevators
Perhaps the most popular and well-known instrument designed specifically for veterinary dentistry is the winged elevator, which was developed in the 1990s by Robert B. Wiggs, DVM, Dipl. AVDC, a widely respected pioneer in the field of veterinary dentistry. Although generally referred to as simply winged elevators, a number of manufacturers still describe these instruments as Wigg's winged elevators.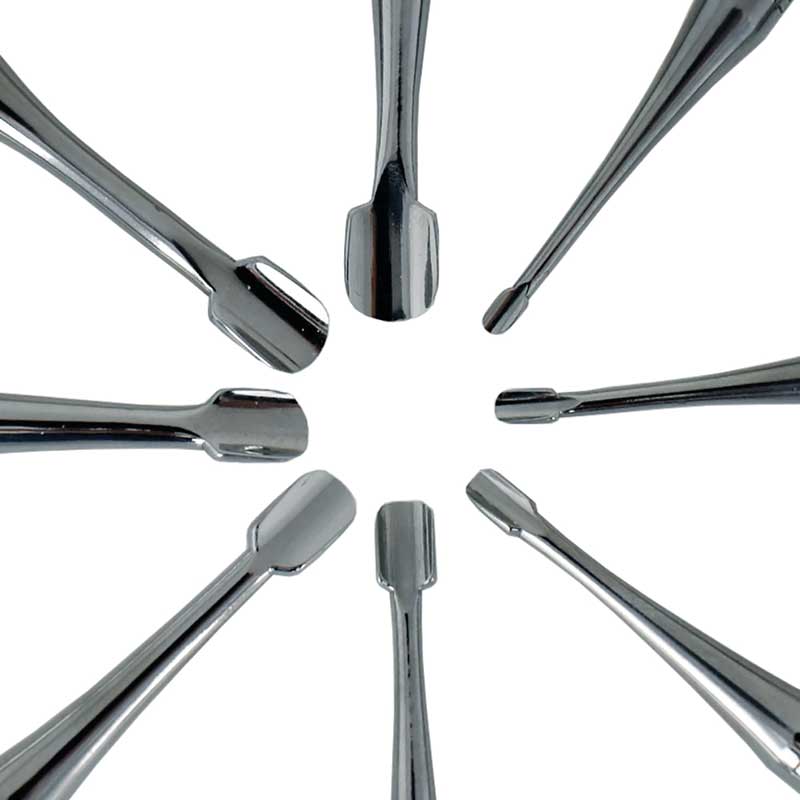 Originally designed for small animal procedures, winged elevators are relatively robust instruments that can be used for most extractions. Like traditional straight elevators, winged elevators are used to stretch and tear the periodontal ligament. They also share a number of design similarities, such as a thick blade, concave face on one side of the tip, and a somewhat convex, slightly bowed shoulder on the back side.
Besides the narrowed neck at the base of the tip, the flared, curved edges called 'wings' are another obvious difference between straight and winged elevators. The wings are designed to follow the contour of the tooth root to improve control; the larger surface area allows for better leverage between the tooth and surrounding bone compared to a non-winged elevator.
Like their traditional counterparts, winged elevators are designed to be used in a side-to-side rocking/twisting motion, with gentle rotational and apical pressure steadily applied and held for 10 to 30 seconds while working circumferentially around the root to fatigue and tear the periodontal ligament. Winged elevators can be used to apply rotational torque to a root, but should not be used with a lever action.
The necks on the instrument tips are narrowed for improved visibility—using them as a lever results in breakage at the neck or damage to the tip itself. The smaller the winged elevator, the more likely it is to break. The wings are also useful to hook under a buccal bulge, facilitating lifting the tooth and root out of the socket. When used correctly, winged elevators allow for easy extraction without the need for excessive force.
Winged elevators are among the most commonplace elevators available and can be found in almost every veterinary practice. What makes some users like winged elevators, however, causes others to dislike them. As with all dental elevators, the shape of the instrument being utilized should fit the shape of the tooth root. Further, it must also fit in the periodontal ligament space.
Because of their unique semicircular blade shape, the wings at times don't fit the shape of some roots well, causing the practitioner to crush surrounding alveolar bone during extraction rather than staying in the periodontal ligament space. This can result in roughening, chipping, or other damage to the wings. In these instances, winged elevators would not be the most efficient tool to use for extraction.
Luxators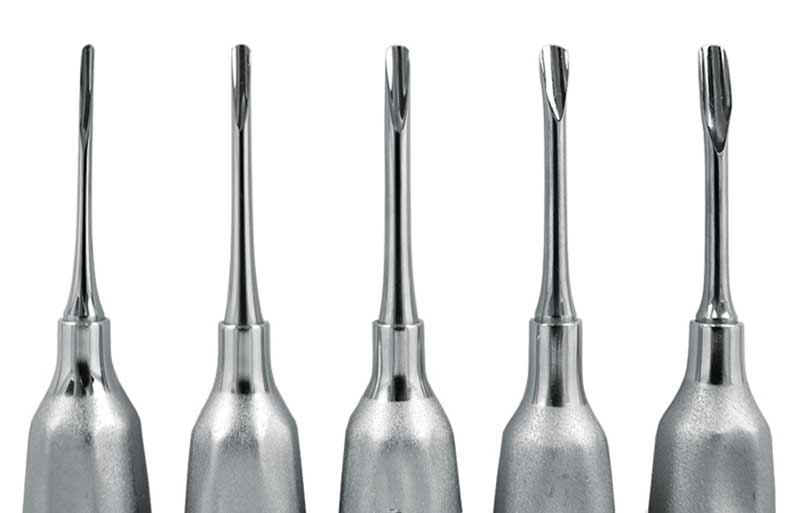 Introduced to the human dental community in the mid-1980s, Luxators were designed and developed by Bo Ericson, DDS, a dentist in Sweden who wanted instruments that were better-suited to his preferred wedge-style extraction technique. His goal was to make dental extractions faster, easier, and more efficient while reducing trauma to the patient, minimizing bone loss, and reducing damage to the surrounding tissue.
The resulting dental luxators are thinner and sharper than elevators, making them more efficient at cutting, rather than simply fatiguing, stretching, and/or tearing the periodontal ligament. Because of their fine, tapered blades, luxators also fit better into tight periodontal spaces, widening the space by compressing surrounding alveolar bone.
While luxators are more efficient instruments than traditional or winged elevators, they are technique-sensitive and not designed to withstand excessive forces. They are meant to be used in a semicircular rocking and cutting motion while applying apical pressure. A deeply wedged luxator can also be used to push against a tooth root to assist in tearing the periodontal ligament and luxating the tooth. When doing so, however, the luxator must be deeply seated in the periodontal ligament space to prevent damaging the instrument.
Luxators should not be used in a prying motion or to apply significant rotational torque. Incorrect use results in damage to the tip. They are not robust instruments, and they chip and break when used in an inappropriate manner. Those who tend to be less patient and more aggressive when extracting teeth would be better-suited to using more traditional and/or winged elevators. Used correctly with a vertical luxation technique, the tips are unlikely to sustain damage beyond normal wear and tear.
It is not unusual to encounter general practitioners who have not heard of luxators, never mind have any on hand in the clinic. Having said that, there does seem to be an overall general trend toward their use in veterinary dentistry. When used correctly, luxators do have the potential to be the most efficient and least traumatic type of elevator for extraction. 
What instrument should you use?
The easy answer is the one that best fits. If you polled board-certified veterinary dentists on their preference between traditional elevators, winged elevators, and luxators, the variety of answers may be surprising. Some will tell you they use winged elevators almost exclusively, while others will say they prefer luxators. Some start an extraction with an elevator before changing to a finer-bladed luxator; others start with a luxator and switch to an elevator.
What they usually all agree on, however, is it's important to choose the correct instrument for the size and shape of tooth you are attempting to extract. Essentially the 'best' instrument to use is a combination of the instrument size and shape that fits in the periodontal ligament space and follows the contours of the tooth root, the extraction technique that will be used, and personal preference.
As the size and shape of the root often changes the closer you get to the apex, it's not unusual to need several instruments to extract one tooth. Most veterinary practices have a selection of elevators from which to choose. Unless one or more of the veterinarians at the practice have taken some continuing education courses and were introduced to luxators, it's less likely they will have any on hand. Whether you need or want luxators is, again, personal preference and will be influenced by your extraction technique.
Those who remove a lot of buccal bone and are fairly aggressive with their extraction technique tend to like elevators. Those who try to remove as little buccal bone as possible prefer luxators. We often find general practitioners at the start of their career remove a fair bit of buccal bone when extracting teeth and, therefore, like to use winged and traditional elevators.
Over time, as they attend dental continuing education sessions and/or become more skilled at extraction, we find they remove less buccal bone and gravitate toward luxators. Ideally, the most well equipped practices will have a mixture of elevators and luxators to choose from, so they always have the best instrument for the tooth root at hand.
WHAT'S IN A NAME?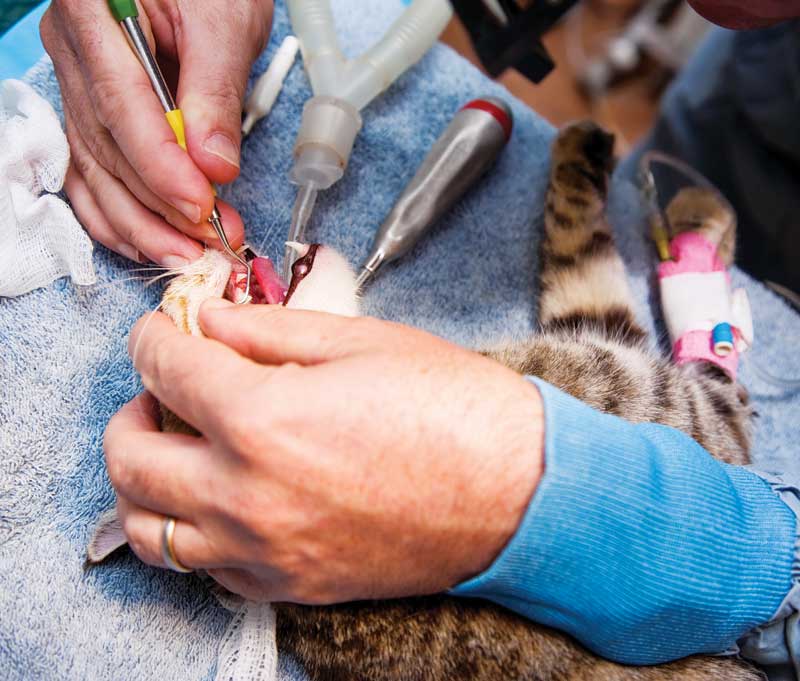 There is some confusion surrounding the instrument name itself that should be addressed. 'Luxator' is a registered trademark of Directa AB in Sweden and was the brand name chosen for their luxating-type elevators when they were first introduced. Since then, the brand name, Luxator, has become an example of a proprietary eponym, much like Kleenex, Q-Tip, or Band-Aid (e.g. people often ask for Kleenex rather than a facial tissue).
In much the same fashion, 'luxator' is an active trademark that is regularly used generically when referring to luxating-type elevators, the brand name having become synonymous with the type of elevator itself.
Referring to these instruments as simply luxators in written and verbal communications, rather than the more cumbersome luxating-type elevators, has become the norm. To avoid trademark infringement, however, manufacturers other than Directa AB refer to these instruments in their catalogues, etc., by the type of instruments they are, meaning luxating-type elevators. In the interests of clarity, this article uses the term 'luxator' generically to describe luxating-type elevators, rather than Directa AB's brand.
Tara Evans has worked in numerous capacities in the veterinary industry over the past 30 years, focusing almost exclusively on dentistry for the last 15. Presently, she works as the product and continuing education manager at Serona Animal Health, a veterinary distribution company, where she is responsible for organizing seminars and teaching various aspects of dentistry to veterinary professionals.