Suggested Veterinary Products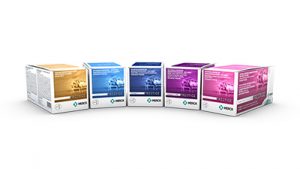 Merck Animal Health announced it has added new influenza-containing vaccines for horses to its Prestige line of vaccines.
"For the past 10 years, we've been monitoring influenza, along with other common infectious upper respiratory diseases, through the Merck Animal Health Biosurveillance Program—a partnership with the University of California, Davis," said D. Craig Barnett, DVM, director of equine veterinary professional services for Merck. "It was through this program that we identified and isolated a new highly infectious and relevant equine influenza strain from the 2013 Ocala, Fla., influenza outbreak that impacted a large number of horses from all over the world. This strain is now part of our updated line of influenza-containing killed virus vaccines and represents a current, clinically significant strain responsible for a large influenza outbreak in well-vaccinated horses."
The vaccines include Florida '13 of the clade 1 family and Richmond '07 of the clade 2 family, meeting current World Organization for Animal Health (OIE) and American Association of Equine Practitioners (AAEP) guidelines for clade 1 and clade 2 strains. The clade 1 family of equine influenza primarily circulates in the U.S., while clade 2 predominantly circulates in Europe.
"While we have not had any outbreaks of clade 2 in the United States to date, U.S. horses competing internationally should have clade 2 protection on board," said Dr. Barnett.
The Prestige vaccines feature the proprietary Havlogen adjuvant and the Antigen Purification System, formulated to maximize protection and minimize adverse reactions. The updated line of influenza-containing killed virus vaccines complements the Merck Animal Health influenza portfolio, headlined by the modified-live intranasal influenza vaccine, Flu Avert I.N., according to the company.