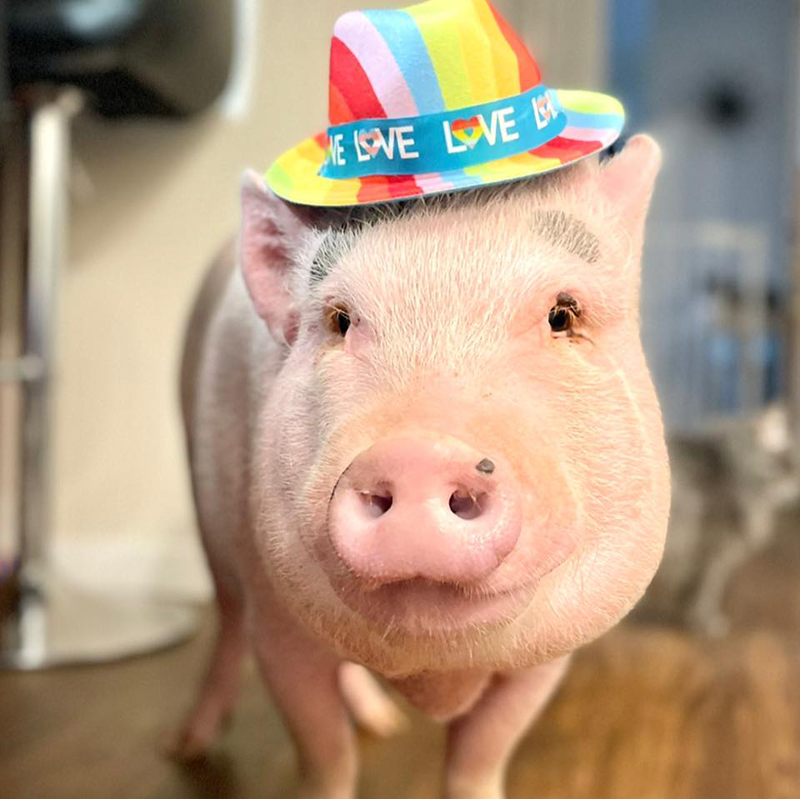 A Nova Scotia community is stepping up in support of Kevin Bacon, a pot-bellied pig in need of a wheelchair.
The pig, affectionately known as "Kevy B," was injured on June 5 while on a road trip with his owners, Carrie Rhindress-Frenette and Steve Frenette.
"It was just another day of adventures that turned into a nightmare," reads a post on Kevy B's Facebook page.
Immediately following the accident, Kevin Bacon was seen by a veterinarian in Amherst, N.S., before being transported to the Atlantic Veterinary College (AVC) at the University of Price Edward Island (UPEI).
"Quick action from the amazing team had Kevin immediately worked on," the Facebook post reads. "After a physical exam, bloodwork, ultrasound, radiography, neurological exam, and a CT scan, it was found Kevy has two fractures in his spine, which has paralyzed his back-end with next to no hope for recovering use of his back legs."
Following a nine-day stay in hospital, Kevin Bacon was transferred home, where he will be on bedrest for a minimum of eight weeks to allow his spinal column to heal. Following bedrest, the pig will need a wheelchair, which could cost as much as $15,000, CTV News reports.
Fortunately, Kevy B, who is in the process of becoming a therapy pig, had been making regular public appearances prior to the accident and is well known and loved within Amherst. His status as a local public figure has led to several business and people in the community holding fundraisers to help pay for his recovery costs. These include online auctions, 50/50 draws, and the selling of key chains, cookies, and blankets in his likeness.
"He's brightened a lot of lives," supporter Shane Kelly, owner of Underground Graffix, tells CTV News. "He goes out with kids on birthdays and all that kind of fun stuff. So, I think it's time for us to turn around and help out Kevy and do what we can for him now."
Rhindress-Frenette and Frenette have expressed gratitude for Kevin Bacon's supporters, as well as the team at Atlantic Veterinary College.
"We will be forever thankful to AVC for such wonderful care and giving Kevin the best he could have asked for," Kevy B's Facebook page reads. "He made many friends while there that we also loved. We also will never forget the amazing support we had from home. Our family and chosen family are truly wonderful and helped us get through this without question."
"We know you all love him, and he wants to continue being your friendly neighbourhood adventure pig that still has every intention to be a therapy pig and bring smiles to anyone he can."
For more, see "Chronicles of Kevin Bacon" on Facebook.