Suggested Veterinary Products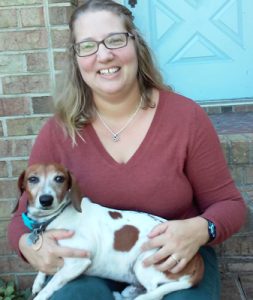 Walkin' Pets by HandicappedPets.com announced that Kelly Hood, a fourth-year veterinary student at North Carolina State University College of Veterinary Medicine, has been awarded the 2018 Walkin' Pets Veterinarian Scholarship.
Hood, from Asbury, N.J., is an unconventional veterinary student who first worked in the entertainment business in New York City and Nashville for many years. She and her husband Charles relocated to Miami, where Kelly had difficulty finding a job in the entertainment industry. She eventually took a job at a kennel, which kindled a desire to redesign her life and become a veterinarian, necessitating a return to school to get her science degree before applying for veterinary school.
Upon graduating from NCSU College of Veterinary Medicine in May 2019, Hood intends to enter the field of small animal veterinary forensics. She also has completed veterinary mission trips to the Navajo Nation in New Mexico and Arizona, and the Cherokee Nation in North Carolina. On one of her last trips, she brought her six-year-old son Alex. While she was helping to spay and neuter dogs, Alex saw a person drive by and throw a dog out the car window. "Tracker" has joined the family, which also includes two other dogs and three cats.
Walkin' Pets by HandicappedPets.com, an e-commerce pet product company serving the needs of disabled, injured, and aging pets, awards the scholarship to help support the next generation of veterinarians who will be on the front line of providing compassionate pet care.