Next-gen clinics
November 14, 2017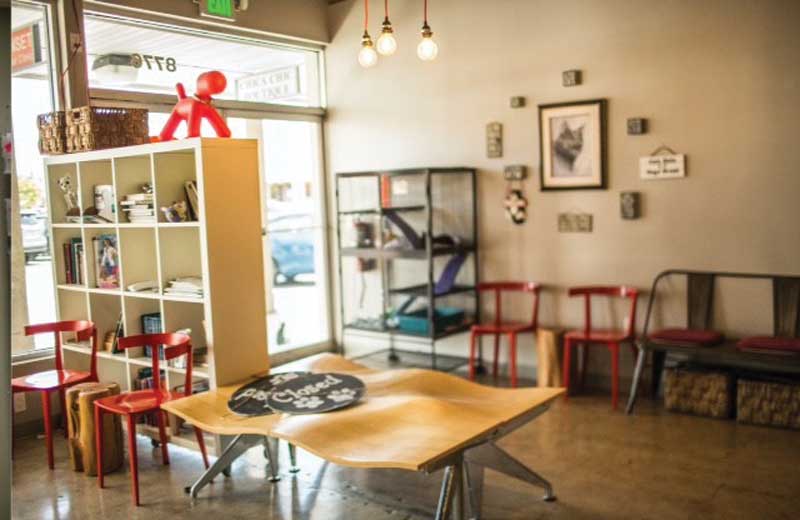 Today's veterinarians seek to create diverse hospital models that meet growing clinic and client demands. We look at how a progressive practice embraces facility upgrades and fosters an enhanced customer experience.
Incorporating the latest and greatest features in a newly constructed veterinary hospital means more than showcasing new equipment and sporting an open floor plan. It's about enhancing productivity and efficiency to provide the best client experience, which in turn can help boost revenue.
Kevin Erickson, DVM, of Kulshan Veterinary Hospital in Lynden, Wash., described this type of veterinary hospital as a "progressive practice."
"A progressive practice is one that keeps pressing on to do better," said Dr. Erickson, who expected the hospital's second location in Ferndale, Wash., to be completed in early November. "A lot of people think that this means having the latest and greatest equipment, and certainly that plays a role, but the bottom line is having a mindset of how can we practice veterinary medicine and surgery better. Sometimes this means upgrading equipment to provide better diagnostics. Sometimes it's upgrading the facility to improve client/patient comfort and/or flow."
Adam Little, DVM, director of innovation and entrepreneurship at the Texas A&M University College of Veterinary Medicine & Biomedical Sciences, agreed.
"I don't look at this so much from a feature perspective, but rather an experience perspective," said Dr. Little, who last year launched the college's Veterinary Student Innovations Program, which allows students to work with early-stage startup companies with applications in veterinary fields. The idea is that students who work with these companies will have a hand in shaping how technology impacts the future of veterinary medicine.
"It's really easy to get excited about a shiny new piece of technology, but it's important to remember that technology is a tool that is meant to solve a problem," Little said. "We've seen a lot of progressive clinics that are able to use technology to help address both the clinic's and the client's needs. Clinics that take this approach, rather than technology for technology's sake, end up generating more revenue and saving themselves more time because of the implementation of the new technology."
Enhancing experiences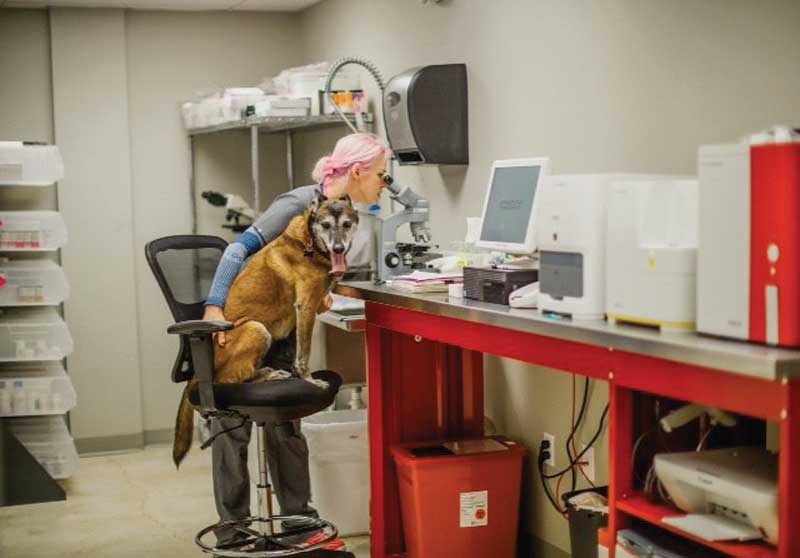 Patty Khuly, VMD, MBA, owner of Sunset Animal Clinic in Miami and a contributor to Veterinary Practice News, considers the lobby as her clinic's greatest feature because "it encapsulates our whole practice ethos."
"It's about openness, transparency, inclusivity, and compassion—and has a whole lot of personality, which I believe should be the hallmark of any independent practice," she added. "The focal point is the reception desk, which is wide open to the center of the lobby, as is the door to the doctors' office just beyond. Everything is as visible to clients as possible. It makes us more positive and forces us to engage our clients more directly."
Since the practice had been around for more than 40 years—with Dr. Khuly there for almost 20 years—it seemed clear what was needed, she said.
"We wanted more exam rooms to make life more flexible, a staff lounge for the hardworking team, a really great galley-style lab with up-to-date equipment, a quiet cat room for Fear Free purposes, a dedicated dental area, and a real place for the docs to sit down and work."
Khuly also added computers to every room to help the practice move more quickly toward going paperless. She forewent big equipment purchases,
such as updated digital X-ray and ultrasound machines, but did splurge on a new digital dental system.
Adopting a Fear Free practice is "by far the latest/greatest development" of Animal Dermatology Clinic (ADC) Pasadena in Pasadena, Calif., according to John Angus, DVM, DACVD.
"This is more of a behavior change for our entire staff in our approach to patient visits and patient care, along with a redesign of the clinic, exam room, materials, and equipment," he said.
When it comes to technology, hyperbaric oxygen therapy (HBOT) has been instrumental in his practice. The chamber, designed and built specifically for veterinary use, has proved to be effective for nonhealing wounds, burns, deep tissue infections, bone infections, decubital ulcers, vasculitis, and postsurgical recovery.
Currently, ADC Pasadena is the only dermatology specialist in the world to offer this treatment in-house, according to Dr. Angus.
"My focus is to improve the quality of life of patients, coupled with adapting to changing practice landscape," he said.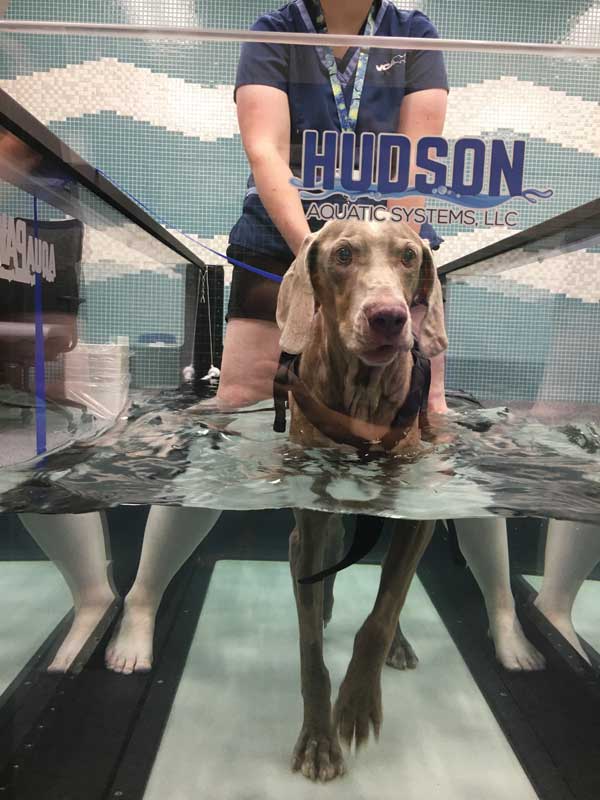 J. Michael Walters, DVM, DACVECC, co-medical director of VCA West Coast Specialty and Emergency Animal Hospital in Fountain Valley, Calif., believes the hospital's staff is the greatest feature.
"We have assembled a group of top notch doctors, technicians, and paraprofessional team members whose sole goal is to provide outstanding patient and client care," Dr. Walters said.
To assist the healthcare providers in meeting this type of care, VCA West Coast is equipped with many new technologies, including a linear accelerator for radiation cancer treatment; a high-field MRI; a 64-slice CT scanner; fluoroscopy for interventional/catheter guided radiologic therapies; and HBOT, just to name a few. The hospital also has two water treadmills to help with rehabilitative care.
"But it's the people we have on staff that make VCA West Coast a center of excellence," Walters said.
When Erickson was building his clinic, he made sure to include modern equipment, data ports for telemedicine, and in-house diagnostics, but his focus was more on building his team.
"We started building our team before we had even purchased the building because we knew we needed the right people to succeed," he said. "You can have the latest greatest equipment, but without your healthcare team, progressive medicine isn't going to happen."
Getting finances in order
The financing process of any endeavor can vary for each business. For Erickson, the process was "pretty simple." The hospital had been contemplating the construction for some time so a "nice nest egg" was already in place to start the project.
"That really helped get the ball rolling and showed our seriousness to the banks when we approached them for financing," Erickson said. "We had also done our homework looking at the demographics, or where our business growth was coming from, and how to tap into that market as well as expanding our reach into new areas."
When asked how long he thought it would take to recoup the costs, he replied that it's hard to gauge but they're hoping it's short.
"We've planned conservatively, expecting it to take a few years, but we are optimistic that our continuing model of providing high-level medicine coupled with outstanding customer service will lead to a quicker payoff," Erickson said.
For VCA West Coast, a budget was set with money set aside for possible contingencies, Walters said.
"There were some unexpected expenses, but looking at the longer view, we knew these expenses were necessary and would add value to the practice," he added.
Veterinarians who haven't owned a practice for very long may not have such a straightforward process. Khuly, who bought the practice almost three years ago, is one such example.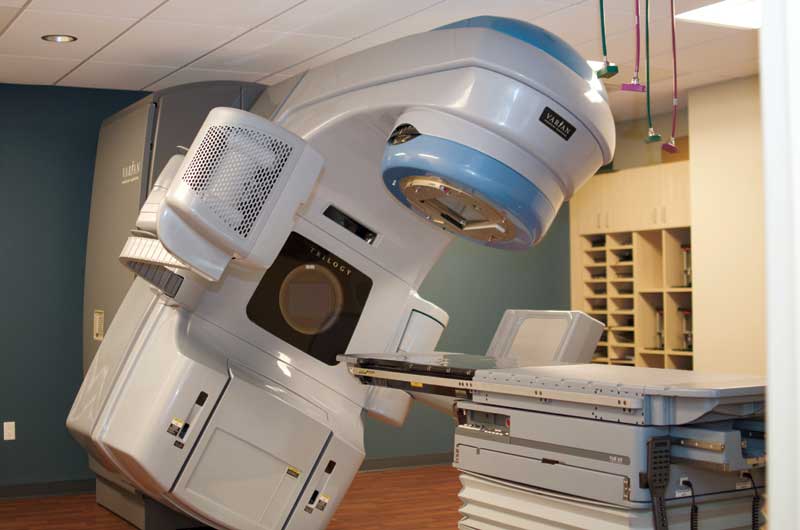 "The financial process was and still remains a nightmare," she said. "Borrowing had to be done piecemeal because we are such a young business. No one wanted to lend to us. And while we have great cash flow, we have a relatively teensy buffer in the bank. At least we have no credit card debt. That's something."
Plan on borrowing 50 percent more than anticipated, Khuly said. Also, make sure you have pristine credit and keep an eye on it every six months, she added.
Veterinarians should take note of what other local clinics have as to not duplicate efforts. It's not cost efficient to have a specialty product that's down the street, according to Angus.
"HBOT is not a necessary option for each clinic; that would be a foolish replication of resources, just like we don't all need CT scans or MRI," Angus said.
Veterinary medicine is always changing, which means the technology and features that suit clinics today will evolve over time. When asked what the future holds, Little said adaptability is key.
"There will be a diversity of hospital models that are created to reflect the growing needs and desires of pet owners," he said. "One of the features that will likely be consistent throughout the greatest hospitals will be an ability to quickly assess new forms of technology and determine whether that technology will meet their clinic and client demands."
According to Erickson, "A progressive practice is one that never gets stale. It's open to trying new things and not afraid to change."
BEHIND THE NEED TO BE GREAT
So, what is the driving force pushing veterinary medicine to include the latest and greatest features? Depending on who you ask, it can be the advancements seen in human medicine, veterinarians wanting to provide the best care possible, clients expecting more, or a combination of these forces.

"The changes [in veterinary practices] are occurring at multiple levels," said Adam Little, DVM, director of innovation and entrepreneurship at the Texas A&M University College of Veterinary Medicine & Biomedical Sciences. "At a societal level, we are witnessing how the digitization of everything is creating new opportunities in markets that had otherwise been untouched for decades. As a result, consumers have a set of expectations that trickle down to the ways in which we view our veterinary service providers."

Veterinarians and staff tend to be the driving force, according to Patty Khuly, VMD, MBA, owner of Sunset Animal Clinic in Miami and a contributor to Veterinary Practice News.

"We all want to do more for our patients," Dr. Khuly said.

John Angus, DVM, DACVD, of Animal Dermatology Clinic Pasadena in Pasadena, Calif., shared the sentiment.

"I'm certainly not satisfied with practicing the same way we did a decade ago," Dr. Angus said. "In the 1990s, who wanted to be the last veterinarian to switch from halothane to isoflurane, the last one to implement postoperative pain management? Same is true today, and innovations haven't stopped. If anything, our capabilities are accelerating with the advent of monoclonal antibody therapy, stem cell therapy, etc.

"So, which came first, high expectations by our clients or veterinarians training clients to expect more? Some veterinarians are going to be on the front of every trend, then the clients follow and begin to demand the same level of service from every one of us."
Endnotes:
[Image]: http://veterinarypracticenews.com/wp-content/uploads/2017/11/Khuly-lobby.jpg
[Image]: http://veterinarypracticenews.com/wp-content/uploads/2017/11/Khuly-microscope.jpg
[Image]: http://veterinarypracticenews.com/wp-content/uploads/2017/11/VCA-Water.jpg
[Image]: http://veterinarypracticenews.com/wp-content/uploads/2017/11/VCA-Linear.jpg
Source URL: https://www.veterinarypracticenews.com/next-gen-clinics/
---