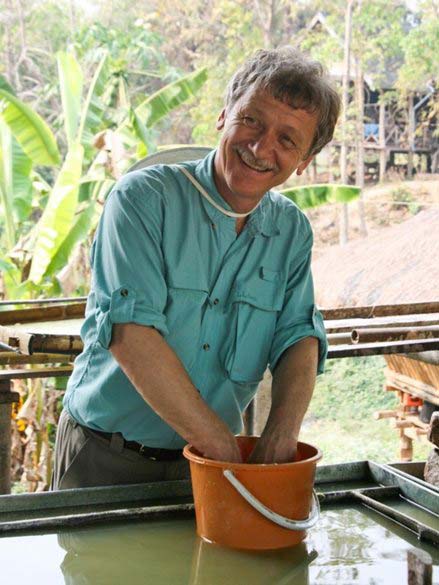 An Ontario Veterinary College (OVC) professor emeritus will receive the Covetrus International Veterinary Community Service Award at next week's World Small Animal Veterinary Association (WSAVA) Congress in Toronto.
An alumnus of the University of Saskatchewan, David Waltner-Toews, DVM, PhD, was nominated for the honour by the Canadian Veterinary Medical Association (CVMA). The award, which celebrates veterinarians who have performed exceptional acts of valour or demonstrated a commitment to serve the international community, is in recognition of his founding of Veterinarians Without Borders/Vétérinaires sans Frontières–Canada (VWB/VSF–Canada).
"Dr. Waltner-Toews is making extraordinary contributions to the health of people, animals, and the environment; the philosophy of science, ethics, culture; and international development," says CVMA president Terri Chotowetz, DVM, BSA.
An epidemiologist, researcher, and specialist in ecosystem approaches to human health, Waltner-Toews has focused much of his career on the transdisciplinary 'One Health' (or 'Ecohealth') approach to medicine.
"I am surprised, honoured, and delighted!" Waltner-Toews tells Veterinary Practice News Canada. "The delight and honour need no explanation. The surprise relates to the fact that, as a non-practitioner, I have often wondered where I fit into the profession."
In addition to his work with VWB/VSF–Canada, Waltner-Toews created the Network for Ecosystem Sustainability and Health and is a founding member of the Communities of Practice for Ecosystem Approaches to Health in Canada (CoPEH Canada), both of which work to understand and promote the health and well-being of humans, animals, and ecosystems in the context of complex social-ecological systems.
"Using [the One Health] approach means that whether I'm working with street dogs in Kathmandu, backyard chickens in Southeast Asia, or animals in hospitals in North America, I have tried to improve all those complex relationships in a systemic way, and not just one part of them," he says. "This was the basis for my academic research, international development work, and formed the underlying philosophy of VWB/VSF–Canada."
To read more about Waltner-Toews research and work, click here.