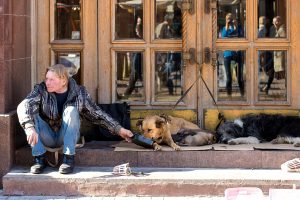 PetSmart Charities of Canada has teamed up with Community Veterinary Outreach (CVO), a team of veterinarians, veterinary technicians, social workers, public health staff, and community volunteers to offer free human health-care and veterinary services to homeless and marginally housed individuals with pets throughout Ontario's York Region and Vancouver.
"At PetSmart Charities of Canada, we're committed to not only bringing people and pets together, but keeping them together, even during challenging life circumstances," said David Haworth, DVM, PhD, and president of the animal welfare charity.
In support of the initiative, PetSmart Charities of Canada donated $20,000 to CVO clinics for underserved populations and their pets in York Region and Vancouver. The grant will provide funding for equipment, supplies, staff and volunteer training, and more.
"By supporting CVO's clinics in York Region and Vancouver, we're helping to ensure every pet parent has access to high-quality veterinary care for their pets, and equally as importantly, basic health and dental care services for themselves, " said Dr. Haworth.
On Oct. 20, the team will meet at a shelter in Newmarket, Ont., to provide 20 clients and their pets with preventive health examinations, vaccinations, microchipping, and parasite treatments at no cost.