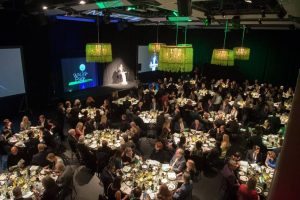 A record-breaking $5 million was raised by Toronto animal lovers and philanthropists to support the University of Guelph (U of G)'s Ontario Veterinary College (OVC) during the fourth annual Walk in the Park Gala.
Proceeds from the Oct. 1 event will serve to support an expansion of the school's intensive care unit (ICU), which sees nearly 2500 animals, or 60 per cent of the pets referred each year to the OVC Companion Animal Hospital.
"You will not meet a more dedicated group of professionals than members of OVC's clinical team," U of G president Franco Vaccarino said.
"They are a big part of the reason why OVC is consistently ranked number one in Canada and among the top veterinary colleges worldwide. The team personifies U of G's singular shared purpose to improve life, and the OVC and OVC Pet Trust are incredibly fortunate to have the generous, kind, and loyal support of everyone here tonight."
During the gala, a gift of more than $4 million was announced from the estate of the late Catherine Bergeron, professor emerita of neuropathology at the University of Toronto.
Star of the Canadian comedy series Kim's Convenience, Paul Sun-Hyung Lee, emceed the event, which featured a cocktail reception, a meal by Toronto chef Sash Simpson, and a hologram appearance by actor John Hamm.
The evening's auction items included:
a pet-friendly trip to New York City;
a private party for eight at Toronto jeweller Mindham Fine Jewellery;
floor seats to a Toronto Raptors game; a pet photo session with artist Deborah Samuel;
an exclusive dinner provided by chef Sash Simpson;
Fleetwood Mac concert tickets;
and dog beds from eight Toronto designers.