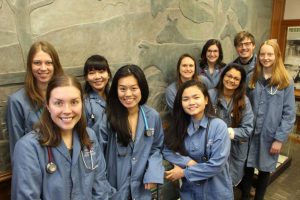 Ontario Veterinary College (OVC) ranks first in Canada, third in North America, and seventh globally as one of the best institutions for veterinary science.
That's according to the 2019 World University Rankings, which considered factors such as overall research impact, as well as academic and institutional reputation. Institutions are rated based on academic and employer reputation and research impact.
"This recognition supports our international reputation as leaders within One Health—protecting the health of animals, people, and the environment," says OVC dean Jeff Wichtel.
Every year World University Rankings by Quacquarelli Symonds names the world's top universities in 48 subjects. According to the University of Guelph, OVC currently holds almost $40 million in research funding through more than 300 research grants.
"We challenge our students to be forward-thinking in understanding, creating, and finding solutions to real-world issues and, in turn, improve life for people and animals in Canada and beyond," Wichtel says.
According to the university, new graduates from the college's DVM program consistently rank highly in employer satisfaction surveys and are fully employed within six months of graduating.