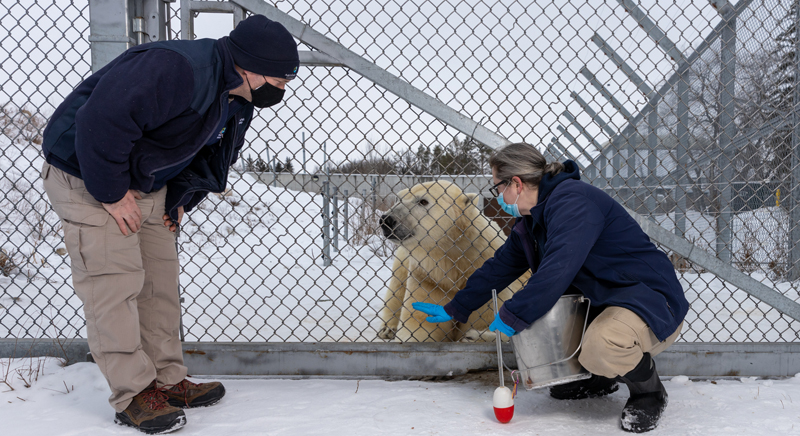 How many veterinarians can say they've performed a root canal on a polar bear or removed a mass from a wolf's mammary gland?
For Chris Enright, DVM, these tasks are simply all part of a day's work. Indeed, in his role as head of veterinary services at Assiniboine Park Zoo in Winnipeg, Dr. Enright treats a range of Arctic wildlife species, including polar bears and wolves, as well as seals, reindeer, owls, and even snow leopards.
The caseload is certainly fascinating—so much so that Enright and the team at Assiniboine are the focus of the TV show Arctic Vets, which just wrapped its second season on CBC Gem.
In the next issue of Veterinary Practice News Canada, we speak to Dr. Enright find out how things have changed at the facility since the premiere of the show, and learn more about the special considerations required when performing procedures on its featured animals.
Check out the excerpt below.
Arctic Vets offers a glimpse into the life of animal health professionals and other specialized organizations as they rescue, conserve, and care for the array of species inhabiting Canada's frozen North.
"In this season, there are opportunities to see some of the excellent work of conservation officers working for the Province of Manitoba, as well as Dr. Maria Hallock at Yukon Wildlife Preserve outside Whitehorse, and the team at the Canadian Polar Bear Habitat in Cochrane, Ontario," Enright tells Veterinary Practice News Canada. "Universities, government agencies, and not-for-profits that work with wildlife are all pretty regular connections for us in the wildlife field."
Of course, many veterinary professionals were familiar with Enright long before Arctic Vet's premiere. Indeed, Veterinary Practice News Canada first spoke to the veterinarian in 2019—before the show's debut—to learn more about his work with Assiniboine's Leatherdale International Polar Bear Conservation Centre (LIPBCC), a provincially funded facility that treats, supports, and houses orphaned and at-risk polar bears.
"In my time at Assiniboine Park Zoo, I have been fortunate enough to work on cases of both free ranging wildlife and wildlife in human care, as well as participate in research collaborations, mentor students and interns, and collaborate with a network of colleagues across the country," Enright says.
To read the rest of our discussion with Dr. Enright, be sure to check out the upcoming issue of Veterinary Practice News Canada!