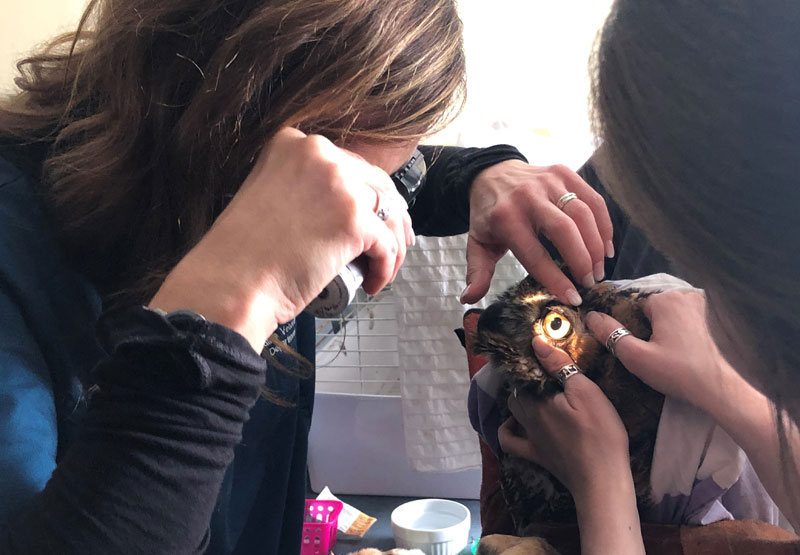 While animal medicine of any kind is bound to present 'unknowns' that must be handled using logic, reasoning, and on-the-job problem solving, wildlife medicine is, for lack of a better term, a different animal.
"I joke that all my patients are challenging, just by virtue of being wild," says Heather Reid, DVM, head veterinarian at the Toronto Wildlife Centre (TWC). "They are brought in with very little history to work with. They've adapted to hide signs of injury or illness and have to heal completely so they can continue to survive in the wild—to add to that, my patients can't return for follow-up exams or be sent home with any medications."
In the next issue of Veterinary Practice News Canada, we speak to Dr. Reid, who recently joined the veterinary staff at the Toronto Zoo, to find out more about the work she does and learn about the vital role companion animal veterinarians play in wildlife conservation.
Check out the excerpt below.
Dr. Heather Reid began volunteering with the Toronto Wildlife Centre (TWC) while working toward her DVM at the Ontario Veterinary College (OVC). After graduating in 1997, she started her career at a small animal practice, but knew she ultimately wanted to work in wildlife medicine and conservation.
Dr. Reid continued at TWC and, in 1999, was hired to build the centre's veterinary department. She's remained the head veterinarian ever since, helping treat and release animals into the wild and educating members of the community on how they can co-exist with their wild neighbours.
"We've gone from a small, one-room treatment clinic to a full-functioning hospital with three veterinarians on staff and four RVTs," Dr. Reid says. "TWC is the busiest wildlife rehabilitation centre in Canada. We treat more than 5000 sick, injured, or orphaned native wild animals each year."
In 2011, Dr. Reid expanded her work in wildlife conservation with the co-founding of Animal Experience International (AEI), a certified B Corporation that supports wildlife conservation projects around the world. The organization, which offers more than 20 programs in 15 countries, pairs clients with animal-related volunteer opportunities at sanctuaries, hospitals, wildlife centres, and research projects.
"Whether it is working with sharks in South Africa, rescuing wildlife in Thailand, or helping with sea turtle conservation in Costa Rica, our volunteers make a real difference to these conservation groups and the animals they are helping," she says.
To read the rest of our discussion with Dr. Reid, be sure to check out the upcoming issue of Veterinary Practice News Canada!