Southern Veterinary Partners expands into South Carolina, Texas
by Katie Daniel | August 25, 2017 9:16 am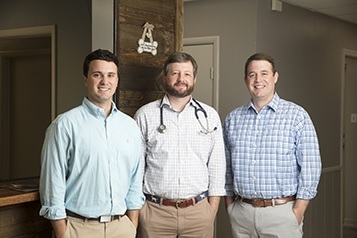 Southern Veterinary Partners announced that five veterinary clinics have joined its organization. From Texas, the veterinary management company now includes Deerfield Animal Hospital in San Antonio, Denton Veterinary Center in Denton, and Hoegemeyer Animal Clinic in Kerrville. From South Carolina, Heartland Animal Hospital in Boiling Springs and Aiken Animal Hospital in Aiken have joined the organization.
Based in Birmingham, Ala., Southern Veterinary Partners is a veterinarian-owned and operated- regional network of animal hospitals in the Southeast with a goal of providing the highest quality veterinary care to companion animals with exceptional client experiences, according to the organization.
Southern Veterinary Partners now has 26 animal hospitals in nine southern states.
"We are excited to grow our network and move into Texas and South Carolina," said Jay Price, DVM, and CEO of Southern Veterinary Partners. "With these five acquisitions, Southern Veterinary Partners spans nine southern states and we look forward to expanding into others soon."
Joining the network are Drs. Peter Hey, Maria Hey, Jennifer Halberg, Anne Faseler, and Stacey Kronewetter from Deerfield Animal Hospital; Drs. Randy Wuensche, Joshua Quast, and Katrina Lindsey from Denton Veterinary Center; Drs. Craig Janssen, Jay Rydberg, and Dan Rosenauer from Hoegemeyer Animal Clinic; Drs. Cindy Brown, Mary Tricia White, and Victoria McMillen from Aiken Animal Hospital; and Drs. Eric McCurry, Ashley McKamey, and Katherine Welling from Heartland Animal Hospital.
Southern Veterinary Partners provides centralized support for the animal hospitals in its network, including marketing, human resources, finance, inventory, and purchasing management. The hospitals retain their names, culture, and local community commitments, as well as the veterinarians and staff.
Visit svp.vet[2] for more information.
Endnotes:
[Image]: https://veterinarypracticenews.com/wp-content/uploads/2017/08/vets.jpg
svp.vet: http://svp.vet
Source URL: https://www.veterinarypracticenews.com/southern-veterinary-partners-expands-into-south-carolina-texas/
---