Suggested Veterinary Products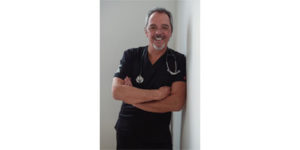 Scott Bainbridge, DVM, is the recipient of the Ontario Veterinary Medical Association (OVMA) Award of Merit for his practice of and help to veterinary medicine.
Dr. Bainbridge, who is a member of Veterinary Practice News Canada's editorial advisory board, has a special interest in veterinary ophthalmology and nutrition, as well as veterinary acupuncture. Lately, he's been looking at stem cell medicine, which he has used to treat senior pets with inflammatory diseases such as arthritis and hip dysplasia.
Owner of Dundas West Animal Hospital, Bainbridge works closely with many animal rescue organizations, and also volunteers with Sistering, a Toronto women's shelter offering free veterinary treatment for pets of women who have left abusive homes.
In 2012, Bainbridge travelled to Australia to open Future Vets Kids Camp, a camp teaching children and youth about veterinary medicine. Recently, he has been organizing a permanent spay/neuter clinic for stray dogs in Ecuador.
He also serves on the Ontario Veterinary College's (OVC's) Multiple Mini Interview Committee.