VIN Foundation enhances veterinary Cost of Education Map
August 17, 2018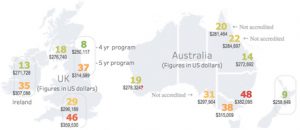 [1]The VIN Foundation, a nonprofit that provides tools and resources to support veterinary students and veterinarians throughout their careers, has updated its Cost of Education Map, which was developed to help preveterinary students make better informed decisions when applying to veterinary school.
Veterinary school costs vary widely among schools and within schools depending on whether the applicant qualifies for a discounted seat based on residency. The foundation said its goal in generating this tool is to enable students to apply smarter, seeking the high-quality education they desire at the most reasonable cost.
New to this latest version of the Cost of Education Map:
Information for United Kingdom, Ireland, Australia, and New Zealand veterinary schools
International residency options
The ability to compare costs from any number of schools side by side
Clear labeling of AVMA-accredited schools
Improved layout with veterinary school costs summaries
Updates to all school data
"It is our job to provide preveterinary students with the most reliable information available so they are able to make the most informed decision when choosing a veterinary school," said Richard Headley, VIN Foundation board president. "The Cost of Education Map[2] provides vital information critical in helping prevets determine the best veterinary school for their situation."
Learn more about the Cost of Education Map[2] in the Vet School Bound website[3] or explore more VIN Foundation resources[4].
Endnotes:
[Image]: https://www.veterinarypracticenews.com/wp-content/uploads/2018/08/cost-of-education-map.jpg
Cost of Education Map: http://icm-tracking.meltwater.com/link.php?DynEngagement=true&H=eD76f58HlUnRmzbPZf5yw%2B7LSgBzaQg0S1071ajiM0VK9rmBWpxqVBxrFwpqHjp4eUM3MKVLi69Ptk%2B%2BG2xTuf5ntGYFgKYBsO6b%2BVsYKcFSV0dBgm5zoBEzSNN89PNYg8Z8cKA3Q9mXc0ErJmVcRQ%3D%3D&G=0&R=https%3A%2F%2Fvetschoolbound.org%2Fhow-much-will-my-veterinary-education-cost%2F&I=20180815191755.0000002a2c6d%40mail6-96-usnbn1&X=MHwxMDQ2NzU4OjViNzM1ZjIwMmU5MmNmNTkxMWJhMjc1ZDs%3D&S=3zCd6ukvRncCMvDG-tZOd7O2DEKPe4SNXq8D0P-NLP4
Vet School Bound website: http://icm-tracking.meltwater.com/link.php?DynEngagement=true&H=eD76f58HlUnRmzbPZf5yw%2B7LSgBzaQg0S1071ajiM0VK9rmBWpxqVBxrFwpqHjp4eUM3MKVLi69Ptk%2B%2BG2xTuf5ntGYFgKYBsO6b%2BVsYKcFSV0dBgm5zoBEzSNN89PNYg8Z8cKA3Q9mXc0ErJmVcRQ%3D%3D&G=0&R=https%3A%2F%2Fvetschoolbound.org%2F&I=20180815191755.0000002a2c6d%40mail6-96-usnbn1&X=MHwxMDQ2NzU4OjViNzM1ZjIwMmU5MmNmNTkxMWJhMjc1ZDs%3D&S=yBJUcV13JBjGIPiG2GT40JfbjI7rqJEMK7bh1SG3MEA
VIN Foundation resources: http://icm-tracking.meltwater.com/link.php?DynEngagement=true&H=eD76f58HlUnRmzbPZf5yw%2B7LSgBzaQg0S1071ajiM0VK9rmBWpxqVBxrFwpqHjp4eUM3MKVLi69Ptk%2B%2BG2xTuf5ntGYFgKYBsO6b%2BVsYKcFSV0dBgm5zoBEzSNN89PNYg8Z8cKA3Q9mXc0ErJmVcRQ%3D%3D&G=0&R=https%3A%2F%2Fvinfoundation.org%2Fresources&I=20180815191755.0000002a2c6d%40mail6-96-usnbn1&X=MHwxMDQ2NzU4OjViNzM1ZjIwMmU5MmNmNTkxMWJhMjc1ZDs%3D&S=C7-Dm8wBrS5-Y88m1F_Dv4epTx0Z_j_UGWMhRBOKrpc
Source URL: https://www.veterinarypracticenews.com/vin-foundation-enhances-veterinary-cost-of-education-map/
---