Originally published in the February 2016 issue of Veterinary Practice News. Did you enjoy this article? Then subscribe today!
Duncan X. Lascelles puts the importance of identifying pain in pets right up there with the best pharmaceutical pain killers on the market.
The North Carolina State University professor and clinical pain-management expert sees promise in new health and activity monitors—"Fitbits for cats and dogs," in his words—but he hasn't abolished traditional measurement tools like the Feline Musculoskeletal Pain Index (FMPI).
Dr. Lascelles, BVSc, Ph.D., CertVA, believes the most useful developments in pain management will come with improved activity monitoring.
"That area has a lot of potential," said Lascelles, Dipl. ACVS, Dipl. ECVS. "It just needs to mature. I see a lot of potential in post-surgical monitoring, and also just monitoring pets in the home environment as they age and get more diseases."
Practitioners can't go wrong, he said, with pain-grading scales like FMPI, which Lascelles helped develop at NCSU's College of Veterinary Medicine.
FMPI, now in its 10th version, is a questionnaire designed to help owners assess the severity of chronic pain in their cats and the impact pain has on the animal's everyday activity and interaction.
Pain Scales
Alicia M. Karas, DVM, MS, Dipl. ACVAA, a veterinary anesthesiologist, pain specialist and animal welfare scientist at Tufts University's Cummings Veterinary Medical Center, also values the importance of pain-assessment tools.
"You can't know if you're treating pain adequately unless you can assess pain," Dr. Karas said. "We're amassing more and more information about how to appropriately assess pain."
She cautioned practitioners that pain scales must be used for the precise purpose they were intended.
"Pain scales are important, but they need to be specific," she said. "You can't use a scale designed for a cat on a dog, or use a pain scale for a dog that's designed for cat."
She also said the scales should be used with the type of pain they were designed to measure.
Most experts spoken with for this article agreed that current pain guidelines are the best starting point for veterinarians wishing to learn more about pain management.
One set of guidelines—the 2015 AAHA/AAFP Pain Management Guidelines for Dogs and Cats—is from both the American Animal Hospital Association and the American Association of Feline Practitioners. Another is the Global Pain Council Guidelines from the World Small Animal Veterinary Association. Both can be downloaded for free online.
The guidelines come recommended by Heather Loenser, DVM, AAHA's veterinary adviser in public and professional affairs and an emergency veterinarian.
"AAHA/AAFP guidelines are an excellent resource for drug cocktails or multi-modal approaches for acute, perioperative, chronic and palliative analgesia," Dr. Loenser said. "Using only one drug without non-pharmacologic therapies as a method of treating many types of moderate to severe pain is seldom appropriate and may mean a patient's pain is not being adequately managed."
Loenser noted that the up-to-date guidelines go beyond traditional medicine and encourage veterinarians to embrace a multimodal approach.
"More veterinarians are becoming trained in acupuncture, which the AAHA/AAFP guidelines state should be strongly considered as a part of multimodal pain management plans due to the safety, the often-pleasant sensation it induces and the ease with which it can be combined with other modalities," she said.
She has noticed a growing interest in modalities like physical therapy, which she said has gained general approval in treating musculoskeletal pain using avariety of ever-evolving technologies such as therapeutic ultrasound and lasers, neuromuscular electrical stimulation, and cryotherapy.
Four Tiers of Pain Treatment: Pharmacology, Physical Therapy, Supplements and Physical Medicine Modality
Bonnie Wright, DVM, Dipl. ACVAA, past president of the International Veterinary Academy of Pain Management, embraces a full-spectrum philosophy toward pain management.
"Pain is very complex in terms of its biochemical cascades and as a result one form of treatment doesn't work well," Dr. Wright said.
Wright, who sits on the board of WSAVA's Global Pain Council, breaks down pain treatment into four essential tiers: pharmacology; physical therapy; supplements; and a physical medicine modality involving acupuncture, laser, massage and joint injections possibly using platelet-rich plasma or stem cells.
"To be very successful to treat pain you generally need all four of those tiers," Wright said.
Some practitioners believe they are taking a multimodal approach by solely using a mix of drugs, but Wright sees this as outmoded thinking.
"There's a heavy emphasis on drugs—and the drugs are important—but to me drugs are only 25 percent of the picture," Wright said.
In the past, pets treated with drugs alone sometimes were euthanized because of excessive pain. But with improved medicines and a multimodal approach, the negative outcome is much rarer, she said.
Wright splits her time between working on chronic pain cases at Colorado Canine Orthopedics and Rehab in Colorado Springs and at Fort Collins Veterinary Emergency Hospital and Rehabilitation Hospital. She's literally in a world of pain, but euthanizing animals because of pain is now far from routine, she said.
"There is almost never a patient that I can't keep comfortable throughout their life so they die of some other natural disease," Wright said.
Robin Downing, DVM, Dipl. AAPM, Dipl. ACVSMR, and a certified veterinary pain practitioner encourages any practitioner treating pain to embrace the multimodal approach.
"Probably the latest, most important advancement is the understanding that we need to treat pain from multiple perspectives in order to do the best job for our patients," Dr. Downing said. "This is true for both chronic and acute pain, and the difference in our patients is truly amazing. Old dogs and cats that seem crippled are restored to comfort and function. It's like a fountain of youth."
She added, "For acute pain patients, it means a nice, quiet sleep following surgery instead of whining, crying and misery."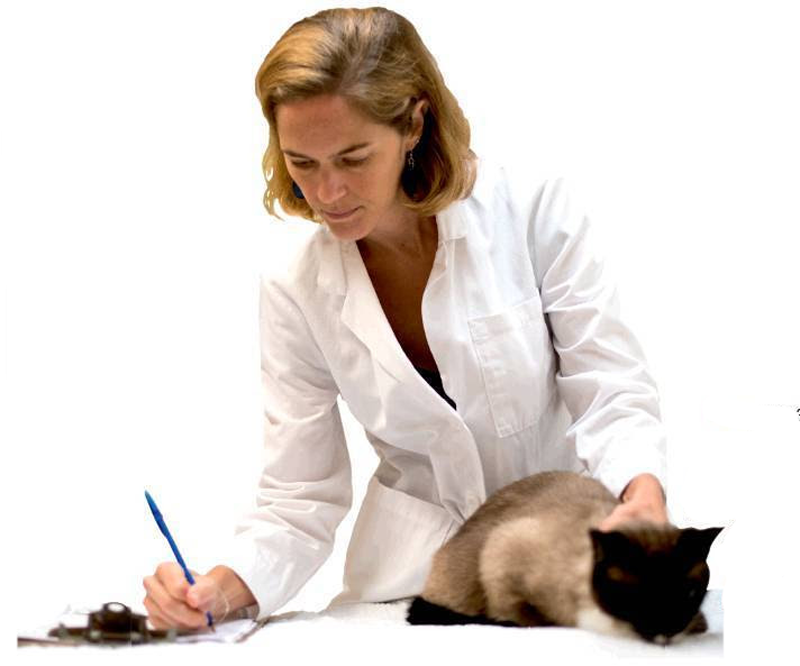 Dr. Margaret Gruen examines a cat before enrolling it in a clinical study at the North Carolina State University Comparative Pain research Program.
Analgesics
Always forward-looking when it comes to pain management, North Carolina State's Lascelles is excited about the potential of a handful of analgesics in development.
"I think probably the most exciting developments are coming from the companies where they are developing very novel and new analgesics for use in veterinary medicine," Lascelles said.
Nexvet is developing an injectable chronic pain reliever—NV-01 for dogs and NV-02 for cats—using an antibody that inhibits the activity of the nerve growth factor.
A study showed NV-01 to have "a statistically significant benefit over placebo, 28 days after a single subcutaneous injection" in dogs as assessed by owners using a validated pain scoring protocol, while NV-02 showed success in cats as well, according to the company.
"They found very positive efficacy," Lascelles said. "You're talking about weeks of pain relief for a single injection."
Lascelles also sees promise for both dogs and cats in drugs being developed by Aratana Therapeutics. One is a daily oral medication for treating osteoarthritis pain in dogs. Dogs receiving the drug during a study showed improved pain-assessment scores that were "statistically significant" compared to a placebo, according to Aratana.
Aratana expects to commence commercialization upon Food and Drug Administration approval, which is anticipated in 2016.
The other development that has Lascelles stoked is an improved bupivacaine, which has a short duration of action.
Aratana also is developing a liposome-encapsulated bupivacaine that could be injected into a wound before it is closed during surgery, providing relief for three days, Lascelles said.
"The landscape is changing," he said. "It's getting really exciting, we are getting new tools and we will be able to better manage pain."
Advice
To keep up with developments, veterinarians should seek out additional training to stay on top of managing pain in their patients, said AAHA's Loenser.
"Continuing education abounds on this topic, including at AAHA's yearly conference in Austin, Texas, at the end of March," she said.
Continuing education can help practitioners faced with prescribing unfamiliar drugs or dealing with increased paperwork associated with controlled substances.
"Adding new services and equipment to your hospital can be equally as intimidating," Loenser said. "However, looking at it from the flip side, my clients value minimizing suffering in their pets over almost anything else.
"If you can alleviate suffering in a pet, the gratitude both the pet and client will express to you, your staff and their friends will make your investment in time, medications and equipment more than worthwhile," she added.
Boning up on the latest pain-management techniques and tools is a veterinarian's moral obligation, Downing said.
"Every single patient who comes through the door will experience pain at various times during its life, much of it induced by us," she said. "We have a moral imperative and ethical obligation to advocate on behalf of beings who cannot advocate for themselves, and that means preventing, identifying and treating pain in every single patient every single time they need us to intervene."
She encouraged membership in the International Veterinary Academy of Pain Management because some practitioners "are simply not in touch" with the latest pain-management information, she said.
"There just is no excuse—with what we know and with the information that is readily available—for any animal patient to suffer needlessly from pain," Downing said.