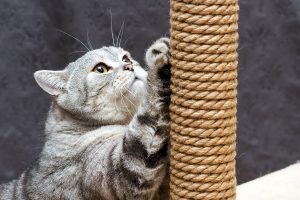 The Winnipeg Humane Society (WHS) is supporting a proposal from the Manitoba Veterinary Medical Association (MVMA) to ban declawing in the province.
"Declawing a cat is a cruel practice—a declawed cat will experience pain and suffering for the rest of its life," said Javier Schwersensky, chief executive officer of WHS.
"Irrespective of the declawing method—be it surgical or laser beam—the procedure is akin to cutting off each of our fingers at the last knuckle. WHS applauds the progressive actions of MVMA to try to put a stop to this abhorrent practice and we strongly support Manitoba's move in this direction. There is no good reason to allow declawing of cats in Canada."
WHS is encouraging the public to ask their veterinarians—who must be licensed to practice in Manitoba—to vote in favour of the bylaw amendment to prohibit declawing procedures.
The practice is currently banned in Nova Scotia, Prince Edward Island, New Brunswick, and British Columbia.