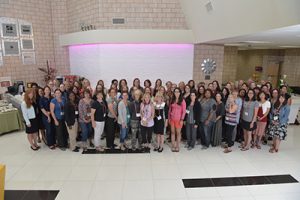 Western Veterinary Conference (WVC) has been named one of the NonProfit Times'(NPT) 50 Best Nonprofits to Work For in 2018, landing in spot No. 23.
NPT assesses companies based on results from a two-part assessment. First, the employer completes a questionnaire, allowing NPT to examine the organization's policies, practices, and demographics. Next, NPT asks the organization's participating employees a series of work culture questions, ultimately organizing collected data into eight "core focus" categories, including leadership and planning, role satisfaction, work environment, pay and benefits, and overall engagement.
More than 70 percent of the conference's 59-person staff completed the voluntary survey.
"[We are] on this list because of our incredibly dedicated, responsible, and passionate team," said David Little, WVC CEO. "It is because of each of them that [we are] able to provide the veterinary community with the highest quality continuing education and world-class facilities, which support their personal and professional growth. We are honored to have received this recognition. It is confirmation we are on the right track as an organization."
In 2018, the conference will host several events at its Oquendo Center in Las Vegas, including:
To view NPT's complete list, click here.