Zoetis Executives Share Good News With Shareholders
by Veterinary Practice News Editors | May 14, 2014 2:54 pm
Follow Veterinary Practice News on Twitter at @vetpetnews[1].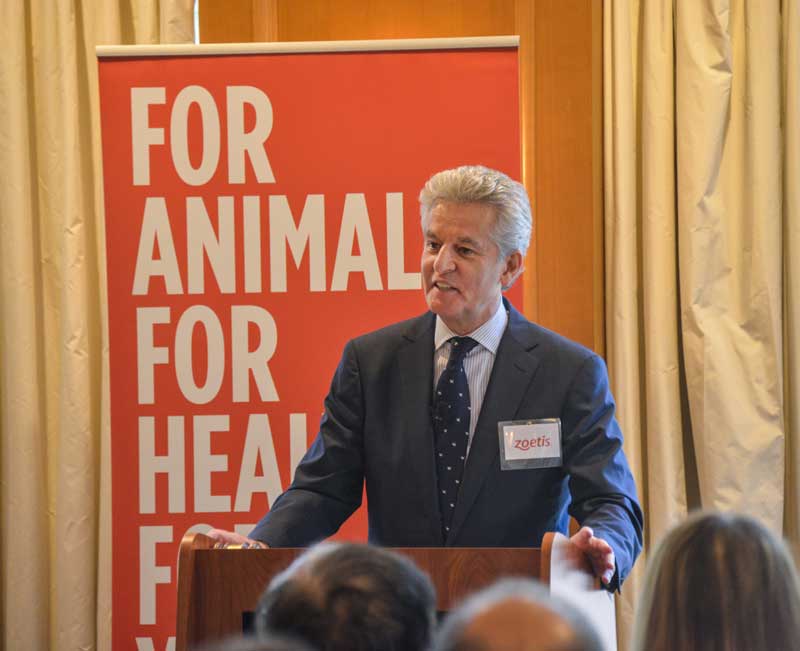 Zoetis CEO Juan
Ram
ó
n
Alaix addresses shareholders.
More than $4.5 billion in sales and 180 product approvals have Zoetis Inc. feeling pretty good about where the veterinary drug maker is headed after its first year in operation.
Zoetis chairman Michael McCallister and CEO Juan Ramón Alaix on Tuesday hosted the annual shareholders meeting in Shore Hills, N.J.—the first since Pfizer[2] Inc. spun off its veterinary division as an independent company.
Minor matters, from electing three directors to approving the selection of an independent auditor, took up part of the meeting. The remainder was filled with remarks from McCallister and Alaix, who oversee nearly 10,000 employees and a Florham Park, N.J., company that is the world's largest producer of medicine and vaccines for livestock[3] and pets.
Alaix touted Zoetis' global market position: second in Europe but first everywhere else. The company also ranks No. 1 in cattle and swine products, anti-infectives and drugs such as sedatives and pain medication.
"We believe that this is an industry that is truly gaining momentum, with a growing attractiveness and an increasingly important role in our society," Alaix said in a prepared statement.
"We see tremendous opportunity to continue to deliver solutions to improve the health of companion and livestock animals," he added.
Contributing to Zoetis' $155 million profit in the first quarter of 2014 were new drugs such as Apoquel[4] (oclacitinib tablet), a fast-acting treatment for canine itching.
Not all of the 180 product approvals were for new formulations. Some were for existing products with new claims or indications or for drugs being introduced to new markets, Alaix reported.
Zoetis' first 12 months in business saw the company record $4.56 billion in revenue, a 5 percent increase from its operation as Pfizer Animal Health. Net income was $504 million.
Shareholders have profited in other ways. Zoetis stock sold for $26 a share during the initial public offering, reached a 52-week high of $34.28 and today trades for just under $31.
Endnotes:
@vetpetnews: https://twitter.com/vetpetnews
Pfizer: /June-2012/Pfizer-To-Spin-Off-Animal-Health-Business-In-2013/
livestock: /May-2014/Zoetis-Improvest-Put-To-Test-At-Indiana-Pig-Facility/
Apoquel: /Vet-Breaking-News/2014/01/23/New-Veterinary-Drugs-Debut-At-Navc/
Source URL: https://www.veterinarypracticenews.com/zoetis-executives-share-good-news-with-shareholders/
---