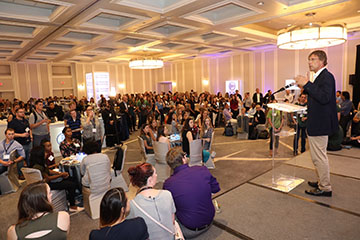 Approximately 650 veterinary students and researchers from 38 veterinary schools from the U.S., Canada, the Caribbean, the Netherlands, and France gathered Aug. 3-6 at the National Institutes of Health (NIH) to discuss innovative animal health research and the future of veterinary medicine.
The 2017 National Veterinary Scholars Symposium (NVSS), cosponsored by Boehringer Ingelheim, exposes first- and second-year veterinary students to biomedical research that has the potential to influence the future path of global animal health and disease prevention. The symposium included presentations and panel discussions on global health, neuroscience, genetics, conservation medicine, and comparative oncology. These topics address key areas of development in veterinary research, as well as areas of veterinary medicine that impact both humans and animals to improve the health of the planet.
Key presentations
"Global Health, Emerging Infections and One Health": Julie Pavlin, MD, Ph.D., MPH, director, board on Global Health National Academies of Sciences, Engineering and Medicine, Washington, D.C.
"Drosophila to Identify and Unravel Pathogenic Mechanisms of Human Diseases": Hugo Bellen, DVM, Ph.D., Howard Hughes Medical Institute investigator professor, Department of Molecular and Human Genetics Baylor College of Medicine, Houston
"Beyond the Neuron Doctrine: White Matter Plasticity in Response to Functional Activity": R. Douglas Fields, Ph.D., senior investigator and chief nervous system development and plasticity section National Institute of Child Health and Human Development, National Institutes of Health, Bethesda, Md.
"Conservation Medicine—Saving a Species Through One Health": Dawn Zimmerman, DVM, MS, associate program director, Global Health Program, Conservation Biology Institute, National Zoological Park, Smithsonian Institution, Washington, D.C.
"An Integrative and Comparative Approach to Preventing Metastatic Disease in Canine and Pediatric Osteosarcoma"; Nicola Mason, Ph.D., BVetMed, associate professor of medicine and pathobiology, University of Pennsylvania, Philadelphia
In addition, during the Aug. 4 evening dinner event at the Great Cat Exhibit at the Smithsonian's National Zoological Park, attendees heard a presentation by Donald Neiffer, VMD, chief veterinarian, Smithsonian's National Zoo and Conservation Biology Institute.
During symposium poster sessions, 172 veterinary students presented findings from their summer biomedical research projects conducted as part of the Boehringer Ingelheim Veterinary Scholars Program (BIVSP). Since 2000, more than 2,500 veterinary students sponsored by the company have conducted and presented research findings, helping them prepare for a range of veterinary careers.
To view a list of North American veterinary schools participating in the BIVSP, visit http://www.merialscholars.com/students/Pages/participating-schools.aspx.
Event awards
During the event, Boehringer Ingelheim presented awards to one graduate student and one undergraduate student for exemplary research projects.
2017 Boehringer Ingelheim Veterinary Graduate Award: Anna Massie, DVM, a resident in small animal surgery at University of California, Davis, for her work in the evaluation of bone morphogenetic protein as a treatment in chronic nonunion fractures in dogs.
2017 Boehringer Ingelheim Veterinary Research Scholar Award: Ann DiPastina, a veterinary student at Michigan State University. DiPastina conducted and is presenting her research project on optimizing antimicrobial use for mastitis on U.S. dairy farms.
Student participants speak up
Ann DiPastina, third-year veterinary student at the Michigan State University College of Veterinary Medicine, East Lansing, Mich., and recipient of 2017 Boehringer Ingelheim Veterinary Research Scholar Award
"My summer research program solidified my decision to pursue a career in research. I really enjoy contributing to the effort to solve problems that affect animals and people throughout the world. Antimicrobial resistance is just one of the many challenges the world faces, and I want to be involved in answering questions surrounding these problems, including food insecurity. The symposium at the NIH was an excellent opportunity to interact with leaders in veterinary research and to talk to students discovering their passion for research. It was very encouraging to speak with researchers who are successful and happy in careers that differ from the traditional role of a practicing veterinarian. I was also very excited to learn from other students about a wide range of disciplines in which they conducted their own research projects."
Jessica Garcia, incoming first-year veterinary student at The Ohio State University College of Veterinary Medicine in Columbus, Ohio, who conducted her BIVSP summer research program at Michigan State University College of Veterinary Medicine.
"My summer research focused on assessing and understanding on-farm biosecurity. I tested a new smartphone app that uses spatial tracking to quantify farmer exposure levels to biohazardous areas on farms and prompts biosecurity implementation questions in real time. My second objective was to better understand farmers' biosecurity beliefs and behaviors by creating a questionnaire based on the psychology Theory of Planned Behavior. This project enabled me to learn to converse with farmers about biosecurity, as well the beliefs that lead to the decision-making process of farmers' livelihood relating to their animals. The NIH symposium opened my mind to the idea of pursuing a veterinary career based on a One Health perspective. As I dive deeper into the field of veterinary medicine, I'm always surprised at how vast the opportunities are that come with a DVM education."
Evymarie Prado-Sanchez, third-year veterinary student, Virginia-Maryland College of Veterinary Medicine, Blacksburg, Va.
"Through the Veterinary Scholars Program, I gained knowledge in various laboratory techniques and was given an opportunity to perform high-caliber research at a veterinary institution. It has helped me understand the diversity of opportunities in our veterinary profession, which I would now like to explore further through clinical year externships. This was my second Veterinary Scholars Symposium, and it's been eye opening. The networking opportunities have helped me find potential mentors that are interested in my career development, which aid me in narrowing my career path. I also enjoyed getting experience presenting my research at the symposium."
Ann Lynch, student at Virginia-Maryland College of Veterinary Medicine, Blacksburg, Va. (class of 2020)
Ann participated in the 2017 Boehringer Ingelheim Veterinary Scholars Program in Europe. Three students from U.S. veterinary schools were selected to receive a stipend and travel to France for 10 to 12 weeks for their summer research project. She conducted her research at the VetAgro Sup veterinary school in Lyon, France, focused on detecting tick-borne pathogens in ticks, which were collected on horses in southern France, an area with a number of endemic equine fever syndromes. During my summer research program, I gained valuable technical skills such as DNA extraction and qPCR. Because I was based in another country, I was able to learn about tick-borne diseases and diagnoses approaches that aren't present or are almost never seen in the U.S., like equine piroplasmosis. The NIH symposium was my first large-scale scientific conference, and I really enjoyed interacting with vet students from other schools and seeing the hard work that went into their posters. I was pleasantly surprised by how many people were interested in hearing about my research. I feel that every vet student should understand how good research is conducted and presented, and this opportunity was invaluable for this purpose."
Valerie Lind is a healthcare writer, with an interest in animal health, human health, and One Health, including clinical research and new technologies that have the potential to change medical practice and long-term health outcomes.