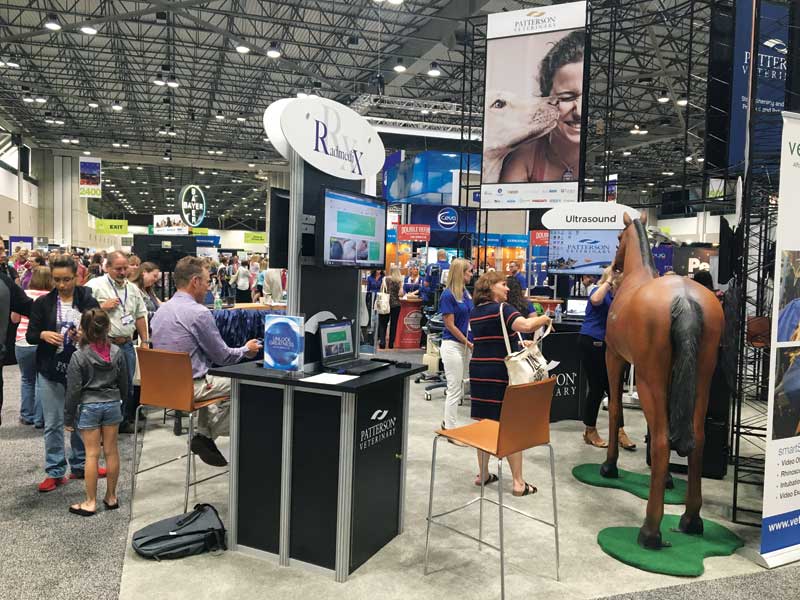 When you add up your conference registration, airfare, hotel, meals, taxis, and time away from the practice, you'll spend thousands just to attend a few days of a veterinary convention. It's time to actively seek greater returns on your attendance. Go beyond simply meeting your continuing education requirements. These strategies can help ensure you get the most out of your investments of time and money.
Select courses in advance
Before packing your suitcase, review the conference schedule to select the top medical and management seminars you will attend. Some wet labs and special events may require separate enrollment. Use schedule-planning tools in conference apps, or print the online program and highlight specific sessions. Download proceedings in advance so you may take notes on your tablet or printed copies. Write questions you have for speakers.
Bring a notepad or tablet
Besides taking lecture notes, keep details about vendor and colleague conversations. Create a post-conference to-do list of steps to implement seminar concepts or the timeline to purchase equipment and products.
Who are you?
If the conference provides a lanyard that has your name badge dangling near your belly button, people can't see your name. Tie a knot in the cord so your name badge rests near your breastbone and is easily visible. If the name badge has a clip, fasten it to your right side. When you shake hands, colleagues' eyes will travel up your arm to your name badge. Using names in conversations will help you build rapport with colleagues and remember connections post-conference.
Dress professionally
While warm temperatures may tempt you to reach for your flip flops and shorts, save casual attire for your sunset walk along the Las Vegas Strip. Fluctuating meeting room temperatures may have you reaching for a cardigan or blazer. Should a vendor invite you to a steakhouse dinner after the last class, you'll be thankful you wore pants and a collared shirt.
Reconnect with alumni
The conference may host alumni reunions—or you can create your own. Find veterinary school colleagues and discover details about their family and practice lives. Your common experiences may lead to new opportunities. A classmate shares his recent dental wet lab experience with you, and now you're eager to sign up. Another schoolmate knows of a hospital for sale in her community, and you're ready to become a practice owner.
Seek new friendships
Introduce yourself to colleagues sitting next to you in lectures. You both chose the same seminar and may have interesting cases to discuss during breaks. A participant asks the speaker a question, and then shares how he solved the problem at his practice. Offer to share coffee at the next break so you may learn more and bring the same solution back to your clinic.
Cruise the exhibit hall
Come prepared with a list of equipment and products you want to see. Use the conference app or program to map your route in the exhibit hall. For must-see items, contact your local sales representative in advance and set an appointment time and date in the booth. Collect product literature and samples, noting dates of expiring offers in case you need to consult with partners or the practice owner before making purchases.
Bring your resume
If you're a new graduate or an associate seeking a job change, you may be able to attend job fairs or visit the exhibit hall to learn about corporate practices and industry job opportunities. Watch bulletin boards for job notices from private practices because you may be able to talk with the owner while attending the convention.
Pack lots of business cards
You'll meet hundreds of people in a few days. Tuck business cards in your conference bag, wallet, or purse. You'll quickly run out of the five cards stuffed in your wallet, so pack at least 50. You'll exchange cards with speakers, vendors, classmates, and new connections. Write notes on the back of cards about how this person may help you and follow-up actions to take.
Plan for after the show
Within a week of returning home, contact vendors and colleagues while convention conversations are fresh in everyone's mind. Exhibit hall specials may have deadlines you don't want to miss.
Share your knowledge
Choose the top three medical and management ideas you will implement at your practice. Schedule a staff meeting to discuss the strategies, share proceedings, and get your team's buy-in. Create a timeline for implementation and assign responsibilities for action items.
Remember to place CE certificates from the conference in your personnel file so you may easily reference them when needed. Read and share proceedings from sessions you didn't attend. You may find gems of knowledge you can use now.
The next time you invest thousands to attend a conference, create a plan to get a great return on your investment. Your new knowledge could have long-term effects on your medical and management protocols.
Wendy S. Myers owns Communication Solutions for Veterinarians in Castle Pines, Colo., and offers consulting, seminars and monthly CE credit webinars She is a certified veterinary journalist and the author of 101 Communication Skills for Veterinary Teams. Reach her at wmyers@csvets.com or csvets.com.