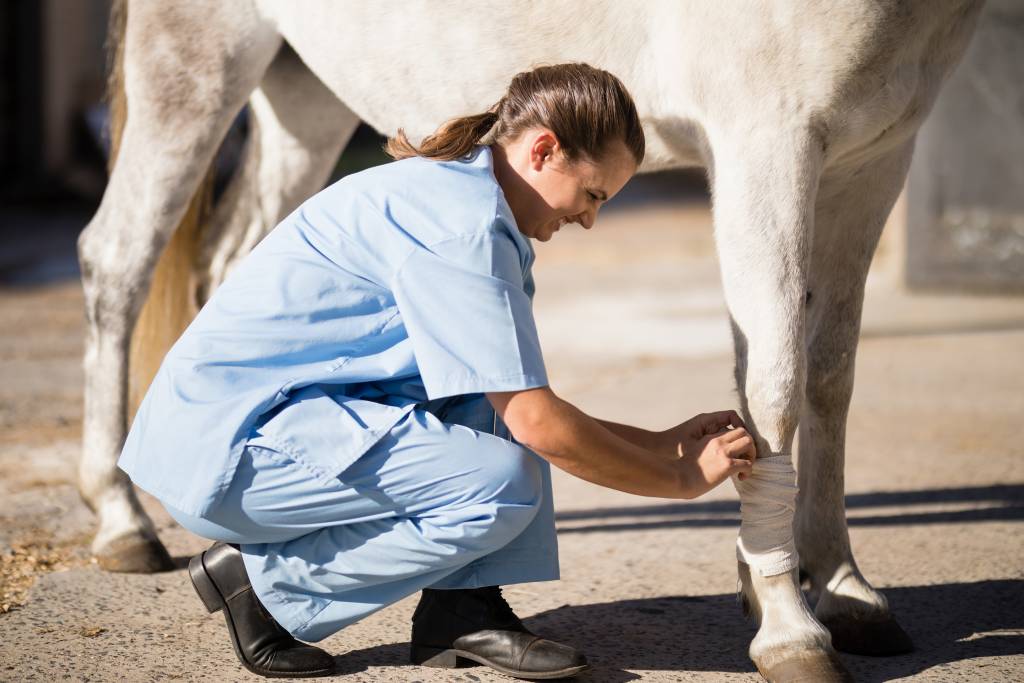 Perhaps one of the more catastrophic but thankfully uncommon situations that equine ambulatory practitioners can encounter is the fracture. While it may be commonly assumed that any equine fracture is essentially a death sentence, in some circumstances, prompt recognition of the injury and appropriate first aid care can give some horses a chance for a full recovery—or at least give them the opportunity for a good life.
What's broken?
Much of the prognosis for a horse that has sustained a fracture depends on a combination of factors, including the owner's willingness to make a significant financial commitment, the likely outcome, and the availability of a facility with the equipment and expertise to attempt to resolve the problem. For example, a fracture to the horse's fourth metatarsal bone, which has an excellent prognosis and may not require a significant financial outlay, may result in a completely different outcome from a mid-bone fracture to the third metatarsal bone, which, while perhaps still being amenable to repair, may carry a more uncertain prognosis and a much higher cost.
Factors to consider:
The horse's temperament. Fractious horses may not be good candidates for fracture repair.
The horse's condition. An unthrifty horse may have impaired healing, and an owner that causes a horse to be unthrifty due to lack of care may not be committed to care for the injured horse.
Fracture location. For example, articular fractures may result in a horse that then becomes permanently unsound.
Size of the horse. Larger horses place more stress on repaired fracture sites and may make a successful outcome less likely.
Severity of the fracture. For example, is the fracture open? Is it comminuted?
It behooves veterinarians attending to equine fractures to be familiar with likely outcomes for particular fractures. In general, more favorable prognoses are associated with small horse size, good temperament, a closed fracture, a simple fracture, and a fracture occurring in the distal limb. On the other hand, poorer prognoses are associated with larger horse size, open fractures, poor temperament, and fractures of the upper limb. Horses that have lost significant blood supply to the limb as a result of accompanying soft tissue candidates are unlikely to survive a repair attempt and generally should be humanely euthanized.
Cost considerations
Attending veterinarians should always be sensitive to the owner's financial constraints. The cost of fracture repair can easily run tens of thousands of dollars, even in uncomplicated cases. When horses are insured, it adds yet another layer of management concerns. If an injured horse is insured, it is mandatory that the attending veterinarian contact the insurance company immediately and work according to company policy.
Initial management
Some fractures may be relatively stable (e.g., hoof fractures). With others, fractured bones must be stabilized so as to prevent further damage to the injured tissues. Horses can further damage an injured limb if they continue to try to bear weight on it. In addition, many equine fractures are complicated when broken bones pierce the skin, leading to an increased risk of infection (compound fracture). Thus, two important considerations when dealing with a fractured limb are immediate immobilization and protecting the area from additional contamination.
Horses with limb fractures should not be moved until the fracture has been stabilized. Horses with limb fractures are quite often distressed, both by their pain and inability to move normally, and may require sedation. However, if sedation is needed, attending veterinarians must be judicious; too much sedation can reduce the horse's sensation of pain. If the horse feels less pain, he may be more willing to move and incur further tissue damage as a result.
Compound fractures require attention to the concomitant open wound(s); however, wound management need not be aggressive. Gentle cleansing or simple lavage with tap water may be all that's needed. Bleeding should be controlled by direct pressure. Wound bandaging should occur before efforts are made to stabilize the limb. Pain management should involve no more than nonsteroidal anti-inflammatory agents.
Stabilizing the fracture
Before horses are shipped for attempts at fracture repair, stabilization of the fracture site is mandatory in the field. Without stabilization, closed fractures can become compound if there is excessive movement, and compound fractures can deteriorate completely. As soon as the horse is quiet and other injuries have been attended, fractures should be splinted. However, splinting must be done properly because a poorly applied splint can make fracture repair impossible.
Proper management of orthopedic injuries in the field requires clean bandages and appropriate wound dressings (if needed). While there are commercially available splints that work very well to stabilize lower limb fractures, a variety of materials can be used to make good splints, including boards, split pieces of PVC pipes, and duct tape.
Transporting the horse
Once a fracture has been stabilized, the next focus is successfully transporting the horse to the referral facility. Trailering is a challenge for horses under the best of circumstances; trying to support themselves on three legs adds to their stress. Haste is never important when getting a horse to a referral facility. Transported horses should be closely confined to help them maintain their balance. Sometimes bales of hay, straw, or shavings can be placed strategically to help limit the animal's mobility.
Take care when unloading horses with limb fractures. Loading horses into trailers should be done as with a normal horse, but take care not to allow the horse to stress the affected limb on unloading. Horses with forelimb fractures should be backed out of the trailer, while horses with hind limb fractures should be taken out forward.
Conclusions
In many cases of equine fracture, the care provided by the attending veterinarian may make the difference between a successful outcome and a failure. Each treatment step is important. Equally important, however, is being honest about probable outcomes and the ability of the client to financially support treatment.
Dr. David W. Ramey is a Southern California equine practitioner who specializes in the care and treatment of pleasure horses. Visit his website at doctorramey.com.