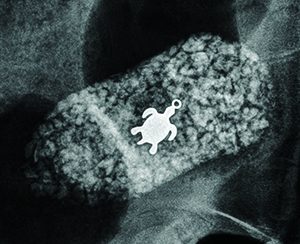 Earlier this year, Veterinary Practice News' panel of distinguished veterinary professionals had their chance to vote on the most odd and incomprehensive items removed from the stomachs of their clients' animal companions in the 2017 They Ate What?! X-ray contest. Now the people have spoken.
As part of the annual contest, VPN invites its reader community to vote on what they think is the best rad among the year's submissions.
"Turtle vs. Turtle" is the winning radiograph of the 2017 They Ate What?! People's Choice X-ray contest. "Turtle," which was a runner-up in the larger contest, was submitted by Don Harris, DVM, of Avian & Exotic AMC in Miami. Lola, a 7-kilogram tortoise, presented for inappetence and lethargy. Radiographs revealed that she had consumed a 1.5-centimeter turtle pendant of unknown origin. A flap plastronotomy was performed to remove the pendant, and Lola recovered completely.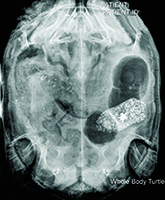 Floyd Rowe, office manager for VCA Pacific Avenue South Animal Hospital in Spanaway, Wash., is the winner of the 2017 People's Choice sweepstakes. Floyd will receive a $500 Visa gift card, courtesy of IDEXX Laboratories Inc.