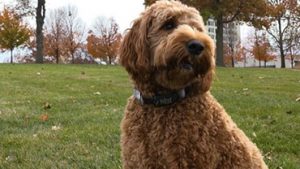 How long should a dog sleep during a 24 hour period? Is it normal for dogs to scratch? When is scratching so excessive that dog owners should seek veterinary care? These basic questions have not had a clear answer—until now, according to technology company AGL, which has published results from 28,000 dog days of data generated by the company's wearable sensor, Vetrax.
The Vetrax wearable sensor, app, and online portal combine to provide accurate and detailed monitoring of a dog's specific behaviors to help pet owners and veterinarians to monitor, evaluate, and manage treatment plans, according to the company.
AGL's results shows that dogs sleep less than previously thought but also live sedentary lives, walking for just over an hour a day and resting for nine hours on average. It means that veterinary professionals can now refer to statistics with an evidence base and take 'average' behavior into account when making recommendations, according to AGL.
The Vetrax data has been gathered from dogs wearing the company's pet sensor. The monitor evaluates not just general activity but also more clinically relevant behaviors such as scratching or shaking.
Vetrax found that, on average, dogs walk for just 68 minutes per day, run for 5 minutes, and "rest" for 9 hours. This can have implications when considering calorie intake in the management of obesity and when thinking about how much stimulation dogs have throughout a normal day.
Dogs sleep for a mean of 10.4 hours in every 24—less than the 12 to 14 hours commonly quoted. The company also has measures for sleep quality, identifying when a pet is experiencing interrupted sleep, which is often the case when there is pain or discomfort. The mean time spent scratching each day adds up to 100 seconds, and shaking accounts for just 39 seconds.
Marcel Sarzen, Vetrax founder, president, and CEO, said there always will be individual variation within a population and hopes publication of this data will be useful to the profession.
"We want to emphasize that what is really important is to establish what is normal for an individual pet," he said. "By monitoring the results from a Vetrax sensor, pet owners and veterinary professionals can identify when a behavior is occurring at a level that's not usual for that pet. It might be that that isn't being observed—perhaps because it happens at night or when the owner is out, or even is just a little elevated above normal levels. If we can spot these changes at an early stage, it gives pet parents and veterinarians a great opportunity to take prompt action and achieve better clinical outcomes."
Using the Vetrax cloud-based hub, veterinary professionals can set individual targets for their patients and send clients alerts to help them improve their dog's health and well-being. Professionals can find out how their practice can take part and offer their clients Vetrax monitoring at vetrax.com.