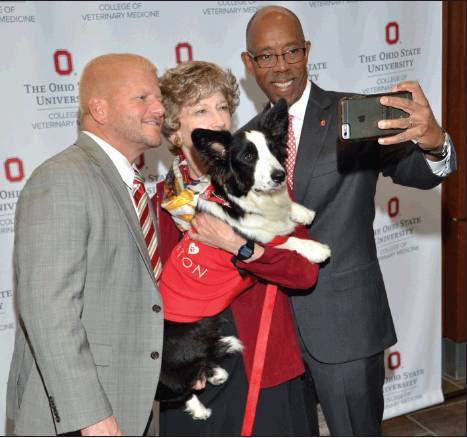 Ohio State University's College of Veterinary Medicine has received a $39 million commitment from the Stanton Foundation to establish the Building Preeminence in Veterinary General Practice Education program.
Part of the gift will pay for the creation of the Frank Stanton Endowed Chair in General Practice and Canine Health and Wellness. Stanton, who died in 2006, earned a doctorate from Ohio State and in 2002 established the Ruth Stanton Chair in Veterinary Medicine in honor of his wife.
That seat is held by the college's dean, Rustin M. Moore, DVM, Ph.D., Dipl. ACVS.Dipl. ACVS.
"This amazing gift … will bolster an outstanding general practitioner education program and have lasting impact on current and future generations of veterinarians and the pets and people for which they provide care," Dr. Moore said.
The initial gift, $19 million, also will cover seven faculty and 12 staff members, the construction of a clinical and professional skills lab, and the purchase of a mobile veterinary unit for the Outreach Medicine Program.
The remainder, a $20 million endowment, will be awarded after five years if milestones are met, the university reported Sept. 28.
Ohio State President Michael V. Drake, M.D., called the gift "transformational."
"It is an investment in the future of veterinary medical education at Ohio State that will continue in perpetuity through veterinary students and faculty who will provide skillful and compassionate medical care for generations," he said.
Frank Stanton, who served as president of CBS from 1946 to 1971, established the New York foundation to "support areas where he was unable to complete his charitable intentions during his lifetime," according to its website.
"This gift is meaningful to us because Frank Stanton was a proud alumnus who cared deeply for Ohio State," foundation spokesman Stephen Kidder said. "We are certain he would have been overjoyed to join his alma mater on this forward-thinking initiative that will greatly impact the students and the lives of pets and pet owners."
The veterinary college, with more than 500 students, offers DVM degrees as well as master's and doctoral degrees in comparative and veterinary medicine, and a master's degree in veterinary public health.
---
Originally published in the November 2016 issue of Veterinary Practice News. Did you enjoy this article? Then subscribe today!