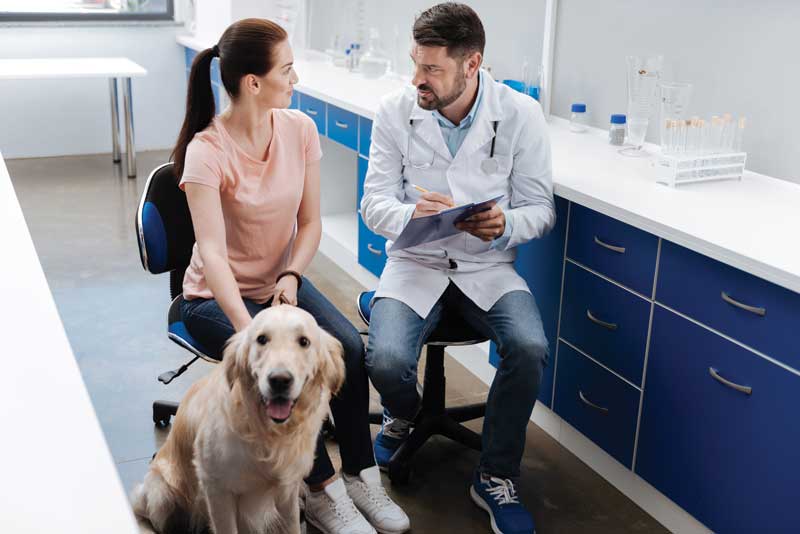 Did you know only 38 percent of clients accept dental treatments for their pets?1 Poor case presentation skills may result in poor acceptance. Because dental and veterinary professions often mirror each other, I watch trends in dental practices and then adapt them for veterinary teams. Here are four dentists' strategies to improve case acceptance with your clients.
Build trusting relationships
Gaining client trust isn't a one-and-done interaction. The client relationship begins with the first phone call and continues through clinical evaluation, financial discussion, and scheduling treatment.
"Forging relationships with patients is paramount to building trust, and trust is ultimately the key to case acceptance," said Ashlee Adams, a strategic counselor at The Dentists Service Co. in Sacramento, Calif.2
Train receptionists to stand when greeting clients. This body language shows you're ready to help. Greet clients and patients by name. Personal greetings can calm clients' anxiety for sick-patient visits and surgical admissions. Also sharing names of the doctor and technician at check-in prepares the client for the next interaction.
When greeting clients, technicians or assistants should introduce themselves and explain their role. Say, "Good morning, Mrs. Jones and Petunia. I'm Tyler, the technician who will assist Dr. Tripp. I understand that she's been vomiting and had diarrhea overnight. I will ask you a few questions about her symptoms and get her vital signs. Does Petunia have any other health or behavior concerns you want to discuss with the doctor?" Identify all health concerns up front so you may prioritize the visit and efficiently use exam time. Decide which history questions the technician and doctor will ask to avoid duplication. Create question templates for preventive checkups, vomiting, diarrhea, skin, and other common problems.
When the veterinarian enters the exam room, he or she should introduce themselves with direct eye contact, a warm smile and an outstretched hand. "My technician, Tyler, shared what you've already discussed, and I will ask more questions to get a thorough understanding of Petunia's health. Then I will perform a nose-to-tail exam, explain what I find and share our next steps for diagnosis and treatment. Before I get started, does Petunia have any other health or behavior concerns that you want me to address today?"
Open with broad questions that let clients share information and help you build a trusting rapport. Make the client feel she is an important part of the information-gathering process. Don't jump to questions in the interest of efficiency. Encourage clients to tell stories of problems from when they started to the present in their own words.3 Say, "Start at the beginning and take me through what has been happening … " Maintain eye contact rather than bury your nose in the paper chart or electronic medical record.
Understand how people learn
Given 65 percent of people are visual learners, use photo books, digital slideshows, videos, models, and graphics to illustrate the problem and treatment.4 Whether you're demonstrating ear cleaning or administering subcutaneous fluids, encourage clients to record videos on their smartphones. Having the video for reference will instill confidence when treating at home, and clients can share it with family members who were not present for the exam. Drs. Jennifer Lavallee and James Olson, DABVP (feline), at The Cat Specialist in Castle Rock, Colo., made a YouTube video on giving subcutaneous fluids for its clients (bit.ly/2HO1PdS).
At All Pets Dental in Westin, Fla., Jan Bellows, DVM, DAVDC, takes photos of problems to show the need for treatment. Smartphones let you adjust exposure, crop, and mark up images. Text or e-mail images to clients and share them online in patients' portals. Save digital photos in patients' electronic medical records. Watch Dr. Bellow's video on how to take dental pictures with your smartphone at bit.ly/2fMthgo.
Auditory learners, those who learn via discussion, represent 20 percent to 25 percent of people.4 Don't use words alone, or you may not be communicating with 75 percent of your audience.
The smallest group, tactical learners, makes up 10 percent to 15 percent.4 As "doers," these learners must perform tasks before they understand them. Use interactive lessons when showing clients how to clean ears or give medications.
Think "problem presentation" instead of case presentation, advises Chris Bowman, DDS, a dentist, author, and dental coach in Charlotte, N.C.5 Instead of focusing on the treatment of periodontal disease, describe bleeding gums, excessive tartar, pus, and decaying teeth. This approach compels clients to request solutions.
Use positive body language
Communication is comprised of 55 percent body language, 38 percent tone of voice, and 7 percent spoken words, according to Albert Mehrabian, a body language authority and professor emeritus of psychology at the University of California, Los Angeles.6
Avoid physical barriers between you and the client. Don't stand behind the exam table and talk across it. Besides blocking communication, this posture is confrontational. When sharing written information such as treatment plans, medication instructions, and handouts, position yourself shoulder-to-shoulder or L-shaped next to the client. This allows you to read information right side up and point to key instructions. This collaborative body language shows you're partners in healthcare decisions.
Mirror the client's posture. If she is standing, you should stand. If the client is sitting and you are standing, you are in a position of dominance. You want to be on equal footing for conversations.
Sit down to focus the discussion and let the client know she has your full attention.
Maintain eye contact. Eye contact lets the pet owner know you are focused on listening and understanding. Looking at the person indicates your desire to convey interest, empathy, and warmth.7
Involve clients, ask for commitments
When presenting cases, find the sweet spot that's part education and part motivation, said Roger Levin, DDS, CEO of Levin Group Inc. in Owings Mills, Md.8
"During the presentation, mention the top benefits throughout the discussion—beginning, middle, and end," he said. "By reinforcing them throughout the entire consultation, you are continually reminding patients why they should move forward with treatment."
Provide treatment plans at the time of diagnosis. Clients need to know what care their pets will need and the associated fees. Give them enough information to decide today. During an onsite consultation at one busy hospital, I learned that technicians were e-mailing treatment plans to clients three days after patient visits. They saw the task as saving valuable exam time, but I saw a compliance disaster. You cannot have an engaging discussion, share visual aids, and answer questions by email. Delaying the delivery of the treatment plan tells clients that professional care isn't urgent or important.
After a great case presentation, don't fail to close. Answer the client's questions and ask your own closing questions:
What questions can I answer about your pet's treatment?
Shall we schedule your pet's procedure?
Do you need more information, or have I explained enough for you to decide?
Case presentation is a balancing act among multiple moving parts, including education, motivation, financial discussion, relationship building, customer service, and selling, Dr. Levin said. Talk with your team about each person's role in your practice's case acceptance strategy. Have a "skill drill" to practice presenting problems and treatment solutions. Get more training in my online CE class on "Master the Art of Presenting Treatment Plans" at bit.ly/2FPbDaT.
References
1 Compliance: Taking Quality Care to the Next Level. AAHA. 2009. pp 11 and 16.
2 Business Insider, "How many contacts does it take before someone buys your product?" Published July 12, 2011. Accessed 3-13-18 at read.bi/1aMaVDF.
3 Adams C, Kurtz S. Skills for Communicating in Veterinary Medicine. Otmoor Publishing, Dewpoint Publishing, 2017; pp. 90-91.
4 Klingbord J. Exam Room Communication for Veterinarians. AAHA Press © 2011; pp. 27, 29, 160-162, 34-35.
5 Bowman C. Dental Case Presentation: Present the Problem, Not the Treatment. Dentistry IQ. Published Jan. 18, 2014. Accessed 3-13-18 at bit.ly/KyBgvf.
6 Albert Mehrabian. Wikipedia. Accessed 3-13-18 at bit.ly/1OGnh08.
7 Gray C, Moffett J. Handbook of Veterinary Communication Skills. Wiley-Blackwell. 2010; pp 7-12.
8 Levin R. 4 Ways to Tweak Your Case Presentation to Increase Case Acceptance. Modern Dental Network. Published March 27, 2017. Accessed 3-13-18 at bit.ly/2mPWj47.
Wendy S. Myers owns Communication Solutions for Veterinarians in Castle Pines, Colo., and offers consulting, seminars and monthly CE credit webinars She is a certified veterinary journalist and the author of "101 Communication Skills for Veterinary Teams." Reach her at wmyers@csvets.com or csvets.com.