When it comes to one's career in veterinary medicine, more often than not, the journey is just as important as the destination.
For Andrew Lewin, BVM&S, DACVO, assistant professor of comparative ophthalmology at Louisiana State University School of Veterinary Medicine (LSU SVM), his experience working in shelter and low-cost medicine introduced him to a range of unique, complex challenges commonly faced by veterinarians working in high-population environments.
"As a veterinary ophthalmologist, I am very interested in all forms of eye disease in animals," Dr. Lewin tells Veterinary Practice News. "Infectious eye diseases are a particularly challenging presentation for all veterinarians."
Lewin's formal education in veterinary medicine has roots in his native United Kingdom. After obtaining his veterinary degree from the University of Edinburgh, he began his career at a small animal private practice in the north east of England before completing a rotating internship at a large private practice near Birmingham. From there, he took a role with a charity veterinary practice in Wales before relocating to the U.S. to work in a low-cost clinic and animal shelter in New York.
Soon after, Lewin was accepted into the three-year ophthalmology residency program at the University of Wisconsin-Madison (UW-Madison).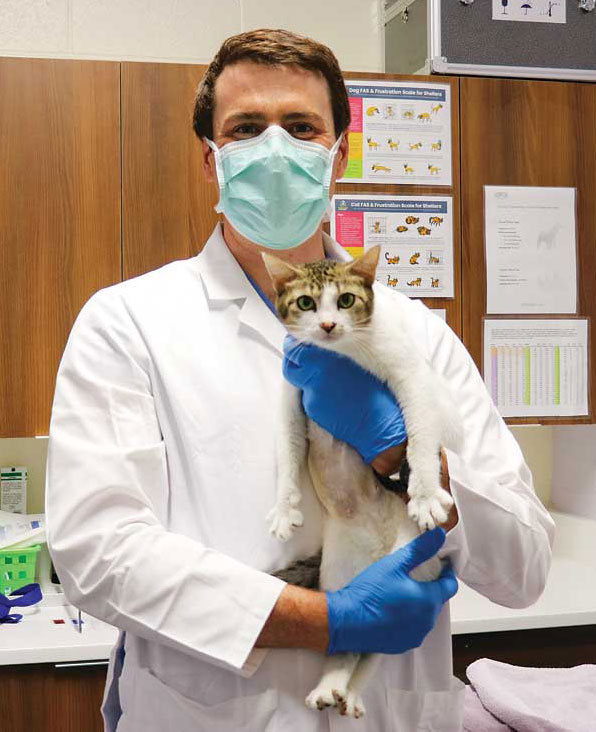 "During my rotating internship, I realized the elegance and versatility of ophthalmology," he says of his choice to pursue his chosen speciality. "This helped set my path."
Once he completed his residency, Lewin joined the veterinary staff at LSU SVM in Baton Rouge, La. Today, he's an assistant professor of comparative ophthalmology, as well as the university's ACVO/ABVO ophthalmology residency program director.
In addition to teaching, Lewin also oversees various projects centered around infectious ocular disease and clinical ophthalmology through his work with the university's Lewin Lab. Here, his team researches various eye diseases in both animals and humans with a focus on infectious ocular disease, clinical ophthalmology, and bioinformatics.
Veterinary Practice News recently spoke with the ophthalmologist to find out a bit more about the ocular research currently underway at LSU—including a study about feline herpesvirus, one of the most common causes of infectious ocular disease in cats—and the ways in which his experience working in shelter medicine ultimately influenced his career.
1) What inspired you to specialize in ocular disease research and care?
My veterinary career has taken me all over the U.K. and now to the U.S. I have been fortunate to work with many talented veterinarians along the way. I was mentored by some excellent ophthalmologists during my rotating internship, which really piqued my interest in the subject.
Ophthalmology is a fascinating discipline and an enjoyable mixture of medicine and surgery, which really appealed to me. My residency mentors encouraged me to become involved with ocular research and were very supportive in helping me complete several projects during my time at UW-Madison. Unfortunately, ocular disease is very prevalent in animals housed in shelters. I remember seeing a lot of cases in this setting where I really didn't have a confident diagnosis or was unsure of the correct treatment. This has really influenced by career path, and I hope to be able to help animals with similar problems in the future through our clinical work and research.
2) What are some of the more exotic or unusual animal species you have worked with, both in research and in practice? What are some factors that make these cases particularly challenging?
Most of our clinical and research work centers around common domesticated species, including cats, dogs, horses, and livestock. We also routinely work with some more unusual animal species in the clinic at LSU, including birds of prey, lizards, small mammals, turtles, and ruminants. The most challenging thing about some of the more exotic species is ensuring they are appropriately handled during examination. Luckily, the technical support available at the university is outstanding, so this is usually very straightforward. These animals also have specialized requirements for husbandry. We are lucky to have an incredible zoological medicine service at LSU, which oversees the care for these animals.
3) Tell me more about your research regarding eye infections caused by feline herpesvirus (FHV-1). Why is this important to the overall welfare of cats?
Our team is currently investigating which antiviral medication is the most effective in shelter-housed cats for treating eye disease caused by feline herpesvirus. We have almost completed subject enrollment in a masked trial of cats with herpesvirus in local animal shelters in southern Louisiana. We are also hoping to determine the likelihood of antiviral resistance development in these animals. Finally, we will determine if the bacterial ocular microbiome influences the outcome of infection. This study would not be possible without our fantastic research team at LSU and the hard work of so many employees in the participating shelters and financial support from Morris Animal Foundation.
Feline herpesvirus is one of the most common causes of infectious ocular disease in cats and is particularly prevalent in high-population environments, such as animal shelters. Finding practical solutions to this frustrating disease is crucial to ensure animal welfare is maintained while maximizing adoptability of these animals.
4) What are some other research topics you're exploring right now that you're excited about?
Our lab works on a variety of very exciting research topics all the time! We have been actively researching how the genetic code of feline herpesvirus impacts the severity of host infection, as well as determining the safety of a new eye medication for use in cats with the virus.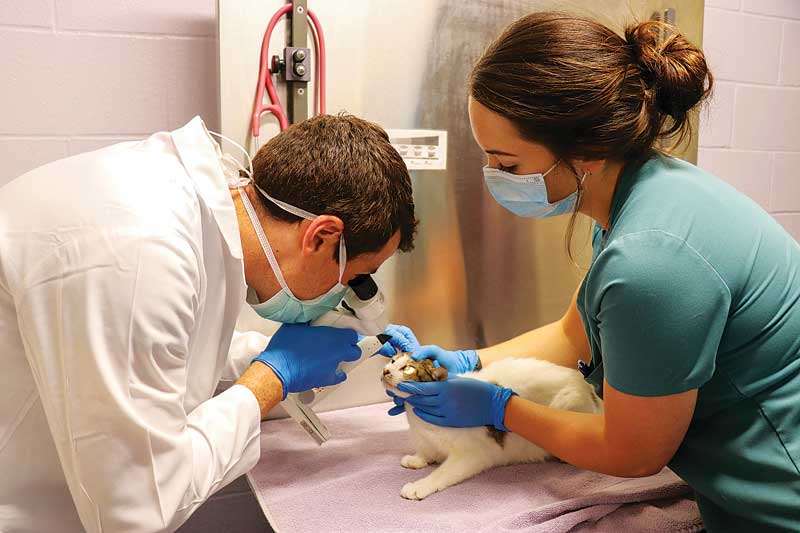 We have also just finished working on an American Kennel Club Canine Health Foundation-sponsored project to use canine herpesvirus sequencing data for disease surveillance, which has had some really exciting preliminary results.
Our work is not limited to infectious ocular diseases in small animals either. We are in the process of setting up a USDA-sponsored study to assess the bacterial environment (microbiome) of cattle with infectious bovine keratoconjunctivitis. This study uses sequencing data to look for novel targets for new therapies for this important eye disease of cattle. We have also recently started investigating a novel implant device which could be used as a treatment for infectious eye disease in cattle.
This is all in addition to numerous other active projects focused in the fields of clinical veterinary ophthalmology and infectious ocular disease. (Of course, none of this happens without the perseverance and dedication of the whole ophthalmology team at LSU!)
5) What are some suggestions you would offer to small animal practitioners when handling issues related to their patients' eyes?
Eye diseases in small animals can be some of the most challenging diagnoses to make. Always remember there is usually an ophthalmologist willing to help by way of a quick phone call, email, or referral. Ophthalmologists have access to specialized tools that make it much easier to make a diagnosis and then perform surgical procedures if necessary. If you are unsure what you are seeing, it's usually best to ask.