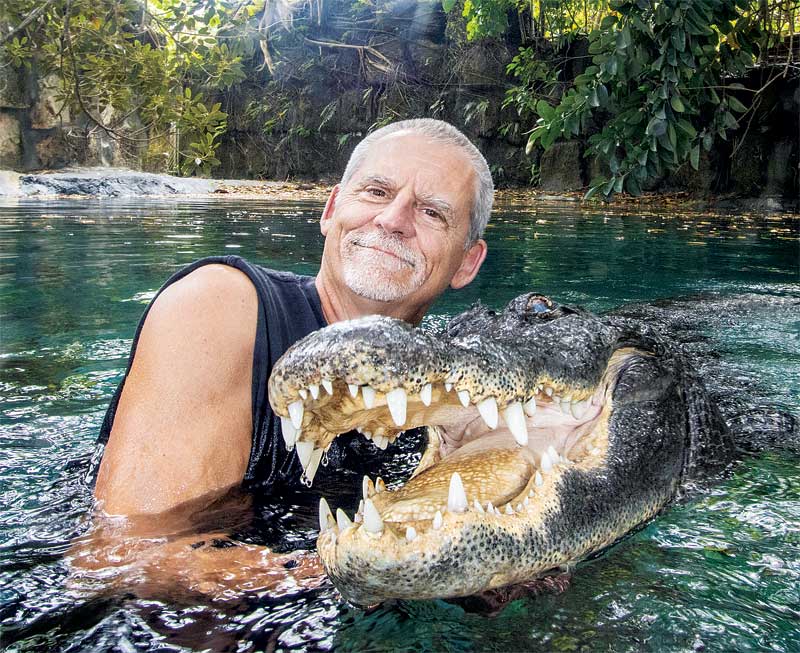 I first met Doug Mader, DVM, in 2007 when I wrote a profile about him for Veterinary Practice News. At the time, he was a regular contributor to Reptiles magazine. When the opportunity to interview him came up, I was happy about the assignment, but other than writing about reptiles, I did not know much about his career. I was in for the surprise of a lifetime.
During our conversations, I learned he literally wrote the book on reptile medicine. He also volunteered for a sea turtle hospital and a petting zoo run by prisoners at a jail; had once rescued a mola mola (400-lb sunfish) on Super Bowl Sunday, and headed up epic learning expeditions all over the world for other veterinarians. This was in addition to running his practice and maintaining a busy speaking schedule.
We've kept in touch over the years and—when his schedule permits it—he writes for this publication. When I found out he wrote a book about his experiences as a veterinarian in southern California, I was thrilled, because I knew he had a story worth sharing.
I recently caught with him to learn more about his past, his career path, and his new book.
1) Did you always want to work with animals?
Doug Mader (DM): I've always loved animals. I was born in the Florida Keys and grew up exploring the mangrove swamps with my older brother. I knew at a very young age animals would always be a part of my life. Uncle Sam sent my father to Viet Nam, and our family followed him to his military station in Hawaii while he was away. We stayed there, even after my father retired from the service. Hawaii was a mecca if you liked exotic birds, but there was a dearth of herpetofauna. There were a few species of native lizards and amphibians.
There were no endemic turtles (except for sea turtles) and only one species of snake—the Hawaiian blind snake. It is a fossorial species and the vast majority of Hawaiians have never seen one, much less even know they even exist. I was lucky to find one when I was in high school. I told my biology teacher what I saw and he was quick to label me "lolo," or Hawaiian for "crazy."
Having grown up traipsing through the Florida mangroves, reptiles were my passion. If I stayed in Hawaii, the opportunities to work with exotic animals like reptiles were extremely limited. I knew I had to leave the 50th state.
2) What is your professional background?
DM: Eventually, I moved to California and attended the University of California, Davis, for undergraduate school where I majored in animal science. After graduation, I worked for the veterinary school until I went back to get a master's degree in animal behavior. Subsequently, I stayed on at Davis and received my veterinary degree.
While in veterinary school, I worked on the research team that discovered simian AIDS, the model for human AIDS. Due to my involvement with that team, I was asked to stay on and obtained a residency degree in primate medicine and surgery.
When I finished my residency training, I was offered several jobs from California to New York to Africa. I decided to stay on at UC Davis and continue working with the primates and laboratory research.
After a year in academia, I made the decision to take the jump into the private sector and bought a small animal veterinary practice in southern California. During that time, I studied for and passed the American Board of Veterinary Practitioners specialty examination for Companion Animal Practice.
After nine years, I got tired of the big city and decided to make a life change. My wife, also a veterinarian, and I moved back to the Florida Keys where everything started and we opened a 24/7 specialty/referral hospital.
Over the next 20 years, I furthered my desire for professional excellence and became boarded by the ABVP in Reptile and Amphibian practice, and also in the European College of Zoological Medicine (herpetology). The ABVP Companion Animal Practice specialty was eventually renamed to Canine/Feline.
3) What made you decide to go to veterinary school and not become a herpetologist?
DM: I've always loved to read. I didn't care if it was homework assignments, magazines, or books—reading was my drug. Someone gave me a copy of Dr. James Herriot's book, All Creatures Great and Small. It was about a British veterinarian back in the 1950s and his life in the beautiful countryside of England. He spent his days working both in his operatory and making farm calls.
His stories were engaging and heartfelt. He was an incredible storyteller and, as a reader, you felt you were riding shotgun with him as he made his rounds. He went on to write a series of four books about his life as a country veterinarian. I read them all several times. That sealed the deal, and I knew that was what I wanted to do.
4) You are a prolific writer. Tell us about this.
DM: I love to teach and educate people about animals and the environment. One World/One Health: animals—people—our planet. I started writing articles while I was in college to help educate people about important issues regarding animals, animal diseases, and the interactions with humans and our environment.
This continued after I graduated from veterinary school and ultimately evolved into monthly magazine articles, special features, newspaper columns, and eventually three medical textbooks. In addition, I've written dozens of scientific articles. I've always believed if I want to teach, I have to know the subject better than my audience. Reading and researching subjects, then writing about them, gave me the solid background I needed.
5) You just finished writing your first book for the mainstream audience.
DM: I did! I've always been a closet author, penning several short stories over the years under a pseudonym. I guess I've always wanted to follow in Dr. Herriot's big shoes and write the American version of All Creatures Great and Small—not that I think anybody could ever match his talent. I sold my practice in 2017, and decided writing would be my next big challenge, so The Vet from Noah's Ark: Stories of Survival from an Inner-City Animal Hospital was born.
It is a true recount about living in the inner-city of a Los Angeles area during a very tumultuous time. The narrative is told in the first person, and the story takes place over a one-year period—the time that was needed for me to apply for, get accepted, and then study and take my first ABVP specialty exam. It was also the year of the social unrest surrounding the infamous Rodney King beating and the trial of the four police officers.
The book is really a story about the human-animal bond and the power it has in all of our lives. Whether it's a sick kitten, an ill snake, or a wild soaring eagle, animals affect us all in magical ways. The theme is no different than that celebrated in Dr. Herriot's wonderful books. The big difference is where Dr. Herriot lived and worked—the beautiful countryside of the rolling hills of Darrowby, Yorkshire, England, my narrative evolves from the inner city, replete with graffiti, gangs, drugs, drive-by shootings, and prostitutes.
The Vet from Noah's Ark is gritty and honest. It will pull at the reader's heartstrings. There are plenty of stories about all sorts of animals, but be warned, not all have happy endings. Prepare to shed a tear or two, but most of all, I want readers and all animal lovers to relish that magical human-animal bond.