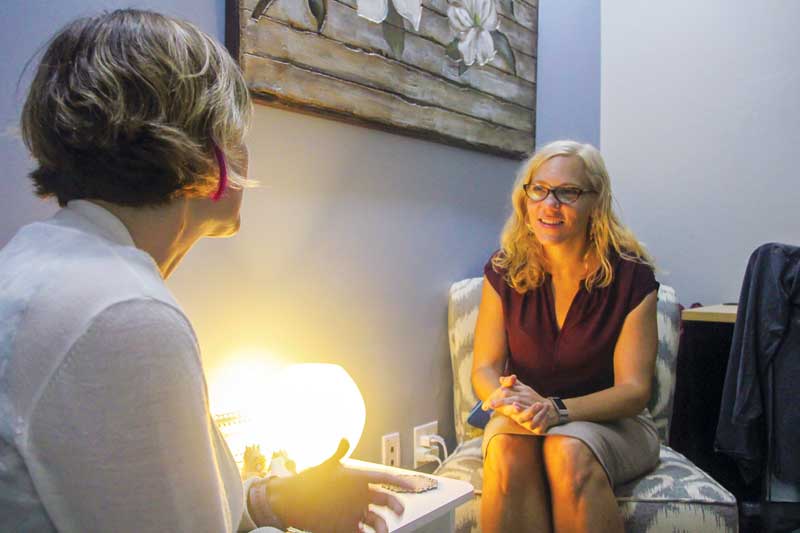 Jennifer Bradtke, PsyD, CGP, received her BA from Purdue University in psychology, law, and society in 2000 and went on to get her MA and PsyD clinical psychology in 2003 and 2005, respectively, from Illinois School of Professional Psychology.
According to Dr. Bradtke, there was no single moment of inspiration to become a psychologist, but it was and continues to be one of the ways she expresses her interests and values.
She clinically identifies as a generalist; however, she has developed expertise in treating sleep and eating disorders.
Bradtke has presented internationally at conferences and written articles on the use of humor in psychotherapy, gratitude, and acceptance and commitment therapy.
Before working in her present position at Ross University School of Veterinary Medicine (RUSVM), Bradtke developed and managed programs such as the office of health and wellness for Northwestern University's Qatar (NU-Q) campus, the department of research at the Sleep and Behavior Medicine Institute, and the partial hospitalization program at Insight Behavioral Health Centers in Chicago, Ill. She now works with veterinary students to help them cope with stress and provide them with the skills they need to succeed both in school and in practice.
Bradtke's special interests are in positive psychology, multiculturalism, and integrative health. She serves as the cochair of the International Committee of the International Association of Counseling Services (IACS) and is a member of the American Veterinary Medical Association (AVMA) Veterinary Mental Health Practitioners Research Committee (VMHP).
1) How did you become director of the Ross University School of Veterinary Medicine Counseling Center (RUSVM CC)?
I loved my experience developing the office of health and wellness at Northwestern University in Qatar and believed my skills and experience would be a great fit to further development of the Ross University School of Veterinary Medicine (RUSVM) counseling center. My role at NU-Q was more than serving as a psychologist, but as an integral part of the university community. My experience at NU-Q helped to shape my professional interests and to show me how psychologists and counseling centers can be more involved in the well-being of individuals and the community. Ultimately, this impacts my work at RUSVM's counseling center. Our approach is to help students cope with both life stressors and mental illness, and to leverage available resources to assist in learning how to thrive. This specifically includes utilizing their peers and greater community to develop a sense of belonging and support. We also look for opportunities to engage university colleagues and the local community in programs to foster community development and support for one another. An example is our recent Emotional CPR (eCPR) training. The training was provided to RUSVM students, faculty and staff, health services, and law enforcement professionals from the St. Kitts community. Not only did participants learn the tools on how to support others in distress, they also interacted with members of their community on a personal level, developing relationships and growing the network of support available.
2) How is the center preparing students for the challenges of being a veterinarian?
The RUSVM counseling center has a holistic approach when working with students. While pursuing their degree is important, many other aspects of their life are equally important. Having balance is something we strongly encourage from the very beginning. Our center works to help students learn to cope with life's challenges, recognize the importance of and implement healthy lifestyles, and develop skills to thrive in their lives, both personally and professionally. In terms of best practices, the center focuses on delivering services that are evidenced-based and are in accordance with standards set by the International Association of Counseling Services (IACS).
3) What types of services and workshops are available to veterinary students?
The RUSVM counseling center provides a number of different services, including individual and group counseling, crisis intervention, and outreach programing. We have an active group counseling program, with current group offerings including: Start your Day Mindfully, Creating Your Own Calm, Circle of Health (for survivors of sexual assault), Art Relief (art therapy), and a number of process groups, including a men's group and a group for individuals in recovery from eating disorders. Start Your Day Mindfully teaches students mindful meditation and allows them to try out different mindfulness activities in addition to sitting meditation, such as walking meditation and mindful eating. Creating Your Own Calm is an Acceptance and Commitment Therapy (ACT) skills-based workshop to help students learn to cope with stress and anxiety. Meditation, worksheets, self-reflection, and group discussion are utilized. We also offer psychoeducational workshops, which meet the specific needs of students. Recent workshop topics have included managing stress and debt, creating healthy boundaries, plus training sessions for suicide prevention called Question. Persuade. Refer (QPR).
4) What are the warning signs students should look for?
Not everyone will experience the same signs, but common ones may include: irritability, tearfulness, difficulty concentrating, significant weight gain or loss, mood swings, isolation, loss of interest in activities that are usually enjoyable, excessive procrastination, uncharacteristically poor academic preparation or performance, or repeated absences or tardiness.
5) What are you doing in terms of community-building to help veterinarians realize they are not alone in their struggles?
Having a sense of community can be so important in dealing with struggles, either personal or professional. We try to foster community in a variety of ways. One such initiative at the counseling center is our group therapy program. We provide a variety of groups bringing together students with similar concerns. These groups provide an opportunity for individuals to develop, share the experiences, and learn from one another, while also allowing them to recognize others have similar experiences and concerns. The program has been very successful, and we even hear back from students after they have graduated that their participation in the group therapy helped them not only be successful in veterinary school, but also now as they are practicing. It shifts the perspective from "no one understands me" to "there really are others who are going through hard times like me and really do support me." Another approach we have is to encourage volunteering in the community and engaging in activities outside of the veterinary medical world. Such activities provide opportunities to be exposed to others outside of their profession and develop a sense of meaning outside of their job. It can be a challenging "sell" in the beginning, as many students have focused so much of their energy toward becoming a veterinarian. We encourage them to recognize the wide variety of factors that make them who they are, and that who they are is more than just what they do for a living. In doing so, it can bring a more balanced perspective and help them prioritize creating balance in their lives.